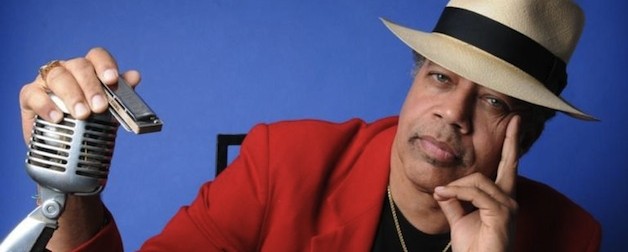 Billy Branch: Photo by John Wheeler
Son Of The Blues
Billy Branch's presence is so ubiquitous on blues recordings that it's a jolt to realize that 15 years have passed since he and his crack Son's of the Blues band have recorded an album of new material. Years of guest appearances, collaborations and acting as the unofficial spokesperson for the Chicago blues community, have kept him busy but he's still managed to produce a multi-faceted album that represents where blues has been and where it's going. "I do feel a sense of responsibility to uphold the blues because I was so fortunate to have the opportunities to befriend and play with the true blues legends," Billy told IE. Profoundly influenced by the iconic Chess producer, bassist and songwriter Willie Dixon, who mentored him as a young bluesman, Billy has shaped his career around maintaining the integrity and heritage, of the Chicago blues genre.
Blues Shock (Blind Pig), an 11-track showcase of sharp blues craftsmanship, serves up quite a few surprises. "I had complete autonomy," he says. "I wrote the songs, chose the songs, and arranged them. We were actively working on this album for a year and a half. We were prepared when we went in the studio." And it shows. Not only does the album highlight Billy's masterful harp runs, but it displays the individual talents of the SOB's in an unexpected array of musical influences. The opening track alone reveals percolating rhythms peppered with blasts from the Chicago horns and as a standout conga solo that Billy weaves around with harp and deeply intoned chants/raps. With lyrics from Billy's former UIC professor, blues poet Sterling D. Plumpp, Billy brandishes the words; "I am the man/who makes the news," with enough Mississippi grit to make Muddy (Waters) proud. As the first song that introduces the CD, it serves notice that Billy ain't playing at all. If there were heads to be challenged, they would all be neatly cut.
Even when he was starting out as a kid from Los Angeles, enthralled by the Chicago blues, Billy always took his music seriously. "When I first came on the scene, I wouldn't say a word. I was taking it all in," he recalls. "I was learning. I was serious in my approach and very conscious of my opportunity." It's hard to believe that this intensity stems from the off the wall harmonica interest of a shy 10-year-old. "I taught myself to play at 10. I always had my harmonica with me," he remembers. "I could play any melody. Now why would a young black kid play a harmonica without any intervention? I had never heard or seen anybody play." The weirdness of his hobby would take on a new meaning when at 17; he landed in Chicago to start college on the same day that there was a huge, unprecedented music festival in Grant Park.
"It was August 30, 1969," he says. "It was the first unofficial blues fest and the first time I had ever heard the blues." In a line-up that gathered the who's who of blues, it was an event that would convert even the most disinterested onlookers. The performers included Buddy Guy, Bo Diddley, Muddy Waters, Big Mama Horton, Sleepy John Estes, Homesick James, Koko Taylor, Little Milton, Lightinin' Hopkins and Robert Jr. Lockwood, to name a few. "I was so blown away. It was a definitive moment. It was destiny. It changed my life," says Billy. It was the greatest blues festival ever produced. There's never been a line-up of that caliber before or after. I discovered the blues and the blues was all around."
Of course, if you want to discover blues, there's no place better than Chicago and Billy took full advantage of the city's rich blues landscape. One of his best friends at UIC happened to be Junior Wells' stepson and he started hanging out at Theresa's, The legendary Checkerboard and Pepper's Lounge. After bugging another friend who worked for Willie Dixon, Billy met Willie and eventually became a member of his Blues All-stars touring with them from 1975-1977. "I was so fortunate to be a member," he says. "There was only a small amount of people in my peer group that had these opportunities. Willie Dixon, Jimmy Walker, Big Walter Horton, these guys were the epitome of the blues. They were the real deal, from the Delta to Chicago."
Billy has expanded the Delta to Chicago blues heritage on Blues Shock. He pays homage to Little Walter and Willie Dixon on the jazz-tinged "Crazy Mixed Up World" and switches up John Lee Hooker's guitar for whirling harp on the highly infectious "Boom, Boom." Drummer Moses Rutues Jr. shines in a hilarious classic blues number, "Slow Moe" and pianist Ariyo Ariyoshi dazzles with the zesty instrumental "Black Alley Cat." A festive cover of "Function at the Junction," overflows with funky grooves and the booty-shaking rhythms of "Baby Let Me Butter Your Corn," unveils the raunchiest blues this side of Louis Jordon. The jazzy ballad, "Song For My Mother," recalls Billy's influences from the genre-blending LA band War but the album's show stopper presents Chicago history in an unforgettable musical tribute. "Going To See Miss Gerri One More Time," traces the historic Great Migration of African Americans from the South to Chicago and documents the heyday and shuttering of Bronzeville's legendary Gerri's Palm Tavern.
It's a lush treatment, complete with violins, cello and backup singers that you wouldn't expect to find on a blues album, except if your name is Billy Branch and you lived the history and researched the details with noted local historian Timuel Black. Chronicling history was always an aspect of blues culture. "I define blues with Willie's definition as the facts of life," explains Billy. It's an African American folk music, first and foremost."
-Rosalind Cummings – Yeates
Billy Branch and The Sons of the Blues celebrate release parties for Blues Shock on February 14 at Buddy Guy's Legend's, 700 S.Wabash, Chicago and on February 15 at Rosa's, 3420 W. Armitage, Chicago.
Category: Featured, Monthly, Sweet Home