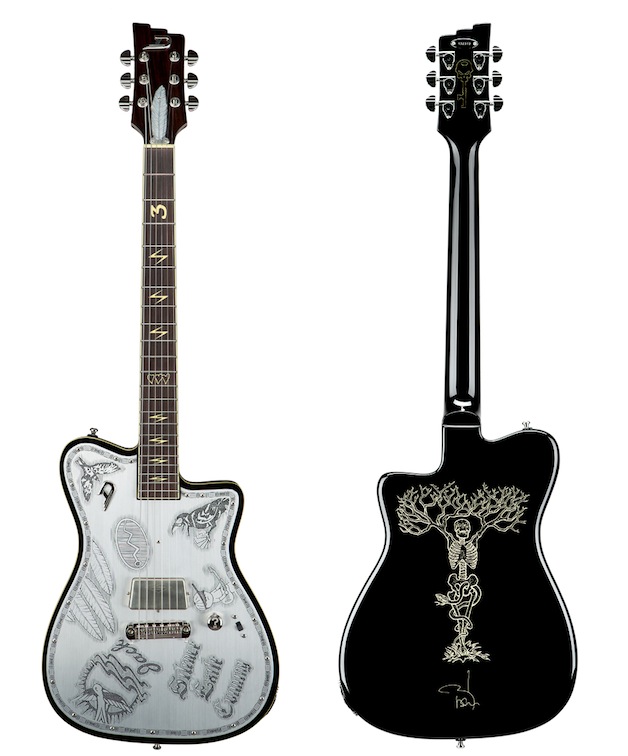 DUSENBERG USA GUITARS
Johnny Depp Signature Guitar
German-born (with US offices) Duesenberg USA Guitars will release their limited Johnny Depp Signature guitar this month with only 52 of the hand- signed guitars available worldwide. The award winning actor, who has made his name playing Jack Sparrow in Pirates Of The Carribean and John Dillinger in Public Enemies, will receive this collectors guitar with the specs and sound which Duesenberg is famous for, most notably with its current Joe Walsh (Eagles) guitar and its Mike Campbell (Tom Petty) guitars, as well as a number of features which are new to the Duesenberg tradition.
A Depp production version will be released later this year for civilian guitarists on more modest budgets, with a portion of the proceeds going to Johnny's charities.
In a company press release Nathan Fawley of Duesenberg told the press: "In working with Johnny on this project, which took over one full year, we wanted to do something that was about Johnny on a personal level, and if there's anything that tells Johnny's life story, it's his tattoos. Each one symbolizes a significant event in his life. Our goal by incorporating Johnny's tattoos onto the guitars was truly to make this not only a piece of art, but a great guitar in the Duesenberg tradition. Ingo Renner and Dieter Gölsdorf (co-owners Duesenberg Hanover Germany), had the task of building and designing an iconic guitar for one of the most recognizable actors in the world – with the key being to build a guitar we all would want to play – and we feel that we have done just that."
Material specs and pricing were not available at press time, but expect both price and finish to be in the "upper bracket." www.duesenbergusa.com
Hal Leonard
History of Marshall: The First Fifty Years
Twenty years after Michael Doyle's last Marshall book, The History Of Marshall, published (1993), Hal Leonard has released The First Fifty Years, an updated and revised edition that comes with the additional insight and deep Marshall knowledge of co-author Nick Bowcott.
From its humble origins in the back of a small music store in London, Marshall Amplification grew to become the gear company that has defined the sound of rock for generations of guitarists. The History of Marshall: The First Fifty Years tells the story of Jim Marshall's remarkable life and documents the many innovations of Marshall amplifiers, from the famous Marshall "stack" to its most current amplifiers.
Leonard's full color illustrated volume has been expanded, bringing the history of the company and its products up to date, including double the chapter length as the last edition and hundreds more images of rare amplifiers and historical documents.
Highlights include coverage of Marshall's 2012 50th Anniversary year, the history of Marshall's factory locations, and detailed specs on Marshall's products, including limited-edition amps, and reflections from technicians and endorsee artists in the extended Marshall family, this is a definite account of one of the foremost manufacturers of musical amplification equipment in the world. The History of Marshall: The First Fifty Years is a great reading for musicians, guitar boffins, and collectors. Visit www.halleonard.com for details.
BOSS
ME-80 Guitars Multiple Effects
Guitar effects company BOSS has released its latest effect flagship pedal, the ME-80 Guitar Multiple Effects, a new floor-based tone processor with an old-school knob-driven interface for user-friendly, stompbox-style control. Featuring an enormous selection of Roland powered quality effects and COSM amps, eight multifunction footswitches, battery-powered operation, and other bells and whistles, the ME-80 is meant for performing guitarists of all levels. Via the Boss Tone Studio editor application, ME-80 users can easily customize sounds and enjoy direct access to free patches and other great content at the newly launched Boss website. The ME-80 contains a history of BOSS effects in one pedal, from overdrives and distortions to wahs, mod effects, pitch shifters, delays, and the latest MDP effects. Also included are nine updated COSM preamps derived from Boss' flagship GT-100, Unlike some other multi-effects processors that are complicated to use for the layman, the ME-80 is as easy as using a stompbox, according to the company
Eight different effects categories can be active simultaneously, and the panel features a total of 30 knobs for instant access to effects selection, sound adjustment, and more. The Pedal FX category has its own dedicated knob for quickly assigning an effects type or function to be controlled by the expression pedal. Favorite settings can be saved in 36 user patch locations. List price is $450. For details visit www.bossus.com
DEATH BY AUDIO
Ghost Delay Guitar Pedal
Why have one echo effect pedal when you can have three?
The Ghost Delay combines three echo circuits in succession, creating new and breathtaking effects. Death By Audio founder Oliver Ackermann was inspired to create this mysterious effect after connecting three Echo Dream pedals in a late night recording session. He was astonished at the sounds produced, thus designing a pedal that mimicked those sounds and more. The result was three specially crafted delays, creating backwards sounds, triplet echoes, ghost trails, feedback insanity, straight up awesome delay, and multi-turning chorus sounds. This is the Ghost Delay.
Each pedal contains individual 'Time' and 'Feedback' controls on the three delays, a switch for 'Delay Blend', and a knob for 'Master Volume'. Setting the 'Time' knobs in different positions pushes and pulls the repeats around yielding completely unique soundscapes. The 'Feedback' knobs can be turned all the way up for a cacophony of uncharted feedback or down for delay bounce and bizarre room synthesis. To take it even further is an 'AUX' output that can explode the sound into a mind blowing super stereo atmosphere. The world must hear the Ghost Delay.
All Death By Audio pedals are hand-built in Brooklyn, NY with the finest components and painstaking detail, designed to last forever. The Ghost Delay is now available from deathbyaudio.com for $250 US.
IE thanks the guys from Rock N Roll Vintage in Chicago for use of the Ghost Delay photo.