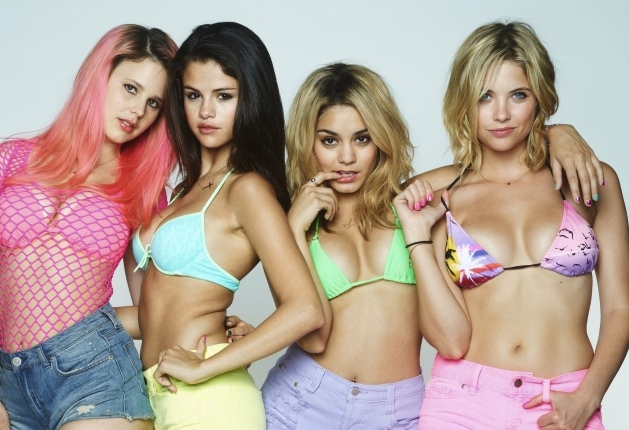 A New Season
Watching the right pair of movies back-to-back can illuminate wildly different details, create a whole new viewing experience and, just maybe, totally BLOW your MIND. Plus, it's fun! Here's your monthly guide:
If you are brave enough to risk your neck on the frozen streets of the Midwest this time of year, all for the sake of seeing a movie at the multiplex, it is probably for one of two noble reasons: either to catch up on the list of Oscar nominees (to be announced Jan. 10), or to smother your frost-bitten brain with some gooey, garbage cinema.
January is a notorious dumping ground for the dregs of filmdom, and this year looks to follow suit with the likes of a fifth installment in a horror franchise (Paranormal Activity: The Marked Ones – Jan. 3), a fifth installment in a thriller franchise (Jack Ryan: Shadow Recruit – Jan. 17), and an action/sci-fi monster mash-up (I, Frankenstein – Jan. 24) that may as well be the fifth installment of the Underworld franchise. Even the reliable Jason Reitman (Juno, Up in the Air, Young Adult) reportedly has a stinker of a sentimental melodrama with Labor Day (1/31).
To call them popcorn flicks would be an insult to popcorn. The popcorn in these flicks has fallen from the drooling mouths of pimpled faces to sticky auditorium floors and soaked in the flavor of smushed Junior Mints mixed with snow boot sludge. But that's not to say there's nothing tasty (even enriching) to be found.
First up:
Breathless
Dir. Jim McBride (1983)
Availability: DVD
"There used to be just…one way you could to things," hissed French New Wave rebel Jean-Luc Godard about the established film industry. So, he worshipped instead Hollywood's perverted little bastard kids, the B-movies, replete with sexualized violence and budget-strapped innovation. Then, he made his own little bastard B-flick, A bout de soufflé, a gritty story of a Humphrey Bogart-mimicking crook who suddenly finds himself in extraordinary trouble after killing a cop. Godard filmed with restless detachment and then chopped up his scenes with startling edits, giving birth to a thrilling new technique – the jump cut.
Soon enough, the movie was put on a pedestal, becoming somewhat of a poster child for film snobbery. So, why the hell not bastardize the bastard and remake it into a Hollywood vehicle? Well, the Richard Gere incarnation of a revered piece of art did not go over well when released and is now mostly forgotten. But a viewing today, removed from all snobbish context, should brand this idiosyncratic copy-cat into your movie-loving heart.
Godard's grainy black & white is traded in for cool pastels and scorching sunsets. Where the original was cold, tough and enigmatic; the remake is volatile, sensuous and bizarre. Above all, the sex is exuberantly frank and shockingly fun. Breathless brazenly colors dirty impulses with a playfulness that makes it feel more lively than many other "tasteful" movies.
Next:
Spring Breakers
Dir. Harmony Korine (2013)
Availability: Blu-Ray/DVD; Amazon Instant
There are few things more universally regarded as "distasteful" than the sleazy ritual of Spring Break. And yet, every single year, it rakes up unfathomable amounts of cash – in both the tourism and the raunchy online video industries (it launched the seedy Girls Gone Wild). The fevered fantasy of Spring Breakers explores the desperation of four college girls to attain bikini-and-flip-flop glory on the greasy white sands and drug-addled motel rooms of sweaty St. Pete, FL. It features former Disney TV stars Selena Gomez (Wizards Of Waverly Place), (as Faith) and Vanessa Hudgens (High School Musical), (as Candy) "I'm starting to think this is the most spiritual place I've ever been," Faith tells her grandma.
And then the girls become seduced by the neon gangster dreams of an James Franco (as Alien), who chews voraciously on this frightening and yearning character with gold-plated teeth. "Y'all my motherf—in' soul mates, swear to god," he drawls after the girls point their loaded pistols dangerously close to his mouth. "I just fell in love with y'all."
With Carrera sunglasses, terrifying pink ski masks, a violent montage set to Britney Spears' ballad "Everytime", and a glowing bridge leading to the dark void beyond – Spring Breakers turns garbage into one of the most stunning pieces of art the movies produced in 2013.
Film can be one of the greatest reflectors of human hopes, nightmares, ideas and our amazing/horrible history. But, inevitably, we will seek out this medium to tickle our basest emotions with pulp fiction roller coasters and kiss kiss bang bang. Why? Well, we clog up highways to crane our necks toward grisly crashes, don't we? We lap up tawdry details of celebrity affairs. Is it, as many would suggest, the devil tempting us? Or is there something powerfully, blazingly human buried within it?
– Rob Fagin
Category: Columns, Double Feature, Monthly