More than 24 hours after the last note rang out in Grant Park at Lollapalooza 2013 and our feet still ache, we can't sneeze without inducing some violent back spasm, and our shoulders remain bright pink from the hour spent unprotected during Charles Bradley's monumental set. (When a man in a royal blue jumpsuit embossed with sparkling silver sequins promises to take you to church, you don't stop to apply sunscreen.) Tradition holds that this spot of the recap is reserved for griping about the weather, but with temps dipping into the 70s after a seven-year streak of inferno conditions it seems petty to complain about Friday's early morning showers leaving behind a mud trail. A mass of about 300,000 poured past the gates and the towering prison-state fences guarding the park's perimeter over three days and the uptick in attendance didn't go unnoticed. The push of bodies made it difficult to gauge whether a crowd camped out at a particular stage coincided with a band's popularity or if there just wasn't anywhere else to go. And don't even get us started on the bros. So. Many. Bros. But enough with the negative. Despite the personal sacrifice of hygiene, health, and hydration, you can't beat the 150-band buffet. Team IE (Matt Pollock, including Curt Baran in the photo pit) walked from Monroe to Balbo and back at least a dozen times each with notebooks in hand, finicky iPhones, and knapsacks full of those KIND bars readily available in the press tent (because standing in line for a lobster corndog is the difference between hearing only half of "Pictures Of You" and standing close enough to make out Robert Smith's raccoon eyes) to document the splendor and squalor.
DAY ONE
Deap Valley: Los Angeles grit-blues duo Lindsey Troy and Julie Edwards got Friday's 1:30 p.m. crowd (students on vacation, the unemployed, and those guilty of playing hooky) riled up with a blitz of sultry bangers (the sultriest being "Walk of Shame," before which Troy slurred, "I hope y'all get one this weekend."
Smith Westerns: Shrug, snooze, yawn. Smith Westerns sure are snappy dressers, but the local Brit-pop revivalists could have used some of the uppers their accredited influences Bowie and The Gallagher brothers were popping so regularly back when they ruled the genre.
Atlas Genius: Speaking of rock 'n' roll siblings, Australian brothers Keith and Michael Jeffery of Atlas Genius were hard not to love. Their sunny pop rock got festies behaving like festies in all their prancing, life-embracing bliss. Though the band powered through 45 minutes of material (including the blithely catchy "Trojans"), their effect on the crowd was epitomized by the previously unacquainted college girl and married couple in front of us. At the ten-minute mark, they introduced themselves; at the 15-minute mark came the swapping of bootlegged alcohol and assessment of the girl's fake ID; 20 minutes in, the married couple packed a one-hitter for College Girl, and by the end of the set, a group hug ensued. Needless to say, Atlas Genius brought the good vibes.
Father John Misty: Those hips! It's a wonder Joshua Tillman ever let a drum kit mask his pelvis. The former Fleet Fox rhythm keeper pranced like Mick Jagger and preened like Robert Plant while delivering '70s blues-soaked and folk-inclined numbers from last year's solo outing, Fear Fun. He even took time to rib the privileged Platinum Pass holders about their costly perks (which, despite what he says, did not include eating sushi off his body). A gossamer "I Love You, Honeybear" shined with Tom Petty-grade sincerity while "Now I'm Learning To Love The War" seduced and amused like a striptease and "Muppet Show" bit combined. Gonzo's chickens would have clucked in approval.
Thievery Corporation: Not even a seemingly never-ending supply of costumed vocalists (Colonel Mustard? Panama Jack? Will the real Thievery Corporation please stand up?) could distract from the wicked mini horn section and the hypnotic buzzing of a lone sitar player sitting cross-legged center stage. Bob Marley's "Get Up, Stand Up" added to the genre jumping without elevating it.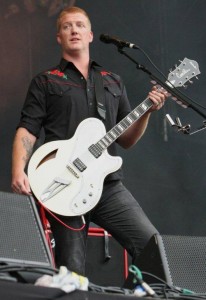 Queens Of The Stone Age: "Man, man, oh fucking man. We're here to get loose," frontman Josh Homme drawled out like Matthew McConaughey before a bongo jam. Yet the California quintet was anything but lackadaisical. Ferocious is more like it. Michael Shuman's basslines have their own gym membership while Homme veered from operatic on "My God Is The Son" to dulled by desire on "I Wanna Make It Wit Chu" (if there was ever a more apropos time for that airplane pulling the Trojan ad, this was it). He showed off the verbal dexterity of a hip-hop star on "Sick, Sick, Sick" – a bumping selection that seems carved from the same granite slab as The Knack's "My Sharona" – and made his guitar scream on "A Song For The Dead" like a poltergeist.
Hot Chip: By combing real heart with laser beam-accented heartbeats per minute, these Brits never fail to deliver, but letting a romper-clad beauty into their nerds-only club brings out the best in the boys. Drummer Sarah Jones held down the fort like an older sister who wouldn't tolerate underage drinking with the 'rents out of town, yet would let you stay out past curfew.
The Killers: We remember when Brandon Flowers and his Vegas compatriots lashed out "Mr. Brightside" as young pups the first year Lollapalooza designated itself as a two-day, four-stage destination festival. The song packs the same fervent punch, but now the band's stage show – flashing with pyrotechnics – matches its grandiose persona. Chalk it up to the Vegas showmanship of the band's home base. Indeed, Brandon Flowers embodied the role of Sin City lounge singer, especially on a misguided attempt at Rod Stewart-izing "My Kind Of Town." Making up for a lagging third quarter, the band went Maverick on us with "Read My Mind," "Runaways," "All These Things That I've Done," and "When We Were Young" all in a row.  Chiropractors would probably pooh-pooh the excessive fist pumping accompanying this string of hits, but nothing short of taping your arm to your torso will curb the motion. Like those hypnotizing slot machines, The Killers deal in instant gratification.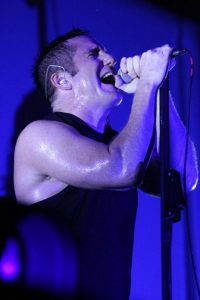 Nine Inch Nails: Some might accuse Trent Reznor of vanity, and they might be right. But they should never, ever fault him for it. If there was one unobvious ingredient to Nine Inch Nails' magnificent performance Friday night, it was Reznor's hyper-awareness of the 100,000 eyes watching him. The man operated like a machine. Every vocal revision, every strobe light, every turn of Reznor's gym-built body from head-on to profile appeared calculated, practiced, and deftly executed. NIN dusted new material over a foundation of '89 and '94 classics ("Terrible Lie," "Head Like A Hole," and "Sanctified" from Pretty Hate Machine, and "Closer," "Hurt," and the one-two punch of "March Of The Pigs"/"Piggy" from The Downward Spiral). Reznor attracted, claimed, and commanded day one of Lollapalooza, if not the entire weekend.
Day Two
Little Green Cars: These Dubliners boasted all the sunny four-part harmony of Crosby, Stills, Nash & Young without as much to protest (which wasn't exactly waking anybody up). A bolder opener could've kick-started day two with a bit more oomph, but Lolla is, after all, a music festival—the hippie tunes need their place.
Reignwolf: Now this is how you open a festival. Leather-clad, one-man, blues-rock freak of nature Jared Cook commandeered the Petrillo stage with blazing vengeance Saturday afternoon, tearing through guitar solos that would've taken most players a third hand to master (all while stomping a kick drum and singing). Cook's band joined in for the second half of the set. The trio began with their newest track, "Are You Satisfied?" – which, obviously, the crowd wasn't, seeing as they demanded (and received) an encore.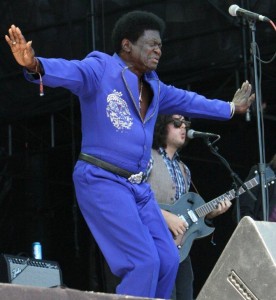 Charles Bradley: Known as "The Screaming Eagle Of Soul," Charles Bradley lived up to the nickname by unleashing howls that turned from scorched earth policy to religious ecstasy on a dime. Now in his sixties, the former James Brown impersonator can drop to his knees draping a microphone stand over his shoulder, do the Robot, air hump, and Vogue in the span of a deep soul interlude and drive everyone watching to hoot in approval. Easily the most inspired hour of the entire weekend, Bradley asked if anyone would like to go to church. We had only one question when he promised to take us there: Does this fulfill our Sunday obligation?
GRiZ: An anomaly within the electronic music genre, GRiz manned the tables Saturday afternoon with instrument in hand. In the sauna-like thickness of Perry's stage, GRiZ sprinkled live saxophone licks over a set of funk-infused glitch-hop. The blending of live and electronic was refreshing if not exciting, though the raver kids at Perry's didn't seem to care as much about GRiZ's woodwind as they did locating, swapping, and ingesting designer drugs.
Local Natives: These once-cult heroes put on a bit of a snoozer, but what more would you expect from an L.A. indie-psych band on an 80-degree afternoon? The crowd livened up for a few minutes during "Airplane" – the languid head-bobbing turned to into half-hearted palm-pumping and, here and there, actual dancing – but for the most part, Red Bull-stagers seemed to be saving their energy for The National.
Unknown Mortal Orchestra: Likely due to Ellie Goulding's overlapping set, The Grove was sparsely packed for this New Zealand psych-rock trio. It's a damn shame. Singer/guitarist Ruban Nielson positively shredded on his Fender Jag, exuding sounds as close to a U.F.O. as they were to a guitar. As if this wasn't rock 'n' roll enough, drummer Riley Geare called on 1975 and took the second drum solo of the weekend (after Nine Inch Nails drummer Ilan Rubin's banger during "March of the Pigs"). We smell a resurgence.
Ellie Goulding: Bros don't put other bros on their shoulders, unless it's during Ellie Goulding's uneven, but enthusiastically received set. On a weekend that saw some of the best sound blaring out of the Bud Light stage in the festival's history, Goulding's gauzy vocals are either really that thin or prerecorded backing tracks dwarfed her humanity. A cover of Elton John's "Your Song" made us want to claw our eyes out – and not in the tortured, I-feel-every-syllable way the girls donning floral headbands in the front row did – before "Anything Can Happen" turned us into one.
The National: Trouble always finds The National's brooding frontman, although he probably brings it on himself most of the time. Something about exorcising demons with the sun shining furiously over Chicago's magnificent skyline seemed off, but all better to see the Brooklynites' every scowl. "Graceless" found the wine-slugging Matt Berninger sulking off to the far side of the stage, tripping over wires and amps, to enjoy a self-inflicted time out. The punishment fit the tantrum. Nothing compares to the exhilarating one-two punch of "Don't Swallow The Cap" from this year's Trouble Will Find Me and the closest thing to a hit the band has, "Bloodbuzz Ohio."
The Postal Service: Ben Gibbard and Jimmy Tamborello's unexpectedly sensational 2003 pet project Give Up blossomed in a high-budget festival setting. For the first (and last) time in ten years, Gibbard, Tamborello, and new/lovely additions Jenny Lewis and Laura Burhenn (of the Mynabirds) powered through 2003's electro-mopey tracks with intergalactic lighting and bass so loud their 808s may have attracted a few X-heads from Perry's. The band performed just as well as their hardware. Gibbard and co-vocalist Jenny Lewis' flirtatious choreography during Give Up classic "Nothing Better" remains the highlight of the set, if not the cutest thing Lollapalooza has ever seen.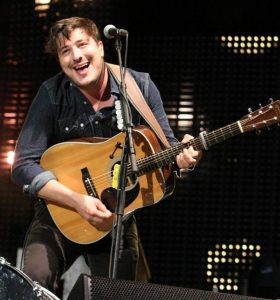 Mumford And Sons: The cathartic pledge "I Will Wait" had so many people hopping up and down on the south end Grant Park, it's a wonder neighborhoods as far off as Beverly didn't feel the earth shake. Love 'em or hate 'em (we're not afraid to say we're firmly planted on the affectionate side), Mumford And Sons put on an ecstatic showing with banjo-spurred surges that could awaken the dead. Fireworks from Soldier Field were perfectly timed to the delirious "Lover Of The Light," but the most awe-inspiring moment came when the four core members gathered 'round one mic to cover Springsteen's "I'm On Fire." A snippet of delicacy in two hours of overblown emoting.
Day Three
Skaters: This hipster-heralded NYC surf-punk outfit wore, well, great outfits. Among the five band members were two Hawaiian shirts, a Grateful Dead tee, a pair of overalls, and one of the band's own Skaters-emblazoned T-shirts. Their clothing was so well coordinated you could almost envision the band meeting: "O.K., guys. No skinny jeans allowed – baggy with holes in the knees only. And no shampoo during the week leading up to the set." The band's sound? Better than most garage-rock revivalists.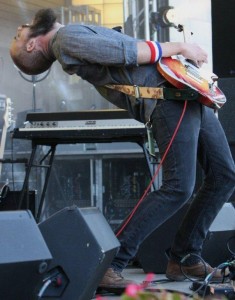 Baroness: These gruff Georgian prog-metalheads were not only talented as absolute hell – they were clearly having fun. Despite singer/guitarist John Baizley and guitarist Peter Adams' call-and-return solos and near-constant harmonized wails, the most refreshing part of Baroness' set remains the devilish grin that sprouted on Baizley's face when the band nestled into a particularly driving jam.
Dog Blood: Overwhelmed by the ever-evolving subgenres of electronic music, Illinois Entertainer asked some day three Perry's crowd members what to call Dog Blood (the temple-pounding side project of Skrillex and DJ Boyz Noize). One fan suggested dubstep. The fan next to him disagreed, declaring it hardstyle. The next fan begged to differ: it was trap. While the three duked it out, we asked others what exactly characterizes "trap." Answers included "filthy beats," "molly," and "want to smoke some weed?"
The Mowgli's: Even the uninitiated can figure out in about five seconds that this eight-piece hails from California. When they weren't dropping a can of sunshine on our asses with breezy, chipper fare, they were instructing those at the BMI stage (aka the Nature Stage) to join in massive group hug. "This is so much better than Match.com," guitarist Michael Vincze remarked. "Emily" from the band's early summer release, Waiting For The Dawn, ratchets up the Springsteen "Glory Days" vibe, replacing the Jersey grit with West Coast romance. The album's standout track, "San Francisco," ended the set on such a high, a road trip to Milwaukee might be in order to see the curiously-dubbed collective at the Pabst Theatre on Oct. 30.
Alt-J: This is the tweet we managed to post during the British foursome's set: "Alt-J is like a combo of Other Lives, Al Stewart, and Fleet Foxes with a lifetime supply of cowbell and impenetrable lyrics." And upon further introspection, that's the best we can come up with in describing these Mercury Prize winners. The pristine, almost mechanical structures of songs heavy on atmosphere and scooting along at a snail's pace put up a keep out sign instead of extending an invitation.
Tegan and Sara: After Lollapalooza 2008, when high temperatures brought Sara Quin to faint, the crowd was happy to see Tegan And Sara take the stage at all. The twins played very, very well. While the sisters' endearing stage banter would've been enough to entertain the crowd for 60 minutes, the translation of their low-fi tunes to main-stage sound went surprisingly well. Tegan belted "Now I'm All Messed Up" with particular gusto, stopping prance-dancing festies in their Budweised tracks for a moment of reverent awe.
2 Chainz: Yes, we watched 2 Chainz. Yes, it was an absolute party.
Vampire Weekend: Frontman Ezra Koenig possesses a mop of '80s teen flick-worthy hair. We kept imaging Molly Ringwald tousling his locks during the band's gleeful run through of its third, and best, release, *Modern Vampires Of The City. The unbridled jubilance of "Diane Young," "Unbelievers," and "Everlasting Arms" countered the pretentiousness of the stage décor: floating Roman columns and a mirror straight out of *Snow White. Mirror, mirror on the wall, who's the freshest of them all?
Major Lazer: Two words: Twerking contest! When Diplo and friends weren't screaming out aerobic instructions like Richard Simmons and giving new meaning to "sweatin' to the oldies," the project turned the spotlight on a group of dancers' assets during "Bubble Butt."
Cat Power: Something was a bit fishy here. Given Chan Marshall's recently cancelled European tour and bouts of poor health, fans were prepared for either a train wreck or a showstopper. They got neither. Though Marshall more than held it together vocally, she was visibly unengaged during the set, frequently glancing into the wings at the sound tech. She left the stage completely twice (once to change from her leather jacket into a denim one, because, well, we don't know). There was also the issue of her camouflage: Aside from the set's floodlit opener, "The Greatest," (the best performance by far) Marshall was lit from behind, leaving her shadowy and imperceptible. The vocals were masked by a smokescreen of reverb and filters, and during a handful of songs, Marshall relied on her backdrop of weird-shit videos (Chan hanging in the desert with some dudes on motorcycles, a girl riding BMX in a sundress) to do the work of a frontwoman. We aren't sure exactly what was up with Marshall on Sunday, but something about her overall presence seemed detached and suspicious.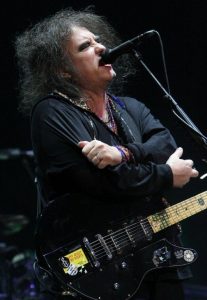 The Cure: Boys may not cry, but a playful Robert Smith, still outfitted in smoky eye makeup, wayward lipstick, and tornado-fluffed hair, showed they can dance. A set brimming with maudlin hits ("Pictures Of You," "Just Like Heaven," "Lovesong") drowned us in sweet nostalgia while Smith's remarkably intact vocals could prompt a sea of hopeless romantics to text the flame that got away.
— Janine Schaults and Matt Pollock
Category: Featured, Live Reviews, Weekly