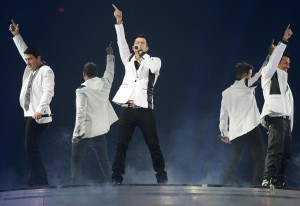 Ever since New Kids On The Block reunited in 2008, the Boston-bred boy (now man) band has consistently sold-out multiple arena dates in major cities, suggesting its fan base is just as dedicated as it was 25 years ago. Of course, it didn't hurt that the cheekily-titled "The Package Tour" also featured fellow flashbacks 98 Degrees and Boyz II Men, though at least in the case of NKOTB, the fivesome was obviously back on its A-game.
In fact, the guys opened the first of two jammed Allstate Arena shows on July 18 with tunes off their new self-released studio album 10, which might not exactly be blowing up the charts, but thankfully leans in a more mature, age-appropriate direction than the down and dirty comeback collection The Block (Interscope) from a few years back. If attendees had any question of whose show this was, it was quickly answered with the catchy anthem-in-the-making "We Own The Night," which also gave everyone the first glimpse of the mammoth production as they rose to balcony level thanks to some high-speed hydraulic lifts.
Plenty of swirling lights, sheets of smoke, sparks, costume changes, and choreography often accompanied tunes old and new, spanning the likes of "Summertime," "You Got It (The Right Stuff)" and "The Whisper" across nearly two hours. While it was clear the mostly female audience (who could've stepped straight out of a high school reunion) came to party, the true test for the New Kids came during an extended ballad segment, with some of the fellas passing with flying colors and others sounding like they were merely along for the ride.
The ultra-high falsetto of Jordan Knight clearly carried a remake of The Delfonics' "Didn't I (Blow Your Mind This Time)" and the group's own "Valentine Girl," while Joey McIntyre was equally impassioned during his staple "Please Don't Go Girl." Donnie Wahlberg was best dropping the occasional rap or acting like a Chippendale dancer during his solo segment on "Cover Girl," while Jonathan Knight and Danny Wood pretty much served as non-descript harmony singers, although they helped enhance the eye-catching dance formations.
Nonetheless, it was the unity of all five members that helped sell the retro soul-inspired new tune "Remix (I Like The)," plus they also showed their influences run fairly deep thanks to a covers medley that included The Jackson 5's "I'll Be There," George Michael's "Faith," Prince's "Kiss," and even "Tender Love," the lost R&B gem originally cut by the Force M.D.'s. Yet it was likely the group's own dance floor packers like "Step By Step," "Tonight" (which found the Kids bravely jumping in the crowd) and "Hangin' Tough" that surely enticed ticket sales and the New Kids delivered exactly what was expected. Throw in the scream-inducing "I'll Be Loving You (Forever)," and it was apparent this ongoing reunion of the best boy band in the business (past or present) is probably permanent.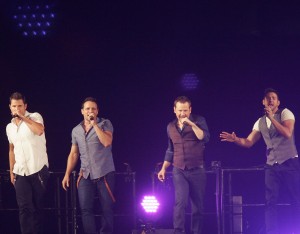 Comparatively speaking, support act 98 Degrees came across more like a cookie-cutter cousin of the Backstreet Boys or 'N Sync than the soulfully anchored headliners who have spanned at least a couple generations, but were nonetheless feverishly received. Yes, Nick Lachey still gets the most screams, though there was also plenty of love for his brother Drew, Jeff Timmons and Justin Jeffre, who were back together after a 13 year hiatus from the studio. While tunes off 2013's 2.0 (eOne Music) were pretty bland, the sing-a-longs really ramped up with older tunes like "I Do (Cherish You)" and "Because Of You," which certainly brought added value to the bill, though it's likely 98 Degrees wouldn't have been able to sell this many seats on its own.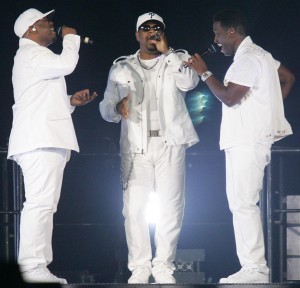 In terms of enduring material and overall legacy, openers Boyz II Men should've probably been moved higher up on the bill rather than being relegated to a mere six songs, especially considering they're technically the most successful R&B vocal group of all time (beating even a few of Elvis Presley's chart records). Regardless of their placement, Nathan Morris, Shawn Stockman, and Wanya Morris rose to the occasion, sounding sweetly soulful across ballads like "On Bended Knee" and "End Of The Road" or showing off several slick steps of their own during the new jack swinger "Motownphilly," all of which helped bring the joyfully nostalgic night full circle.
— Photos and text by Andy Argrakis
Category: Featured, Live Reviews, Weekly