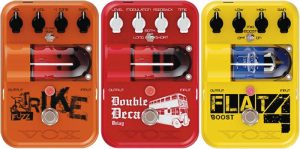 VOX
Tone Garage Series
VOX Amplification, first made famous by the Beatles and later by U2 (The Edge), The Church (Marty Willson-Piper), and Wilco (Jeff Tweedy), has added its robustly-built Tone Garage series of guitar pedals to its roster. Consisting of five effects units that feature all-analog circuitry, the pedal lineup includes The Flat 4 Boost, the V8 Distortion, and the Straight 6 Drive. All boost-type pedals feature a high voltage Vox 12AX7 tube. The Flat 4 Boost also incorporates a passive Baxandall EQ circuit. The Double Deca analog delay features three V3205 Bucket Brigade chips, and the Trike Fuzz octave/fuzz pedal features specially-selected, high-end diodes. Vox engineers named the series Tone Garage for its "boutique-inspired, hot-rodded, and modded designs that deliver classic and unique tones" that Vox considers exclusive to its line.
The pedals use all-discrete circuits instead of the op-amps or ICs (Integrated Circuits) that other manufacturers employ. Vox pedals operate on higher quality individual transistors, resistors, capacitors, and coils.
The Tone Garage has a specially-created vacuum circuit for three of the pedals in this series called Hi-Volt, which delivers high voltage (200V) to a 12AX7 vacuum tube using the included 6x AA batteries or an optional DC9V adapter. The result is a hotter, more dynamic, and responsive tone that guitarists associate with vacuum tube amps.
All five pedals are equipped with a standard toggle switch that's meant to alter the EQ on each pedal for additional sonic tones, and each is assembled with a sturdy aluminum die-cast body (with some funky 1990s-era hip-hop artwork) to withstand the rigors of the road. Battery life is approximately seven hours with 6x AA batteries. Details can be found at voxamps.com. Pedal pricing starts at $139.99.
Seymour Duncan
Woody Series Pickups
It's hard to believe that Seymour Duncan took several years to add colors (other than maple) to its portable Woody line of acoustic pickups, but that time has arrived.
The Woody snaps in and out of just about any acoustic guitar soundhole, and it includes a 14-foot cable that can connect to an amp or P.A. system.
Up until now the only available Woody color was maple, but thanks to a groundswell of demand from creative players, Woody now comes in the additional shades of black and walnut.
Aside from three color options, the Woody is also available in three different versions to meet the various needs of acoustic guitarists. The Woody SC is a single-coil acoustic pickup that produces a flat, natural tone with no 60-cycle hum. The Woody HC is a full hum-cancelling acoustic pickup that picks up more of the guitar's natural warmth and richness. And the Woody XL features adjustable pole pieces for adjusting balance from string to string, and it brings more richness and articulation out of your tone due to its stacked design. MSRP for the Woody starts at $99. Details can be found at seymourduncan.com.
News & Notes
Bolingbrook-based Music Solutions has departed its longtime home next to Foremost Liquors (where will we buy our Hennessy?) at Boughton Road and Route 53 for greener pastures at Interstate 55 and Route 83.
Owner Steve Dollinger explained to IE that they "needed a larger space to expand their repair facilities, while supplementing their current retail space." Dollinger's specialty has always been guitar modifications and repair. We consider him one of the good guys in the business, and he knows his way around a guitar. Their new digs at 490 Woodcreek Drive (Suite D) in Bolingbrook will expand those services. Their phone stays the same: 630-759-3033.
— David Gedge