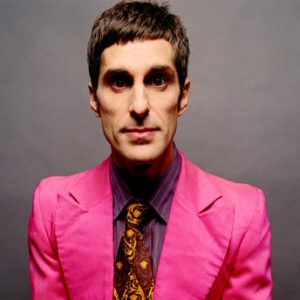 Were it not for a sore throat, the Alternative Nation might have never been born.
The night before a scheduled gig at Glastonbury Festival in 1990, Los Angeles' art-metal provocateurs Jane's Addiction warmed up by playing a club gig. The next morning, lead singer Perry Farrell woke up to discover his voice was gone and with it, the band's festival debut.
But instead of pouting about a missed opportunity, he decided to cultivate his own musical extravaganza. Lollapalooza was born.
Appearing: 8/22 with Jane's Addiction at the Rock Star Engery Drink Uproar Festival at First Midwest Bank Amphitheatre (19100 Ridgeland Ave.) Tinley Park. Lollapalooza takes place in Grant Park between 8/2-4.
Legitimate enough, right? Not so fast. The man at the center of the story, Lollapalooza creator and current figurehead Perry Farrell, is quick to call bullshit. "The story has taken on a sort of urban legend quality to it," he explains. "I did lose my voice. I didn't want to go up there because I was kind of embarrassed. I mean, who wants to show up onstage and not be able to sing? People started to assume that because I didn't get to perform at Glastonbury, I decided to build one for myself." In other words, don't let the truth get in the way of spinning a grand yarn. "Exactly," he adds, calling from his publicist's offices in Los Angeles, "and I'm a sucker for a great story."
The year is 1991 and Jane's Addiction is falling apart. The L.A. quartet is peaking commercially, but all the band can think about is how to bring it all to an end. Farrell and his manager discuss the possibility of a touring music festival. But unlike the dinosaur rock models that briefly surfaced in the '70s, this one would speak directly to the outsiders, the misanthropes, those on the fringe, and the silent and unheard.
With albums like Nothing's Shocking and Ritual De Lo Habitual, Jane's Addiction had already extended the metaphorical olive branch, creating common ground between the art school punks and the disenfranchised metalheads who despised where their genre was heading (think Poison, Ratt, Warrant, and countless others whose defining characteristic was the guys in the bands used more hairspray than the rocker chicks who pined for their attention).
Farrell assembled a bill of musicians who were musically diverse from one another, but all had dipped a toe in the pool of what was then being called college rock or alternative rock. The tour featured The Rollins Band, Nine Inch Nails, Living Color, and Siouxsie & The Banshees with Jane's Addiction headlining. Alone, each might have been able to sell out a club or theater. Together, on the same stage as part of a day-long festival, they uncorked the zeitgeist.
It would be a box office bonanza for the next few years, bringing names like Pearl Jam, Rage Against The Machine, Soundgarden, and Smashing Pumpkins to mega-sized audiences they could not have achieved on their own. By 1997, changing tastes and, more specifically, questionable booking (Metallica?), it had run its course. A brief reboot was attempted in the mid 2000s but was quickly scrapped due to poor ticket sales.
In 2005, Lollapalooza found itself reconfigured as a "destination festival," meaning it would be hosted in the city of Chicago as a three-day romp in early August each year. And just like that, Lollapalooza was once again a box office cash cow.
But why Chicago? As a lifelong Chicagoan, to ask the question is almost rhetorical. But what did the West Coast guy see in our City of Big Shoulders?
"Well, lets start with the boring answer. It's centrally located close to the center of the country, it has great airport access, and superb public transportation . . . but then you see Grant Park. It's big, it's beautiful. You have the city's skyline as your backdrop on one side. The fountain [Buckingham Fountain] is right smack in the middle as a focal point. The lakefront is on the other side of the fest. You take one look at Grant Park and you have no trouble envisioning people in these beautiful surroundings. It accommodates everybody comfortably. It's adjacent to restaurants, hotels, museums, and the downtown. It seemed too good to be true."
Considering the history of the festival, it certainly begs the question that like Lollas in the past, this one might have to change or die. Would that mean ever pulling it from Chicago? "Right now, you're stuck with us," Farrell jokes. "I think Chicago would be very upset with us. I think there would be a lot of people calling for our heads. Right now, the best thing for the growth of the festival, I think, is to add locations, which we have slowly done over the past few years. We've recently expanded to Brazil, Chile, and Tel Aviv."
What about Coachella's recent experiment in which they took their festival and stretched it out over two separate weekends with both weekends presenting identical lineups? "Eh . . . if we were to try that, I think I would want something different. The idea of the same lineup, I don't know. I like variety. I'd like for each weekend to be unique."
So it devalued their product?
"I think so, yeah. I heard there was some trouble moving tickets for that second weekend and some jokes were being passed around. I don't want to be on the receiving end of a joke when it comes to Lollapalooza. It's like if you have children," he continues, "one of them might be the quiet, more cerebral kid and the other is more athletic and outgoing, and there's variance there, but you love them both equally and you embrace the fact that they're not clones."
– Curt Baran
For the full story, visit the issue through our partners at ShadeTree, or grab a copy available free throughout Chicagoland.