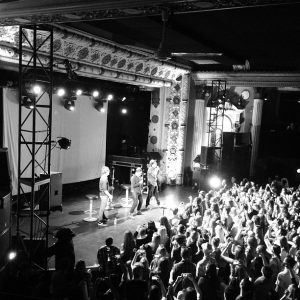 In a rare early evening event, comedy troupe The Lonely Island stopped at Metro on June 14 for an intimate Q&A in support of the group's recently released full-length, The Wack Album. The appearance came in place of the group's originally scheduled live debut, set to happen on July 15 at the Aragon before being cancelled as a result of "unforeseen scheduling conflicts." Instead, the trio of Akiva Schaffer, Jorma Taccone, and Andy Samberg sat down for an entertaining live interview session, fielding questions from moderator Seth Myers ("Saturday Night Live") as well as the attending audience.
Throughout the chat, the group moved from topics like first connecting with frequent collaborator T-Pain (the trio ran into him in the hallways of "SNL," where he recognized Samberg from his role in Hot Rod), to their thoughts on working with "Weird Al" Yankovic (they'd jump at the opportunity, he loved gross out Wack track "I Fucked My Aunt"). In conversation, the act maintained the wit displayed in their skits and songs, evident in the telling of a particular short ("Wanna Come With?") about Samberg's real life habit of looking for an escort to accompany him on the way to the bathroom that never came to be. The group also delved into the experience of working with celebrities on skits (Samberg: "Every actor wanted to rap."), going on to praise Rihanna's professionalism on the "Shy Ronnie" shorts and stating the obvious: "Every frame of Rihanna is usable."
Elsewhere, the trio revisited their multi-decade history, revealing the act's earliest origins date back 20 years when Schaffer first met Taccone. From there, the pair met Samberg in high school, during which time the trio began getting drunk and filming each other. Their first skit together spoofed The Legend Of Bagger Vance, stemming from a real-life incident involving soiling an acquaintance's bed. The comics recalled the original pitch of their classic breakthrough short "Dick In A Box," to which SNL mastermind Lorne Michaels reluctantly signed off on, reminding them that the clip would air during the annual Christmas episode, which children would be viewing. They also revealed "Jack Sparrow," their over-the-top cinematic-obsessed collaboration with Michael Bolton, was originally going to feature far filthier verses from Bolton, but the soft-rock singer proclaimed he couldn't commit to such extreme material, as he was set to meet with the Pope the following week.
Closing out the event, the trio rapped their respective verses to Wack cut "Diaper Money" over the studio version of the song. It's a far cry from the original idea of a full live concert, but hopefully that next step is on the way. In the meantime, conversations like this make for an entertaining consolation prize.
— Jaime "Black" de'Medici
Category: Featured, Live Reviews, Weekly