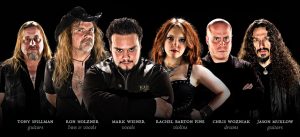 With Trouble," announces doom-metal torchbearer Ron Holzner, "I was just a bass player. Here, I'm the manager, co-writer, arranger, and producer." The veteran of Trouble's fleeting major-label ride on Rick Rubin's Def American (now simply American) pauses in deep satisfaction despite his most popular work (1990's Trouble and 1992's Manic Frustration) being long out of print. "It's like going out on top with all guns blazing," he concludes, gearing up for the reissue of his current main project's self-titled debut album. "That's how I look at Earthen Grave."
Holzner talks on his landline in Chicago. He took the day off work to rehearse a song from the recently released first slab by Victor Griffin's In-graved. A week from today, he'll be jamming onstage in Berlin with the legendary former guitarist of Pentagram (Relentless era) and a band of tight-knit doom brothers, including Jeff "Oly" Olson (ex-Trouble). "The doom community is small," says Holzner, who was a roadie for Trouble before joining the group in 1986. Small but busy, especially this summer.
Earthen Grave's mighty 2012 self-released full-length will get the deluxe treatment – with new bonus tracks – on double vinyl and CD (due out 7/9 on Ripple Music). The wax edition features a colossal strings-as-shred live rendition of Trouble's Rubin-era stomper "At The End Of My Daze," recorded during violinist/part-time Earthen Grave member Rachel Barton Pine's performance at the Great Performers of Illinois event in 2010. Both formats feature new studio track, "Death Is Another Word," with new drummer Chris Wozniak (Lair Of The Minotaur). The cut is a stripped-down, violin-free throwback to riff-worshipping doom via working-class hands (guitarists Jason Muxlow and Tony Spillman). Singer Mark Weiner moves through the classic-metal cemetery with respectful, commanding strides. If Lee Dorrian had the pipes of Ronnie James Dio, Cathedral would sound something like this.
See Earthen Grave with Rachel Barton Pine on June 22 at Days Of The Doomed Fest III at The Blue Pig in Cudahy, Wis., (Reggie's bus departs on June 21) and Aug. 10 at Mayne Stage. Holzner's own tribute to Trouble, The Skull, plays the hits on June 29 at Reggie's.
Mosh: What challenges does a doom band with strings encounter?
Ron Holzner: It's a whole new ballgame for all of us, to tell you the truth. But strings are very close to metal. From Megadeth to Eddie Van Halen to Deep Purple/Ritchie Blackmore, they're all playing the violin scales. Randy Rhodes. They incorporated it in metal but on guitar. And when [violinist Rachel Barton Pine] really wanted to play and be in the band and play on everything, we were thinking of treating it like a lead guitar player. So I said . . . "Channel this person and see what you can come up with. We'll write the parts." I really wanted her to play rhythms. That to me was most important. "I'm going to plug you through a Marshall amp, get you distortion on that crazy instrument you're playing, and I want to hear you chug. I want you to play metal rhythms." And she did.
M: I saw Earthen Grave open for Mayhem during the Norwegian black-metal band's somewhat disastrous 25th anniversary tour, in which direct-support act Marduk was stuck in Sweden with visa troubles. By the time "Blackenedfest" got to Chicago, all the announced openers had dropped off the bill, and organizers were scrambling. Nachtmystium and Lair Of The Minotaur were then supposed to play, but called in sick. How did Earthen Grave end up opening for Mayhem?
RH: [House of Blues] called [former drummer Scott Davidson] probably three hours before doors and said: "Scott, can your band play? Can Earthen Grave play?" We're all working, spread out all over the city, and we all exchanged phone calls right away: "Can we do this? Can we do this? Let's meet at House of Blues and make this happen." So we all scrambled. I didn't even get a chance to take a shower. My wife dropped off my stage clothes at the show. Doors had already opened when we got there. After loading in, we were up onstage and playing within 20 minutes. It was so quick . . . I still had drywall chunks in my fucking hair.
M: Original Trouble drummer Jeff "Oly" Olson was momentarily in your other band, The Skull, whose lineup includes original Trouble vocalist Eric Wagner. One of the bonus tracks on the vinyl edition of Earthen Grave's reissue is a live cover of Trouble's "At The End Of My Daze," featuring Trouble guitarist Bruce Franklin. You and Olson also did session work on the debut LP from Victor Griffin's In-graved and are both set to play with the former Pentagram guitarist at Days Of The Doomed Fest. There is a lot of collaboration among old Trouble members. What factors are keeping a classic Trouble lineup from regrouping?
RH: Timing is the main thing. Trouble have been working on this new record for six, seven years or something like that. And basically, that's Rick Wartell and Bruce Franklin. Their main goal is to finish this record . . . and they said if anything happens after that, it happens after that. Basically, we're all just in a holding pattern to see if it's going to happen. It's up to Rick and Bruce. Rick's the one who started it. He started Trouble in 1979 at Chicago and Western in the city. It's as soon as he says the word. He's got all of our numbers. If he wants it to happen, it'll happen. In the meantime, me and Eric are learning the songs and playing it and having fun, and kind of keeping the gears oiled . . . Bruce did a song with Eric just recently, and Eric has sung with Earthen Grave. Bruce has jammed with Earthen Grave. It's crazy, man. And dig this, in The Skull, our guitar player from Sacred Dawn, Lothar [Keller], is actually in Spillage with Bruce Franklin and Tony [Spillman] from Earthen Grave. Think about that [laughs]. Lothar's playing Bruce's riffs in The Skull, and he's actually singing with Bruce in Spillage. That's so cool.
M: Do I hear Pine playing Wartell's part of the twin-guitar solo from "At The End Of My Daze" on electric violin?
RH: Yes. Plus they do the "Death March Intro," which was off the Run To The Light record. It was the intro to "On Borrowed Time." So it's Rachel and Bruce doing the duet together on that.
M: Is Wartell the problem?
RH: No. Rick started the band. It's his baby to do what he wants with it. He's the creative force and owner of Trouble. It's what he wants to do. I think what he's doing with the new record is awesome. He's got Kyle Thomas singing, who is one of my buddies from New Orleans. Great vocalist. So I'm sure the record is going to be awesome. So we'll see. If [a classic lineup reunion] happens, it would be wonderful. We'd all love it. If it doesn't, we all had great times recording and playing these songs years ago.
M: Is the Rick Rubin material still out of print?
RH: Yeah, I guess it is. We owed him a lot of money, I know that. I would think that he would want to reprint it so he can make some of that money back . . . I know that Rick and Bruce are trying like hell to get it from his grasps and into the people's hands again.
M: What's your Trouble collection like?
RH: I got probably about four [copies of 1990's Trouble]. I got a couple of the first – the original [1984] one on white vinyl. And singles. All kinds of stuff. Eventually, when I want to retire, I might just let it all go on eBay. Get that little farmhouse with the little pond. Grow old.
M: How did you partner with Victor Griffin's In-graved?
RH: Pentagram and Trouble and [Saint] Vitus and Cathedral, we all know each other. And Victor, I've known him for years . . . I actually was in Place Of Skulls for about a month. I was supposed to play with him and [Scott "Wino" Weinrich]. It was right after my house burnt down, so I was living in an apartment with no equipment or nothing. It was really a bad time, so I wasn't able to stick with the project and play on the record . . . We cover [Pentagram's] "Relentless" in Earthen Grave, and he loves it. We always stayed in touch, and he called me up last year on Thanksgiving, wished me a happy Thanksgiving, and said, "How'd you like to play on a track if I sent it to you?"
M: You managed to save your Trouble records despite your house burning down?
RH: Well, it didn't burn down. Parts of it burnt. It was mainly smoke damage. We didn't lose too much. They were able to box everything up and take it to the warehouse and ozone it and clean everything. But we had to gut the whole house and rebuild the house because smoke gets in the walls. I didn't really lose any of my stuff, thank God.
TAPE WARP: There's a lot going on in the shock-cartoon cover art of Victims Of Hatred, the demo-tape reissue from long-defunct Winthrop Harbor/Waukegan death-thrash blip Dementox (out now on Headsplit). Flames roast an infidel, a zombie hoists a head on a stick, and a horned warrior demon eats the neck of a disemboweled neo-Nazi skinhead. A detached hand flips me off. Weirdest part? The cover art by Putrid is dated '05, though Victims Of Hatred is a newly reissued demo from '92.
"Matt Carr [aka Putrid], he's a really good buddy of mine, and we were painting together," explains onetime Dementox lead guitarist Markus Launsburry (Blood Of Martyrs, ex-Nachtmystium). "That's how this whole thing kind of even happened . . . We were hanging out one day just drinking beers and smoking weed, and he was digging through my tapes, and he was like, 'What's this, bro?' I put it in. He got so stoked on it, he drew a cover for it."
Launsburry says the original run of the demo – recorded by Al Purvey at Curved Air Studios in Crystal Lake (Smoking Popes, Masada), bumped down from the control board, and self-dubbed on a practice-room boombox – included no artwork beyond a photocopied band logo. Some tapes didn't even come with that. "Pretty low tech, man."
Victims Of Hatred fell into Headsplit's hands during Launsburry's more recent years in Portland, Ore., where the cassette-fetishizing label crudely ridicules the city's metal cliques (a recent flyer lampooned even the enigmatic Agalloch). The tape lives posthumously in period squalor, but is now professionally reproduced and presented in a cherry-red shell befitting the pulp within. Teutonic thrash impersonations, vocals bordering on alligator bellows, and a senselessly violent two-beat (from drummer Rob Polley) place Dementox somewhere between Kreator and Revenge on the extreme-metal Richter scale. Don't expect a reunion, says the former lead guitarist, who currently resides in Nyack, N.Y. "John [Valdez], who was our vocalist and our rhythm guitarist, quit playing music and became a born-again Christian and totally renounces everything he ever did. It's kind of sad."
MOSH-WORTHY . . . LIVE: Against The Plagues, Morgue Supplier (Cobra Lounge, 6/21); Cold Cave, Boyd Rice (Empty Bottle, 6/24); Vreid (Mojoes, 6/25); Rush (FMBA in Tinley Park, 6/28); Slash (Naperville Ribfest, 7/5).
MOSH-WORTHY . . . LIBRARY: Stephen Pearcy's "Sex, Drugs, Ratt & Roll: My Life In Rock" (Gallery); Dennis Dread's "Entartete Kunts" (Ajna Offensive); Rex Brown's "Official Truth: 101 Proof" (Da Capo); Howie Abrams and Sacha Jenkins' "The Merciless Book Of Metal Lists" (Abrams).
MOSH-WORTHY: Dust Hard Attack/Dust reissue (Sony); Children Of Bodom Halo Of Blood (Nuclear Blast); Mortuary Drape Tolling 13 Knell reissue (Peaceville); Dark Tranquillity Construct (Century Media); Black Sabbath God Is Dead? (Republic).
— Mike Meyer
Category: Caught In A Mosh, Columns, Monthly