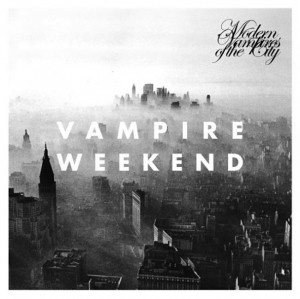 VAMPIRE WEEKEND
Modern Vampires Of The City
(XL)
Three quarters into a Grape Bomb-fueled escapade last month in the Nasty 'Nati at a joint owned by the fine folks at the helm of aliveOne (come to think of it, why weren't we just at the Cincinnati outpost of the same name?), a quick survey of the room yielded the following findings: half the men out on this breezy, but pleasant Saturday night came dressed in blazers and Topsiders – no socks. Had we unknowingly stumbled onto the set of a Vampire Weekend video shoot? We figured it was only a matter of time before Ezra Koenig's mop popped in from around the corner, accompanied by a Sperry representative employed to oust any landlocked sailor in need of manscaping around the ankles to keep the integrity of the brand intact. That's brand, not band.
But trends take time to slither into the Midwest and just as these patrons glob on to the sea swept Kennedy look, Koenig and his former Columbia University classmates have outgrown Cape Cod, Oxford commas, and Paul Simon's Graceland (and yet, they're still rocking popped collars – at least at Coachella – proving some things never change). The band's third album puts aside those boyish pursuits in favor of deep thoughts. Now perilously close to the "dirty 30s" and prone to reflection, the foursome dabbles in the search for a higher power. The reggae-dusted "Ya Hey" reaches into the Old Testament for a burning bush allegory and is sadly sabotaged by the chanting of what sounds like a chorus of those Twinkie-shaped minions from Despicable Me while "Worship You" gallops with the fervor of the Lone Ranger in hot pursuit of a stagecoach robber. Is "Everlasting Arms" directed at an omniscient father figure or a soul mate? The nature of the recipient loses value once nestled in the bosom of Koenig's shy, honeyed delivery. Somehow he manages to sing even more sweetly on "Obvious Bicycle" – an understated hymnal with an effortless call to action.
Infectious first single "Diane Young" owes a big debt to the bass-heavy Stray Cats, Neil Young's "better to burn out than to fade away" mantra, and the evil geniuses behind Auto-Tune software. Anchored by a glugging stomp reminiscent of Buddy Holly And The Crickets' "Peggy Sue," City's finest selection, "Unbelievers," shakes with fire and brimstone (and the flourish of Highland pipers) without ever bringing down the sunny, rambunctious mood. Koenig swears to his lady friend that they'll both perish without grace, but if he's so certain, why bother setting a new template for gospel music?
— Janine Schaults
Appearing: 8/4 at Lollapalooza
Check out the May issue of Illinois Entertainer to read the entire Spins section for reviews of the latest releases.