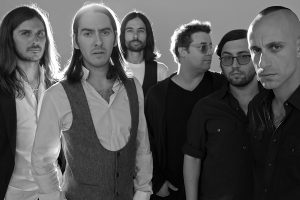 Dhani Harrison says his spirit animal would be "something fuzzy." Maybe a "dire wolf." Ah, a fellow "Game Of Thrones" fan, but it's a wonder the son of the quiet Beatle has any time to devote to the bloody fantasy when he seems to pile on side projects like Littlefinger accumulates betrayals.
Harrison brings his full-time group, Thenewno2, to the Vic Theatre on May 17 with Black Rebel Motorcycle Club. "They're really sweet guys it's really nice to be on the road with them. I think it's probably my favorite band that they've toured with ever," he gushes.
We talked to Harrison on his way to Detroit about FOMO, Abbey Road and his favorite drinking game.
Illinois Entertainer: You're releasing a deluxe edition of The Fear Of Missing Out. We've always loved that title because so many friends and colleagues are afflicted by that notion. Is it something you struggle with.
Dhani Harrison: Everyone has. It's a force of nature. It's kind of like an elemental thing. In the society that we live in that's – it's more based on where you aren't as opped tow here you are. When I was talking about FOMO, it was more before even like Instagram. Now we've got Instagram. That's like the ultimate FOMO-inducing weapon. I was posting stuff on Facebook – I used to always say, "Oh, look here, I'm up on a mountain" or "I'm on a boat!" It can be used for good, I suppose, but more often than not, it's just like, "Look at me in a bikini" or "I'm up in a mountain," and everyone's like, "I wish I was in a bikini or up a mountain."
IE: Is your fear of missing out the reason you have so many side projects?
DH: It's true. I love collaborating. I have so mnay friends – especially living in L.A. – everyone's in four bands and everyone's girlfriend is going out with someone that you played with. Everyone's girlfriend in in another band and then that band has a guy that's in your band it's very incestuous, but it's really good because it means that you can play with a lot of different styles. Thenewno2 was kind of a way of including everyone from the start, but hen I managed to accidentally get into Fistful Of Mercy and that created itself. So, I think I even gave myself FOMO with that one. But then once you've played with Ben Harper and you've heard that onstage every night standing next to you with those incredible riffs, then when we went to make The Fear Of Missing Out, I had FOMO that Ben wasn't going to be on it, but then he came and played on that. We just did the soundtrack for this film, Beautiful Creatures, that was very interesting because I used to have very bad FOMO for The Duke Spirit. I don't know if you know them. They're a fantastic band. I think they're on hiatus, but [singer] Liela Moss . . . ended up on the soundtrack and it's funny, when we went to perform it live we had a violinist replace Jessy Green and that was Anna Bulbrook from Airborne Toxic Event and Anna Bulbrook's boyfriend is Marc Sallis from The Duke Spirit. Liela and Toby [Butler] have a side project called Roman Remains, which is excellent, so I signed them onto my label. So it's just all the bands that I'm friends with all kind of starting to come together in a really interesting way.
IE: Kevin Bacon is going to have to move over.
DH: Exactly! Who isn't in The Newno2 now?
IE: Paul Hicks is in The Newno2 with you and you're going to start a project with him called pHd . . .
DH: [Interrupts] It's not going to be called pHd anymore?
IE: What's it going to be called?
DH: I'm not sure 'cause we had a bit of trouble with the name pHd. I think there was a big '80s project called pHd. That is going to be really fun. We've actually started working on a few tracks and it sounds – it's actually very filmic. It's very cinematic. It's kind of a combination of all the sort of electro-swamp stuff we were doing for Beautiful Creatures, so we'll see. I'll have to announce the name of that when it comes out.
IE: You coined the term "swamptronica" for your work on *Beautiful Creatures. Have you invented any other genres since?
DH: There was a really good one the other day. Oh, I can't remember what it was. Oh what was it? There's been a couple of interesting games that we've been playing on the road which usually leads to amazing genre names or band names.
IE: Like what?
DH: There was an interesting game we were playing the other night because someone was given a bottle of Russian Prince Vodka and then suddenly it became reciting Prince lyrics in a Russian accent like it was Russian Prince. Singing Prince songs in a Russian accent may be one of the most hysterical things that I've seen. Very, very, very thick Russian accents. Yeah, that's a game for the whole family.
IE: You recorded the soundtrack to Beautiful Creatures at Abbey Road. How was it to be there working on your own material?
DH: That room is probably the best-sounding room in the world. I really, really love everyone at Abbey Road. They're so sweet. I mean, because I've been best friends with Paul for so long . . . he was always working, so I'd have to go see him at Abbey Road. Part of the Anthology was done there as well. It's kind of like a second home. You know all of the dinner ladies. I used to do a lot of web design and stuff. The old building, Abbey Road Interactive, is where I used to work out of, but that was my first time recording there and it's really funny. It's like Paul's dad used to be in Studio 3. My dad was in Studio 2 and there's a lot of family history there. It was quite emotional actually. When you hear the orchestra start playing, it was a proud moment. I was very proud.
— Janine Schaults
Category: Featured, Stage Buzz, Weekly