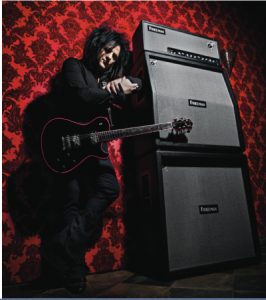 Knaggs Guitar
Steve Stevens Signature Guitar
The question on many musicians' lips these days probably isn't, "When is Steve Stevens coming out with a collector's guitar?" But, his collaboration with the former Paul Reed Smith Guitars bigwigs now at Knaggs Guitars is a pretty big deal whether you're a fan of Billy Idol's longtime, underrated raven-haired guitarist or not.
Tailored to Stevens' specs and preferences, the sleek instrument will be a leading character on Billy Idol's 2013 Anniversary Rebel Yell tour.
Recreating the mojo that PRS guitars arguably had in their late '90s heyday, Knaggs' Stevens Signature guitar is finished in opaque black with pink binding. But wait, there's more pink. The guitar's mahogany body features a carved maple top and set mahogany neck with custom pink "morning star" inlays on a rosewood finger board. Still more pink ahead. A pink ray gun head stock inlay is included along with Knaggs' proprietary two-in-one bridge, combining a tune-o-matic and string holder into one unit. This increases harmonics and sustain only the player can feel. The Stevens model's two volume and tone controls drive specially designed Signature Bareknuckle pick-ups with engraved ray guns not available in any other guitar.
Only 99 guitars will be available to the public in 2013. Each guitar comes with an exclusive certificate outlining specs and serial-number and will be hand-signed by Steve. A black form fit case with pink lining (again with the pink!) completes this limited offering.
"This instrument really came together out of a genuine friendship rather than a business venture. It is the combination of an artist and a company who want to put a very high quality guitar out there. I love picking up and playing this guitar; it puts a huge smile on my face," Stevens said in a recent press release.
MSRP is in the $5,000 range, according to Stevens' fan websites. Info can be found at Knaggsguitars.com.
Yamaha
Pocketrak PR7 PCM Recorder
Pocket recorders continue to grow in popularity and Yamaha's Pocketrak PR7 is the company's newest PCM recorder geared towards capturing live recordings, song sketches, or just plain ol' speech. Equipped with a newly developed crossed XY stereo microphone that Yamaha says will achieve  "consistent quality and natural sound," manufacturers continue to battle it out to put a little recording studio in musicians' pockets.
Like its competition from Roland/Boss, the PR7 offers essential features like an onboard tuner and metronome, as well as critical recording functions like overdubbing and marker editing, accessed via Yamaha's interface. It also features five recording presets tailored to multiple applications, including rehearsing, songwriting, or making a live recording. The recorder includes built-in 2GB memory, an extra microSD card slot, and can record PCM in 24-Bit/96kHz frequency. It also records MP3s. Street price is $149; info is available at Yamaha.com.
News & Notes
We look forward to the month of May every year because it marks the return of the 4 Amigos Texas Guitar Shows annual "Chicago Show" in St. Charles at the DuPage Expo Center. Dealers from all over the U.S. converge on the suburb to show some of the most beautiful vintage and custom guitars you'll ever see or play. This year's show takes place on May 18 and 19. Info is at Texasguitarshows.com.
Not to be left out that same weekend is another long-running show for drummers: Rebeats Chicago Drum Show at the Kane County Fairgrounds in St. Charles. The show offers master classes with drummers Rick Latham and Daniel Glass on the schedule for Saturday and Sunday, respectively, as well as many other clinics, demos, and buy & sell sessions. Details can be found at Rebeats.com. Both shows have a $10 to $15 cover charge. It's worth it!
— David Gedge