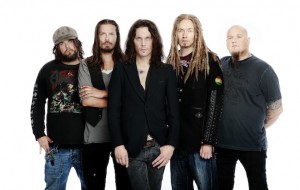 I went to the mall and the record stores were gone. The place where I discovered Integrity sells prom dresses. No System Of A Down at the jeweler. No Slayer. Inside the Hot Topic where I bought Nachtmystium's Worldfall EP, the CDs that once dominated the middle of the shop had been reduced to a couple of dozen titles pushed to the wall. Don't see what you like? Look online, kid.
Last decade, Mosh had it pretty good, even in the suburbs. I rewind to Ozzfest 2005, which, unlike last year's Lollapalooza, featured Black Sabbath complete with Bill Ward. "Viva La Bam" is on at the designated driver's house, and we hear the most distinct, lovesick voice in Finnish metal since Hanoi Rocks vocalist Michael Monroe covered "Ain't It Fun" with Guns N' Roses 10 years prior. What happened to that ever-present friend of Bam Margera, the one with the gloomy baritone who fronted the MTV staple that sounded a bit too much like Blue Oyster Cult via Alkaline Trio. What ever happened to H.I.M.?
"I've been hanging on the telephone for the past five hours or something," says a weary Ville Valo at home in Helsinki. The singing sidekick is promoting H.I.M.'s eighth studio full-length, Tears On Tape, out now on three different labels internationally (Razor & Tie domestically). The group left Sire/Warner Music in 2011 after six years and three albums. As recently as last Halloween, H.I.M. was without a label, and Valo says the band self-financed the new record.
Working today with three labels "obviously triples the amount of emails," he explains, but he's not complaining. The frontman adds, that voice rich with humility, "I'm happy there are still people interested in what we do." See H.I.M. perform on May 8 at House of Blues. H.I.M.  canceled its North American tour in response to Ville Valo's diagnosis of severe asthma with presumptive pneumonia.
Mosh: How did your drummer's hand injury affect the band and the new album?
Ville Valo: Everything is fine now, which is great. But we started working on stuff two and a half years ago, and then, all of a sudden, it got so painful for him to play that he had to take a breather. We thought it would be two weeks off or something, but then it ended up being eight months of waiting. And during that time, there was this sort of existential crisis going on within the band because we didn't know whether he was going to be able to play ever again. And if he wouldn't be able to play ever again, would the band still exist or not? Existentialist problematics [sic], I guess. We decided to wait it out because . . . H.I.M. is so much more than just eight albums. It's a bunch of friends who met when they were kids and grew up together. We've been friends for such a long time that it's not just something that you can throw away easily.
M: When H.I.M. played The Rave in Milwaukee in 2010, you lamented in an interview with the venue that people aren't buying very many albums anymore, and you're "just drinking water and writing sentimental, miserable songs." Are the cassette-tape noises heard throughout Tears On Tape (e.g., the sound of a cassette being inserted into a deck on album intro "Unleash The Red") evidence of more nostalgia?
VV: I've always been a nostalgic bastard. The title is like a tribute to my idols, thinking of the music that has given me and the band and a lot of other people the energy and the passion to go on in their lives. Also, Gas [Lipstick's] ailment had something to do with it. It was time to reflect upon who the hell we are, how long are we going to do this, and where did we come from – like looking beyond our own roots and into the bands that actually inspired us to start working on music. I've always been nostalgic; it's just maybe a bit more deliberate this time around. For the past five albums, we've wanted to have an intro as a kind of '80s tribute. A lot of hard rock bands and metal bands had these massive pseudo-classical pieces in front of their albums that they would be able to use when touring. And those little interludes in between: Black Sabbath had "FX" on Vol. 4. They had all these little odd pieces: "Orchid" [on Masters Of Reality]. We wanted to ape our idols again.
M: And how much longer are you going to do this?
VV: [It depends] on how everybody in the band is doing and obviously how people are going to react to the album. If everybody is going to hate it, obviously that means we can't really tour that much. And if we can't tour that much, it means we have more time on our hands, and then we have to really speculate what can we do because we're not sonic whores. We can't just shed our skin and change into something that's cool or trendy at the moment. We're way too old to be hipsters. We just need to knock on wood and hope for the best. If the vibe stays good in the band and everybody's great, obviously we're going to continue. But life is tough and life is hard, and it's full of surprises, so it's tough to say what's going to happen next.
M: The 16-year-old who walked into her nearest Hot Topic to buy Dark Light when it was released is now 24. Is this still the band for her?
VV: If you're not a jaded 24-year-old. If you still have high hopes and you're sentimental enough and still dig David Lynch, then I think you'll be safe. We can't force people to listen to what we do, and we don't have any influence on it. What we can do is write the best songs that we can and perform them as well as we can, and try to create our own mini-universe, sonically, with our own palette, and then everybody else is invited along for the ride.
M: Do you find it ironic that some have compared the new Ghost single to H.I.M.?
VV: No, but this is the first time I'm hearing about it.
M: You told The Rave that you're good friends with Lee Dorrian from Rise Above Records. What are your thoughts on Ghost?
VV: I'm more of a fan of Lee's own band, Cathedral. They're going to release their last album at the same time that we are. Lee has always been sending me albums and stuff like that, but Ghost for me is a bit too retro. It's not my cup of tea, really. I love Rise Above's other bands, like Electric Wizard. I love Orange Goblin – the more stonery, Sabbathy type of stuff. Ghost [are] just peculiarly dressed gentlemen playing Uriah Heep with a slightly more satanic twist.
M: Couldn't the same be said for H.I.M.?
VV: Without the peculiarly dressed [laughs]. At the end of the day, we draw our inspiration more from bands like Type O Negative. We have a bit more of a gothic influence and a bit more of a really heavy-duty guitar riff kind of thing going on. So, musically, I don't find us that similar. It might be the sense of mystery or the sense of the otherworld. The otherworldliness of Ghost might be interpreted as being similar. Then again, you know, when there's a new band coming out, you always have to compare it to somebody or make some comparison. I don't mind, as long as we're not compared to, like, Justin Bieber.
M: You close the album with a couple of tracks that sound like Type O Negative: heavy, mid-'90s doom guitars; breathy, Peter Steele-esque vocals; mournful keys; and a bit of studio wankery. Steele died three years ago. Do you still miss the guy?
VV: Yeah, indeed. I had the pleasure of meeting him a few times, but I never knew him. Bloody Kisses and October Rust . . . they were like highly, highly super influential in what we did, and we never hid that fact. For example, "When Love Starts To Die," at the end of Tears On Tape, is a Type O Negative tribute. I remember we were driving, I think from Edmonton to Vancouver, and in the middle of the night we got a call that Peter had passed away. We couldn't believe it. Within two days our bass player had the Type O Negative symbol tattooed on his body, and I had it tattooed as well, on my lower back. It was our tribute to the late, great Peter Steele. That's life, I guess.
M: What do you miss about listening to your favorite albums on cassette? Certainly not the time it took to rewind or fast-forward.
VV: When you listen to an album on vinyl or cassette, you usually listen to the entire side. These days with iTunes or whatever, you always skip the stuff you don't want to listen to. And it's bad, especially for rock albums, because there has to be a sense of drama. And there's usually a reason for songs to be in a particular order, and that's really important to the whole listening experience . . . I remember back in 1996, we got the October Rust promo tape that had like four songs: "My Girlfriend's Girlfriend," "Love You To Death," "Wolf Moon," and something else. I remember we heard that we might be getting this cassette [at] my friend's club. He was a DJ. So we're waiting for like two weeks to get the cassette. And then, he called everybody up and said: "I got the cassette. Let's meet tonight at 9." There was a boombox in the center of the bar. We closed all the windows and all the doors so nobody could get in and we would have our peace. And like the Knights of the Round Table, we're sitting around our table just listening to it and nobody would say a word.
M: Is Tears On Tape coming out on tape?
VV: Well, there are a few places that used to still release cassettes in Eastern Europe, like Poland and [the Czech Republic]. I'm hoping that they still have the opportunity. But I was actually thinking it'd be great to release an 8-track or a reel-to-reel version of it one day. It'd be a nice thing to have. I'm really glad there's a cool vinyl coming, and that's kind of enough for me. I don't mind digital. The good thing about digital is the fact that you can have on your phone like 100,000 songs, which you can carry wherever in the world with you. That's something we weren't able to do back in the day. When we toured for the first time, everybody had their CD wallets. We all put our pennies together and bought a boombox for the tour bus, and everybody would bring their 10 favorite CDs or whatever, and we just listened to them constantly for weeks on end. These days, it's way different.
SPEAKING OF EUROPE: "I kind of skipped all the hard rock, punk, and even American thrash metal and went straight to the Scandinavian metal scene, where it's super heavy and orchestral, but still really technical," says Parker Jameson, lead guitarist/vocalist of Starkill, the latest Chicagoland metal band to sign with Century Media. The Cary-based multi-instrumentalist developed an ear for jazz and classical when he and drummer Spencer Weidner (his brother) were juveniles, playing saxophone before submitting to Yngwie Malmsteen-style shred guitar. "There were not very many people who were aware of or into that style in the area," he continues, "so most of the bands that we listen to and draw influence from are from Finland, Norway, and Sweden."
When the virtuoso turned 18, he enrolled in the recording arts program at Indiana University, where he met guitarist Charlie Federici, who lived in the same dorm. They formed what would become Starkill, first under the moniker Ballistika and then Massakren, based on their mutual academic appreciation of Children Of Bodom, Nightwish, Dimmu Borgir, and Amon Amarth. And one U.S. band, however virtual: Dethklok. "If all it takes is a cartoon show to convince these people that they like the music, then that just shows that people like the music," the 22-year-old insists. "You just give them a medium to understand." Starkill hasn't been animated yet, but if you'd like to check out the melodic death metal group in real life, the act opens for Krisiun on May 6 at Reggie's. The larger-than-life Fires Of Life dropped last month.
MOSH-WORTHY . . . LIVE: Opeth, Katatonia (Mojoes, 5/11); Macabre, Funeral Nation (Bobby McGee's, 5/18); The Murder Junkies (Reggie's, 5/26); Cannibal Corpse, Napalm Death (Bottom Lounge, 5/28); Bolt Thrower, Benediction (Reggie's, 6/1 and 6/2).
MOSH-WORTHY: Ghost B.C. Infestissumam (Loma Vista); Cathedral The Last Spire (Metal Blade); ASG Blood Drive (Relapse); Agrimonia Rites Of Separation (Southern Lord); Kingdom Come Outlier (Steamhammer/SPV).
— Mike Meyer
Category: Caught In A Mosh, Columns, Monthly