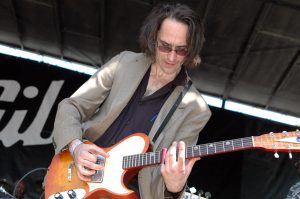 Johnny Burgin was born in the wrong time and place. Although he grew up in the fertile blues ground of Mississippi, he never absorbed the music in its Delta home. Instead, his indoctrination arrived when he discovered West Side Chicago blues, diving into the raw sound and transforming himself from a quiet University of Chicago student into a guitar-playing blues singer dubbed Rockin' Johnny. Playing old-school, '50s-era blues in a Midwestern city a long way from his Southern roots, Burgin handles the guitar like he was raised along Lake Street during the struggles of the postwar years.
"I patterned myself as an actor until the guitar took over," Burgin says of his early years in Mississippi. "My dad was in the theater and he taught me how to play on stage."  After learning a country song for a role, young Johnny quickly ditched acting for music. "I tried to write a song every single day," he recalls. Listening to his mom's '60s folk rock collection, he learned to play Arlo Guthrie and The Doors, despite the '80s new wave tastes of his peers. "I was born at the wrong time," he admits. "It was a statement for me to listen to older stuff."
It wasn't until he landed in Chicago to attend the University of Chicago that Burgin grasped a pivotal connection for his retro fascination. "When I got to the West Side, I realized that I couldn't play at all," he says. "I threw it all out and started from scratch." Leaving behind his folk rock tastes, Burgin immersed himself in West Side blues. "I had to see the blues in its context," he says. "Once I saw live blues in West Side clubs, that's all I wanted to listen to."
It's clear that gritty West Side blues riffs are a major influence for Burgin on his latest release, Grim Reaper (Delmark). The 15-track album showcases his sharp fretwork and respectful delivery of unvarnished 12-bar blues through a mix of covers and originals, with energetic renditions of "Rollin' And Tumblin'" and "Somebody Loan Me A Dime" as standouts. The disc displays Burgin's mastery, gleaned from playing and listening to mentors like Tail Dragger and Sam Lay.
In his '90s heyday as Rockin' Johnny, Burgin often backed seasoned blues stars. He took West Side blues to the North Side, holding court every Monday at Smoke Daddy in Wicker Park, introducing the genre to young hipsters who have never seen the inside of a blues club. Soon he was also regularly performing at legendary West Side blues clubs. "I played every Saturday at the Delta Fish Market on Jackson and Kedzie," he recalls. "Every musician on the West Side came by the market and I got to meet and play with everybody."
Burgin majored in English and planned on supporting himself through writing until he played the Chicago Blues Fest for the first time.
"In '91, I played the Chicago Blues Fest and paid my rent with one gig," he says. "I didn't think I could make a living playing the blues until it happened. I went on a month-by-month basis to see if it would work out and before I knew it, it was 10 years."
But by 2002 he dropped out of the blues scene, leaving his gigs and friendships behind. Focusing his attention on married life and raising his daughter, Burgin didn't pick up his guitar for seven straight years. "The social part [of the blues scene] was what I missed," he says. "It's not just a business, these are my friends. You're lucky enough to make some money as well as enjoy a social life with this."
Burgin returned to the blues scene in 2010 after his marriage ended and stints working "a bunch of jobs." "I didn't even know if I could do it anymore," he says of his return. "There was a lot of tension in the air when I played the first few notes and then there was this sense of relief."
Burgin quickly resumed his busy performance schedule, regaining his weekly Smoke Daddy gig and playing local and regional clubs. "I had to grow into this music," he explains. "Things came to me really fast at the beginning. I've done all of this stuff, but I'm basically the same. I can savor it a lot more now. I don't feel the pressure that I did before. I'm just enjoying myself; it's nice to be older and wiser."
One of the events that he particularly savors is the annual Blues Fest After Party at Reggie's. "Every Saturday of the blues fest, we've been putting on this show for six years," he says. "We do a Rockin' Johnny Band set and then we back the guest performers. This year [June 8] it's Lee Gates, Charles Hayes, and Peewee Hayes – they're all Milwaukee blues musicians. It's one of the best Blues Fest after parties; we bring acts that people have never seen."
Coming full circle as an eager 20-something blues guitarist learning the ropes from blues masters to a seasoned performer comfortable in his own skin, Burgin feels that he and the blues are in a good place. "The blues is too good to go away," he says. "The blues will never die."
Rockin' Johnny plays at the Jazz Record Mart (27 E. Illinois) on April 20 with Tail Dragger and Martin Lang for Record Store Day and at House of Blues (329 N. Dearborn) on April 29.
The blues community has been keeping vigil over Eddie C. Campbell since the Chicago blues legend suffered a stroke while performing in Germany. News of Campbell's progress comes from good friend and Living Blues Magazine co-founder Jim O'Neal: "Eddie C. was in the hospital in Germany for a few weeks and then he was transferred to a rehabilitation facility," he says. "He flew back to Chicago on March 20. He doesn't have much movement on his right side, but he still has his spirits and sense of humor."
Campbell still has a long road ahead. Donations to the Eddie C. Campbell Assistance Fund to help with rehabilitation and medical expenses can be made through Barbara Mayson Campbell's Paypal account (barbara.blues@gmail.com).
— Rosalind Cummings-Yeates
Category: Columns, Monthly, Sweet Home