Two youths carrying empty bags get off the train in a neighborhood that welcomed them previously with derelict factories and a burned-out shell of a vehicle. Today is worse. Today they can't see anything at all.
It's a whiteout at the Clybourn station that sits within walking distance from Wax Trax Records on Lincoln Avenue, but not with this snow. They shuffle into the void anyhow, their addiction to enigmatic Ministry side projects greater in 1993 than Mother Nature's endless blockades. A car stops near them a couple blocks into the trek. The stranger inside might be gesturing. The boys do the unthinkable: They get in.
She was nice, I remember, for not killing us. The crew member of a short-lived reboot of the TV series "The Untouchables" also got us to Wax Trax a little faster than usual. I scored a duffel bag's worth of bizarre CD singles by the likes of PTP, Acid Horse, KMFDM, and Revolting Cocks. Five dollars a pop. Gateway to hell.
This story wouldn't have lived for 20 years without lasting reverence for the defunct Chicago label/store. For anyone with even a cursory interest in industrial music, respect for Wax Trax is practically mandatory. Just ask David Draiman, vocalist of Disturbed and the Wax Trax-admiring side project Device.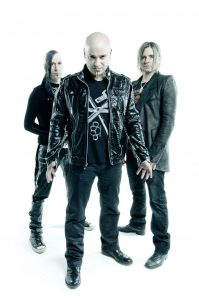 Device's self-titled full-length debut (out April 9 on Warner Bros.) rewinds to the abused machine-pop end of The Downward Spiral-era of industrial – years after Ministry's Al Jourgensen started playing guitar again, but a few moons before Limp Bizkit performed nu metal's platinum victory dance atop the south tower of the World Trade Center in the video for "Rollin' (Air Raid Vehicle)."
Draiman rang Mosh from his home in Austin, Texas, where the album was assembled with studio collaborator Geno Lenardo (ex-Filter). The onetime Wicker Park prowler explained where to find attractive women, how Evanescence takes a back seat to Device, and why it might be awhile for that Disturbed reunion. After the interview, I was invited over for cocktails.
Mosh: As stated on the Disturbed DVD M.O.L., you auditioned for that band after reading an advertisement in the back of this very magazine. Device has a host of big guests on its record: Serj Tankian, Tom Morello, Glenn Hughes, Geezer Butler. I take it you didn't find them through an ad in Illinois Entertainer, huh?
David Draiman: No, I'm very, very fortunate to have a very esteemed and talented and staggering group of friends [laughs]. Tom and Serj and I have been friends for years. We have dinner often when I'm in Los Angeles . . . but this is an opportunity for us to do something together. It was something that there weren't any rules or limitations to. It just kind of came up because of the whole [Lzzy Hale] "Close My Eyes Forever" track. Lzzy and I had been talking about doing that track for years, ever since Halestorm first supported Disturbed back in the day. And I recognized how fucking amazing she was and thought she'd be perfect for it. I'm glad it actually ended up happening with Device because the manner in which we executed the cover with Device could not have been done in Disturbed.
M: Lita Ford told me she and Ozzy Osbourne wrote "Close My Eyes Forever" by accident while playing pool.
DD: I played it for her, and she loved it. I can only hope that Ozzy and Sharon feel the same way about it [laughs].
M: There's a certain electronic moodiness to the Device album, mostly in the periphery. To these ears, it's another hard-driving active-rock collection that fans of early Disturbed would feel right at home with.
DD: I don't know that I had anything in mind per se, as far as that's concerned. "Vilify" has a very recognizable vocal delivery. Something that people are used to hearing from me: the rhythmic staccato, rapid-fire type of delivery. For this particular song, it just simply felt right to go into that part of my style. The rhythmic vocal delivery that I've been doing, I've been doing since prior to Disturbed. I've been able to enhance it and strengthen it with Disturbed because they're so groove-oriented, and we've always produced very rhythmic, groove-oriented music, so it has always helped me strengthen it. But it's something that I walked into the equation with. There's always going to be part of me that just feels natural going into that world.
M: What Wax Trax material were you a fan of in the '80s or '90s?
DD: From the punk stuff to the industrial stuff, the whole world really, really intrigued me. Wax Trax was definitely like a home base for that, scene-wise. And it was definitely an inspirational point for a lot of other industrial bands – just a hotbed of creativity. My love of industrial music was very wide-reaching and going beyond Wax Trax, Chicago has always been definitely a very strong home for that and for industrial music in general. I remember in high school, I was going to Skokie [Fasman] Yeshiva on the North Side and went out to my first club. It was The Limelight way back in the day before it became Excalibur in downtown Chicago, and it was a night where they were playing industrial. I walk in, and there's go-go dancers in bondage gear in cages suspended from the ceiling in four or five different spots. It's dark and gothic-looking and awesome. This is my introduction to industrial. I was like "Fuck yeah!"
M: Why the move toward artificiality? Disturbed's last two studio albums contained the most traditional metal of the discography. You even released a CD covering Judas Priest's "Living After Midnight" with a "Painkiller" reference shortly before the release of Asylum.
DD: There's no modus operandi here. It was only just something that kind of happened perchance. Serendipitous, if you will. Geno [Lenardo] reached out to me to do a track on the [Underworld: Awakening] soundtrack. He had done a track with Lacey [Sturm] from Flyleaf, and he did one with Pete Loeffler from Chevelle, and he had a piece of music in mind for me [that became] "Hunted," one of the tracks on the Device record. Lakeshore [Records] loved it; they wanted to use it for the lead track, but there was another track at radio at the time, from the Disturbed B-sides compilation record, The Lost Children, called "Hell." We didn't want the two tracks competing at radio, so we held on to "Hunted" [and didn't include it on the soundtrack]. "Hunted" grew on us, and we decided to write some more. In March 2012, Geno came out to my home here in Austin, Texas, and we started writing again. We used "Hunted" as a template stylistically for where things were going, but that's the world that Geno came from: the Wax Trax world, being an ex-Filter guy, being a student of that school. It's very easy for Geno to pump out pretty amazing sound design. Why the choice? It really wasn't a choice. It just kind of happened that way, number one. Number two, I'm a fan of that type of music since the first day I walked into The Limelight in that scene, man. It's the one type of music that I could always stomach listening to in the clubs. Let's face it, you go to dingy rock bars and – back in the day, when I still was on the prowl – there's not much quality game afoot, let's put it that way. You go to the dance clubs and that's where there's a higher caliber of game afoot.
M: Device has Evanescence drummer Will Hunt aboard for live shows. The partnership appears to support statements from Amy Lee to NME last year indicating Evanescence would be taking a break.
DD: I can't really speak as to what might be going on with Evanescence, but I know that Will is now a permanent member of Device. That does not mean that when Device is off-cycle that Will won't be free to do whatever Will wants to do, but when Device is on-cycle, we get him.
M: Are you going to work with Lenardo again?
DD: It's not part of the plan, but I'm certainly not ruling that out, necessarily. I'd like to work with Will and with [Dope guitarist] Virus on the next record. I'm looking forward to that.
M: Will Disturbed still be on hiatus in five years?
DD: I don't know. It's hard to say. It really kind of depends on a whole number of factors. This record is going to be seen through to its fruition. I think that the record has a lot of potential. I'm going to do everything I can to establish this band and this brand in a very real and meaningful way. If that takes two or three years to do that, I am prepared to do that. The Disturbed thing will reunite and will happen at the right time, whenever that is.
THIS DAY IN DOOM: The first thing they teach you in journalism school is that you can't interview your buddies, but don't tell Jeff "Oly" Olson. The original Trouble drummer's "Heady Metal With Jeff Olson" podcast is best when the host gets yapping with a fellow road dog from the first days of U.S. doom metal. His sprawling episodes with current and former Trouble members Bruce Franklin, Rick Wartell, Eric Wagner, and most recently, Sean McAllister, are full of otherwise lost anecdotes, with some actual news. (For example, McAllister's Metal Massacre 4-era Witchslayer decided not to reunite last year after all.)
"It's actually to give fans or people who did know Trouble or like Trouble or hate Trouble a different story," says Olson from his current home in Kennebunk, Maine. "A different spin than what they've heard. There are a lot of things that were never said that were actually kind of funny. Bruce would say, 'Oh, all those inside jokes that no one gets.'"
Olson started "Heady Metal" – named after an article about Sunn O))) in The New York Times Magazine – three years ago, two years after he last left Trouble, during vocalist Kory Clarke's rocky tenure. "No one will ever subscribe to the work we do if we're not still active," the Aurora native recalls thinking, "so how can we be active and promote old friends and old heroes?" He ranks Chris Reifert of Autopsy and the late Ronnie Montrose ("I think the second record I ever bought was Paper Money") among his favorite chats while outlining plans for the next rock stars and doom brothers: "I want a series of Daves. I want to have Dave Grohl someday; I want to have Dave Mustaine . . . I'm definitely going to interview Kyle [Thomas] from Trouble."
Had Trouble's final full-length with Olson drumming, the delayed-into-oblivion Simple Mind Condition, gone the way Trouble had wanted, Grohl would qualify for both camps. The Nirvana drummer was so close to performing on the album that Wartell relieved Olson of his studio duties. "When I was already in pre-production, they gave me a call one day and said, 'Dave Grohl is going to do the drumming, but we want you to do the live [shows] . . . and is that O.K.?'" Olson says with a laugh. "And I said, 'Yeah that's O.K. That'd be awesome, man!' If Grohl were to do it, it'd make the album, you know, more noted." Though Wagner sang on Grohl's Probot side project, the favor wasn't, in the end, returned. Olson was summoned back to the studio: "I guess Dave had too much work."
The podcast host and Berklee College of Music alumnus plays keys on the self-titled debut of Victor Griffin's In-Graved, out now on Veritas. The record sees obese guitar riffs and brash solos from Griffin (Relentless-era Pentagram) taking root in Olson's nurturing Hammond organ color play (blossoming on the Jethro Tull cover "Teacher"). The outfit plays Days Of The Doomed Fest on June 22 at The Blue Pig in Milwaukee. For fans of classic doom, the hybrid of Pentagram and Trouble could be the summer's next best thing to a Psalm 9-era Trouble reunion. Says Olson of the fantasy: "I think that could happen again. I'm hoping it does."
MOSH-WORTHY . . . LIVE: Iceage (Empty Bottle, 4/10); Absu (Mojoes, 4/17); Diamond Head (Reggie's, 4/21); b (Cobra Lounge, 4/26); Killing Joke (Empty Bottle, 4/26 and 4/27).
MOSH-WORTHY: Iceage You're Nothing (Matador); Bone Sickness Alone In The Grave (20 Buck Spin); Amorphis Circle (Nuclear Blast); Nails Abandon All Life (Southern Lord); Deathchain Ritual Death Metal (Svart).
–Mike Meyer
Category: Caught In A Mosh, Columns, Monthly