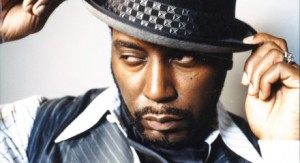 Big Daddy Kane no longer rocks the hi-top fade he helped popularize in the '80s, opting instead for a modern look befitting a 44-year-old legend. The hairstyle is a thing of the past, but Kane's grip on hip-hop is ever-present.  Moreover, his mic skills are anything but faded.
Kane's musical influence continues to permeate multiple generations of the rap game, evident in the styles of lyricists like Eminem and Kendrick Lamar.  The pioneer has a firm grasp on his place in the history of the game and knows his audience, as he made clear from the moment he strolled onstage at The Shrine on March 22 with an air of subdued confidence.  Kicking off with his classic "Lean On Me," Kane blitzed the mic with rapid-fire rhymes, bouncing from hit to hit, including "Set It Off", "'Nuff Respect" and "Daddy's Home." The energetic pace didn't appear to wear on the veteran MC, but he paused at one point, allowing the raucous lyric-reciting crowd to catch its collective breath.
Addressing the room, Kane requested that anyone 30 or older "make some noise." The response was overwhelming. It was similarly rowdy when he asked about 35 or older and remained loud for 40-plus, satisfying Kane's assumption that he was amongst his old-school fans. He launched into crowd-pleaser "Smooth Operator" and another favorite, "I Get The Job Done."
Kane continued to spit out classics like "Raw," even lowering himself down into the crowd to rhyme amidst a swarm of thrilled fans.  When he reclaimed the stage, Kane took a moment to recognize hip-hop martyrs, calling out an R.I.P to artists Heavy D, Jam Master Jay, Biggie Smalls, Tupac Shakur, Big Pun, Ol' Dirty Bastard, and Nate Dogg.  An overzealous fan took advantage of the momentary silence to plead with Kane to perform "Platinum Plus," his collaboration with Big L.  Confirming that his DJ could make it happen, Kane obliged.  After "Platinum," Kane had to shut down the request line, joking, "This ain't Vegas, we ain't taking requests."
The comedy continued as Kane quizzed the audience on their knowledge of hip-hop, sharing a story about a waiter at Dave & Buster's mistaking him for Kool Moe Dee.  Kane welcomed Crucial Conflict up on stage and relinquished the mic to Coldhard, who simply paid his respects to Kane and stepped away.
The big finale was Kane's hit "Ain't No Half Steppin'," which the legend delivered with the intensity of a rapper half his age. Finishing with some sweet '80s choreography, he bid Chicago farewell, only to return for a brief encore in which he showed he can still pop and lock with the best of 'em.
Amazingly, Kane packed it all into a tight 35-minute set at The Shrine, which proves again and again to be a premier live show destination with a dope club ambience.  The intimate setting and magnificent sound system are ideally suited for an artist like Big Daddy Kane. Feeling right at home, Kane made every minute count.
— Brendan Greeley
(Brendan hosts a weekly podcast with Pet Lions' drummer Matt Dahl at mattandbrendan.com.)
Category: Featured, Live Reviews, Weekly