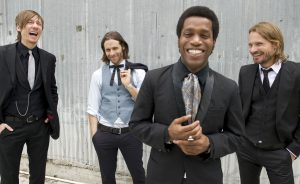 IE: We were introduced to you in 2005 on "Rock Star: INXS" when you competed against hometown hero Marty Casey (Lovehammers) for a chance to join the Australian rockers and take the place of the late Michael Hutchence. Do you look back on your reality television days with any embarrassment?
Ty Taylor: I embrace everything I do in life. There's nothing in my life that I've done that I'm not proud of or consider to be a huge part of who I am now. I was one of the people that had the biggest profile before the show started and a lot of people left the show and were saying, "That show ruined my life." How could that show ruin your life? When was the last time you had over a million people see you every night? What do you mean it ruined your life? If anything happened, you ruined your life. It was the most exciting experience of my life. And Marty being one of the people I stay in touch with the most still, I hope to have lifetime friends from that experience. [Producer] Mark Burnett – I see that guy all the time, even though it was hard the last day I was there because I felt a little fucked. But it was fine. Once I got past that, I just realized you were fucked 'cause you had to go home. That's what happens. It was the best. It was the best thing ever. Every day that we do these things like "The Tonight Show," "Conan O'Brien," all those other shows – "Letterman." I learned so much about performing on television from doing "Rock Star." To this day when I'm doing things for any television show I'm sure something about "Rock Star" goes through my head. I learned about angles and lighting. And it was free. I got paid to do it.
IE: Sort of like a master class in how to be a frontman.
TT: You won't leave those classes with 16 million people having seen you.
IE: You spent a good chunk of last year with Vintage Trouble supporting The Who and head out with the band again for a European summer tour in June. How do you approach coming into someone else's house, metaphorically speaking? How do you avoid getting swallowed up by The Who fervor? These people paid to see Roger and Pete.
TT: I kind of think about it as being the person that welcomes people to someone else's party. So what does that person have to be like? The idea really is to know who the people are that are coming there and know the music of The Who and know the history of The Who and then combine that with the energy of what we do, so that people aren't pulled away directly from what they're coming there to feel. So we don't just go up and say, "Fuck it! We're gonna just do what we do." We're gonna say, "You know, we're actually in someone else's setting, so how do we take these people and get them not to tune us out right away, but to be kind of giving?" So you just have to think about something that The Who have done in the past and kind of marry that with what we do. And The Who, they're famous for doing things like breaking guitars and high energy. Their audience wants to feel something really raw and rock 'n' roll. I think so much of it is about that initial jump off with the audience. How are you gonna treat the people? What's the foreplay going to be like actually? You can tell right away from the audience if they have been drinking or came with serious intent to party or whether they've let go of the drama from the day or not. So sometimes, if they haven't let go of the drama from the day you have to meet them there and then bring them into the show. We do a combination of feeling out the audience and combining what we do with what The Who is and by the end of the set we're 100 percent Vintage Trouble.
IE: Is Pete Townshend as intimidating as we imagine? [Swearing at 7-year-old fans and all.]
TT: Oh my God, he's the sweetest guy. That's so funny because from far away I thought that as well and then in all my conversations with him he couldn't be any sweeter. Not only that, I try to be courteous of time. Like if it's Pete or Roger and they stop and talk to me in the hallway, like I tend to try and say a couple of sentences and duck out, 'cause I'm sure they have a lot of shit to do. But they will tap you on the shoulder and hold you in a conversation and keep talking and really want to get into music with you. That's the thing, like this is a real music tour. I love that. This is not some kind of frilly band that used to be good and now they're traveling on their old stuff. They play their asses off every night and with so much passion and drive and command and the fact that we're before that and it feels like we're a cohesive set with them, it kind of blows my mind every night. We get standing ovations after our first song. Which is kind of unheard of really. I've never been at a concert where that's happened. I'm still kind of waiting for that moment where it's going to almost be like, "Guys, I had a dream where we were on The Who's tour," because so much of it seems so unbelievable. It's not like I don't feel like we deserve what's happening, but it's still so unbelievable. Roger was backstage with a lot of his friends and he calls me over. His shirt was still open from the show, of course. And he calls me over and he's like, "Ty, Ty, I was just telling these guys if I was younger and we weren't in The Who and I found your band I would leave my life and follow you on the road."
IE: Did you just about fall over?
TT: No, I played it cool, like you always got to do. But inside I was thinking things like, "Can you speak a little louder into my lapel."
IE: Every band has a manager, but rarely are we on a first name basis with one. You've got Doc McGhee – mastermind behind Kiss, Bon Jovi, and Motley Crue – in your corner.
TT: We have a celebrity manager. Not to mention he makes the best eggs Benedict this side of the world. When we were in Nashville, which is where he's based, we stay at his place and its just wild for me to hear this guy that manages Kiss and started Motley Crue and Bon Jovi and all these kind of people and he's waking up in the morning in a white terrycloth robe and we're having coffee and he's turning eggs and dropping them in water and getting them out real quick from the steam and sprinkling Tabasco. Like it's so cool to me. But that's him.
IE: It's a bit surprising to hear that you consider Tina Turner your main influence.
TT: First of all, I think Tina Turner's energy is probably more masculine than mine is feminine. So to find her, to me, actually gave me more balls. Being inspired by Tina Turner gave me bigger balls. And also, there was something about all the drama that she was going through in her life and persevering anyway that I'm a big fan of. I'm a Capricorn and resilience is one of our main attributes. Then on top of that the songs are just so goddamn good. Every song that goes down the line you just can't sit still during it and she's one of those people that's not thinking about the perfection of a note. She's thinking about the need of a note. And she likes to wail and squawk and she likes to run around the stage and it's all about primitive behavior. That's what I like about her is primitive behavior, but thrown into a classy setting. I just love all those parts of her. She's just the best thing in the world.
IE: She was very conscious of her visual aesthetic – something Vintage Trouble makes a priority. By the way, drummer Richard Danielson should win an award for his moustache. Daniel Day-Lewis called and he wants his Daniel Plainview (There Will Be Blood) whiskers back.
TT: Join the line. Join the line.
IE: Why the attention to detail? Explain the look. It's a bit all over the place.
TT: In the '40s and up through the early '70s, artists considered shows more like ceremonies. They were more ceremonious. So you dressed up for your show. You're asking people to drive to you; you're asking people to do all these things to come to your performance, you can at least put some time into something for them right before your show. And so that's where that came from. And the reason why things like the moustache are there, but then the sideburns are there for me, is because there's not like really a certain period in history we like. We just like things when they were more pure than they happen to be right now in the world. So we like to combine turn of the century stuff, which is why Richard has that moustache and something more '50s and '60s rather than '70s. We're not big bellbottom fans. When rhythm and blues and rock 'n' roll were on the same line with people like Little Richard and Ike and Tina Turner and people dressed up for shows. We get that into our bodies as much as possible without trying to be cliché or novelty and I think we try and do that by mixing up some periods within one look.
IE: Your mom passed away last year, but she got to experience a taste of your success with Vintage Trouble and a centerpiece of your set is a song you wrote for her.
TT: It's called "Nancy Lee" because it's about my dad's point of view when he first saw my mom. And the cool part about it is we were on the road with Bon Jovi and everything and she got to see the swell of the song happening. I wrote the "Nancy Lee" song and I remember sending it to my mom. It was just guitar, that kind of thing, and I remember her hearing it and just crying and getting all excited about it in that way and then the band happened and I got to send her a video of our first show – we did "Nancy Lee" – and then within a year we were playing it in front of 60,000 people and I got to fly her over to see the concert. And it's got a call-and-response section, so she got to hear 60,000 people screaming her name back at her. To me, knowing that that happened was part of my peace with having her not be here. Because she got to know that her son is responsible for making sure something about her besides the immediate people she knows is going to be living on for time. I just made me feel relieved knowing that.
IE: And when you performed it on "Conan," Booker T. joined you.
TT: My mom was a huge Booker T. And The M.G.'s fan. She liked Stax over Motown, like I do too – probably because of her. The idea that Booker got to play it with us on "Conan" and the fact that we're writing with him now, we're going to be on his next record – all this kind of stuff – I honestly feel like it's the work of my mother. It's too odd coincidentally.
IE: How did you start collaborating with him?
TT: They found us and he came to one of our shows. We were in the dressing room and we were playing at the Wiltern Theatre in Los Angeles. I'm no shirt on; I'm ironing my shirt – we're not that large yet, we gotta iron our own shit – so I'm ironing my shirt and the door opens and I'm looking at this person and I'm like, "I know that [face]," and its fucking Booker T. and he comes in and he's introducing himself to us and says he's a fan of the music, looking forward to seeing the show live for the first time, and that was it. And from that point on, the band got together and spoke to the Stax Records people, which is being handled by Concord [Music Group] now, and they were like, "We want you guys to do something together. When can you make something work?" And it was the first time in my life that I've ever dealt with a hero or any celebrity of any kind where I wasn't saying, "Please, can I be on your record?" Again, unbelievable. Like here he is saying whatever is good for us we can make it work. It's been a beautiful relationship. His daughter and his whole family and his wife – we've become really good friends. Even to the point where he moved into a new house and he's saying to his wife, "I can't wait to get the guys up here." And she's like, "The guys? Who are you talking about?" He's like, "Vintage Trouble!"
Appearing: 3/8 at Beat Kitchen (2100 W. Belmont) Chicago.
— Janine Schaults
Category: Featured, Stage Buzz, Weekly