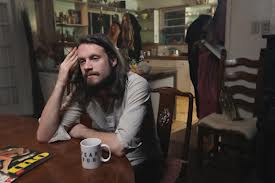 "Like I'm hung up on religion, though I know it's a waste/I never liked the name Joshua, I got tired of J" sings Joshua Tillman on "Every Man Needs A Companion," closing out his eighth solo album Fear Fun.
Brought up in a very Christian household, it's clear that Tillman is looking to reinvent himself – hence the debut of his new identity as Father John Misty. Following a four-year stint drumming for indie folk outfit Fleet Foxes, Tillman returned in May of 2012 after a period of soul searching with, while at times sarcastic and decadent, a very direct, autobiographical approach to songwriting.
Despite the intriguing lyrical content, Fear Fun is actually more notable for the lush vocals (would you expect anything less from a Fleet Fox alum?) set against dense soundscapes built upon layers of distorted guitar and organ (with a dash of xylophone for extra flavor).
"Look out Hollywood, here I come" threatens Misty on album opener "Funtimes In Babylon." "I would like to abuse my lungs/Smoke everything in sight with every girl I've ever loved." And early on this record, it sounds like he has. "I laid up for hours in a daze/Retracing the expanse of your American back with Adderall and weed in my veins," he continues on "Hollywood Forever Cemetery Sings."
Once the smoke clears on the first three cuts of the album, the album's pace starts to pick up courtesy of a fuzzy guitar that cuts through the haze. The tempo continues to trend upward with "I'm Writing A Novel, " which features a downright jangly guitar that's not a drastic departure The Monkees.
"This Is Sally Hatchet" closes with a scorching guitar solo and "Well, You Can Do It Without Me" sees Tillman spread his wings, embracing a sort of country plod that would make Waylon smile. (Friday@The Vic with The Walkmen.)
— Jim Ryan
Category: Featured, Stage Buzz, Weekly