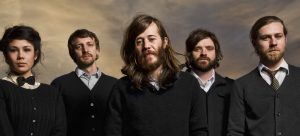 The air was thick and stuffy as the packed-in Schubas audience welcomed Other Lives to the tiny stage on Dec. 7. The anticipation was high, yet there was little fanfare once the quintet from Stillwater, Oklahoma weaved through the dense crowd to take their places. They appeared humbled by the roaring applause, but remained strictly business – immediately beginning their set illuminated only by the glow of flickering antique light bulbs scattered around them like a poorly maintained apartment corridor.
They instantly began their set with "Dark Horse," the first track off their latest album Tamer Animals. Frontman Jesse Tabish immersed himself in the melody – eyes closed and hair eclipsing his countenance as he played keyboard. His performance is intense and involved, allowing himself to get lost in every verse and chorus. This personal dedication is mirrored across the entire band, and sets the tone for an aural result in lockstep. They've been doing this a while, and it shows.
Forming in 2004 under their previous name Kunek, Other Lives has landed themselves some high profile gigs over the years, opening up for bands like Bon Iver and Radiohead. They've been continuously touring for nearly two years with little break, but rather than displaying exhaustion they've transformed it into a seamless synergy and have morphed into a well-oiled machine live. They weren't using visible set lists or looking to one another for cues; it was all committed to memory.
The instrument-to-individual ratio in Other Lives is roughly 7-to-1, with each member completely surrounded by a cornucopia of musical options. As modern bands continue to rely more heavily on technology, it's refreshing to see a group of musicians actually playing instruments. This is obvious watching multi-tasker Josh Onstott. Within every 15 minute period, he picked up anywhere from two to three instruments. This was particularly impressive during another Tamer Animals track "Landforms" where he held his violin in place with only his chin while he played piano.
Other Lives balances grandiose arrangements with basic folk melodies, resulting in live moments reminiscent of a dramatic film score. "As I Lay My Head Down" and "Old Statues" wouldn't be out of place during a showdown in a Western after the protagonist has been wounded. Their melodramatic horn swells and lush string contributions from cellist Jenny Hsu create an atmosphere of prolonged catharsis – leaving their fans with a wide-eyed stillness.
While their set was predominantly based in Tamer Animals material, they peppered in a few new tracks looking to the future. "Take Us Alive" from new EP Mind The Gap further demonstrated the aforementioned band symmetry, featuring complicated vocal harmonies and violent sleigh bells like a deranged Christmas story. While their recent material offers more room for live embellishments and intricacies, it was a bit of a shame to hear so much of their first self-titled album omitted from the tour.
The main set continued to bear fruit with mastered live standards "For 12" and "Tamer Animals" before closing with an unexpected cover of Nirvana's "Something In The Way" thrown in for good measure.
Like a good existential crisis movie plot, Other Lives ended their night with a climax made of self-discovery and cautious optimism. Tabish returned to the stage alone for the encore – taking his seat at the piano for a haunting rendition of "Black Tables," a tiny but gorgeous representation of the first album.
It wasn't until the closer, "Dustbowl III," that the band solidified themselves as among the best live performers of 2012. Percussionist Colby Owens trounced the drums like a ceremonial ritual dance circle as Onstott created sonic textures by bowing his guitar strings. This track reaches Sigur Ros-levels of intensity at its peak – beckoning redemption and yearning for a fresh start as Tabish asked, "Is there any way to get this weight off my skin?" with heart-breaking abandon. The bulbs created a gradual brown out as the audience roared – cementing Other Lives' firm roots in the live music scene. They're showing no signs of slowing.
— Gina Pantone-Urwin
Category: Featured, Live Reviews, Weekly