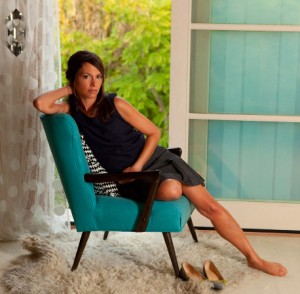 As she took the stage for her concert at City Winery Tuesday night, Susanna Hoffs announced that her drummer and bassist hadn't been able to make the trip to Chicago. She did have Andrew Brassell, the 27-year old indie rock guitarist who co-wrote a number of '60s flavored songs with Hoffs for her recent Someday solo effort. Joined by a third musician playing small percussion instruments, Hoffs and Brassell created an almost unplugged vibe. The approach gave the slick material from the Mitchell Froom-produced album a compelling edge.
Still, trying to adjust to half her back-up band being MIA threw the Bangle a bit off her game, as did her decision to play acoustic guitar for more than half the show. The singer/guitarist's self-depreciating humor and flirtatious manner kept the election night crowd on her side through the occasional restart and mishap, even when an energetic "In Your Room" went completely off the rails. Otherwise, Hoffs was in fine voice as she performed songs from the new release, a fair amount of Bangles hits, and an eclectic selection of cover tunes.
Hoffs almost performed as much music by other artists as when she and Matthew Sweet played the Old Town School of Folk Music in support of their Under The Covers project a few years back. At City Winery, she served up stirring versions of Little Feat's "Willin'," Linda Ronstadt's "Different Drum," The Beatles' "All I've Got To Do," and Jackie DeShannon's "When You Walk In The Room." These vintage choices gave an indication of the music influencing Hoffs' own songwriting throughout her career.
She took questions from the audience between songs, such as why she had added a snippet of "1999" while singing "Manic Monday" that night. The answer: The two Prince-penned compositions are strikingly similar and she always wanted to combine them at a Bangles show. After performing "A Hazy Shade Of Winter," Hoffs shared a memory of first hearing the Simon & Garfunkel hit while working a dreary job as a teenager, and immediately knowing it would be perfect for The Bangles.
The most enthusiastic audience responses at City Winery came for the popular Bangles hits, including a delicate "Eternal Flame," a revved-up "Walk Like An Egyptian," and "Hero Takes A Fall," which ended in an extended jam between Hoffs and Brassell. The new stuff from Someday, particularly the breezy "Picture Me" and catchy revenge song "One Day," were also well-received. Hoffs performed for close to 90 minutes, and returned for an acoustic take on the Alex Chilton classic "September Gurls," which The Bangles covered successfully early on in their career. With that band still going strong, and her solo work doing well, it was easy to see why Hoffs noted a few times that night how lucky she felt to be still doing what she loved for 30 years.
— Terrence Flamm
Category: Featured, Live Reviews, Weekly