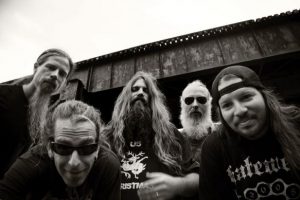 Chicago crowds have shown great enthusiasm for Richmond, Va.'s groove-metal maestros Lamb Of God in the past, and they'll get their chance to again on Friday when the band plays the Congress Theater. Speaking from Wallingford, Conn. last week before soundcheck, bassist John Campbell spoke about his anticipation for the band's upcoming show.
"We've been playing Chicago for a long time," Campbell says. "We've even played a place called The Big Horse [Lounge], which might be right around the corner from the Congress. Mark Morton, our guitar player, lived there for a little bit when he was entertaining the idea of working on a masters degree. So, Chicago, in some ways, has been a second home for us."
With the recent controversial month-long incarceration of vocalist Randy Blythe in the Czech Republic behind them, Lamb Of God is firing on all cylinders. Since the band had to cancel many shows and didn't get to properly tour the U.S. for their latest release, *Resolution, the band couldn't be any happier to be out on the road.
"We've been having amazing shows that have been very well attended. All the reports back have been good. It's great to be running around the States again after all this time and we feel really privileged to have this opportunity."
Out of all the great restaurants and take-out places in Chicago, Campbell happens to be a vegetarian and can be a bit picky when it comes to the smorgasbord of taste bud-entrancing choices around the city. But he does like places where he can get his drink on.
"What I remember most about Chicago as far as the landmarks and places that I've been to many times is Thousand Liquors on Sheffield and Belmont. I've spent many late nights, more than I needed to be, to buy more alcohol!" he says with a laugh.
A concert staple at any Lamb Of God show is the infamous Wall of Death – a ritual where the crowd on the floor is split down the middle and on command, each side charges toward each other slamming and moshing together. It's quite the sight to behold from the floor, so what does it look like from the stage?
"It can be pretty terrifying. Those kids are insane! I don't think I'd have anything to do with that if I was in the crowd. It's a spectacle," Campbell exclaims.
The band's hometown show is two nights before its date in Chicago, so expect the group to ride into town on a high note (or extremely spent).
"We're returning to Chicago, one of our favorite cities, and we are firing on all cylinders," Campbell concludes. "We're pretty good at playing shows, so it's going to be crushing!"
Appearing: 11/30 at Congress Theatre (2135 N. Milwaukee) Chicago with In Flames, Hellyeah, and Sylosis.
Win tickets to see Lamb Of God HERE

— Kelley Simms
Category: Featured, Stage Buzz, Weekly