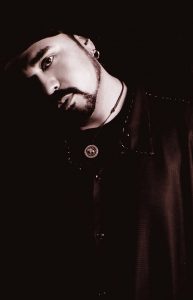 Wayne Baker Brooks has always been a rebel. While most blues musicians were weaned on a steady diet of classic blues, he also listened to house music, '80s rock, and hip-hop. While most scions of blues legends gain musical schooling from the masters themselves, Brooks is self-taught. And while most musicians regularly perform riveting examples of blues history, he literally wrote a book on it. The well-traveled path is not the route for Wayne Baker Brooks.
"I always was different. I always thought differently from a lot of people," Brooks explains from his Blues Island offices on Wacker Drive. As the youngest in the Brooks family blues dynasty of father Lonnie Brooks and brother Ronnie Baker Brooks, he decided early on that he'd blaze an unexpected trail. "I'm a born leader; I'm not a follower," he says.
Ironically, Brooks never even intended to be a blues musician. "I thought I'd grow up to be Michael Jordan," he says. Playing basketball on Chicago's top-rated Percy L. Julian High School basketball team, he expected to be recruited to play college ball and eventually begin a professional sports career. But, it didn't go quite as planned.
"I believe that I was following the wrong dream. I kept breaking my ankle, my foot, my fingers – that was a sign it wasn't for me. It wasn't my destiny," Brooks admits.
Clearly his destiny involved playing the blues music that surrounded him from birth, but he had to discover that for himself. "Every single day, there was blues playing in the house," he recalls. "Either my dad was writing songs or Ronnie was playing bass and I was playing pots and pans. My dad would tell us, 'Hold that line, let me think of the lyrics'. I was five or six years old and I loved the drums. I played whenever I could, but I never thought in my wildest dreams that I'd be a musician." The young brothers even performed in TV commercials with their dad, but Brooks still didn't consider a future as a blues musician.
After breaking the same ankle a second time during his senior year of high school, Brooks graduated and finally shifted his focus from basketball to music. He toured with his dad the whole summer, acting as an 18-year-old guitar tech, road manager, roadie, and bookkeeper. From washing performance clothes to tuning instruments, Brooks learned all the tasks to run a smooth tour. There was one task in particular that really appealed to him. "I loved the drums, but the guitar felt more natural to me," he says. So at 19 and a half, he told his guitar legend dad that he wanted to pick up the instrument.
"My dad said, 'Play this lick.' I played it exactly the same way. He played a note and bent it and I played it exactly the same. He said, 'Wow! You really have a feel for this,'" Brooks exclaims. Instead of learning from the master guitarist, Brooks taught himself. "My father and brother hated that I never came to them to teach me," he says.
"Stubborn as I am, I wanted to teach myself. People thought I was an idiot for not asking a blues legend how to play, but I'd only be mimicking what he did. I wanted to develop my own style. I wanted to write my own songs. I practiced 18 hours a day. I'd go to jams and people would stand on tables to hear me. I'd tell them that my name was Sean so they wouldn't know that I was Lonnie Brooks' son."
Twenty years later, the word is out, but, Brooks developed his own original style of guitar playing as evidenced on his recent EP, Tricks Up My Sleeve (Blues Island). The four-song recording showcases Brooks' penchant for pushing boundaries and melding blues with his other influences. Opening with the heavy rock overtones of "Changeling," which boasts a sizzling guitar solo and emotional crooning, it's a catchy, but familiar track from a gifted guitarist.
The EP's highlight – the hip-hop/blues blowout, "Something's Going Down" opens with a gritty rap from legendary Chicago MC Twista. Layering another rap by newcomer GLC, the hip-hop rhythm is seamlessly melded with Brooks' blues guitar and harp licks by Sugar Blue. The sound is fresh, but still displays a strong blues template – a feat  often attempted, but seldomly successful. A testament to the song's appeal, "Something's Going Down" was licensed by the Chicago Bears to play as the intro for the team's August and September broadcasts. With its exultant chorus of "Something's going down in the city/something's going down in this town/better get ready for the real nitty-gritty/this is how the Chi gets down," it's the ultimate Chicago bragging song. "It's an ode to Chicago. We always find a way to win," Brooks boasts.
The title track delves into R&B with handclaps and a danceable beat, while "I Can Read Your Mind" delivers straight-ahead blues accented by Sugar Blue's scorching harp work. "People say I have a distinctive style and it keeps inspiring me to do something different. I have to stay true to my music and I have to put out what I'm feeling. But I will eventually put out something that you like, whether it's traditional blues or something different," Brooks promises.
He tried something extremely different when he co-wrote a book, Blues For Dummies, in 1998 for the popular self-help series. Prompted by the anger he felt when Muddy Waters' Mississippi home was uprooted to tour around the country at blues fests, Brooks soon found himself a published author. "I got angry because they wouldn't do that to Elvis. They wouldn't pick up Graceland and put it on tour," he says. "I was talking about this at that same festival to someone who happened to be the publisher of the Dummies series."
Invited to write a book that would educate people on the blues, Brooks wrote an outline, contacted music historian Cub Koda to write the biographies, and convinced his reluctant father to act as the required blues legend. "Blues For Dummies has been translated into many languages and I went on an extensive book tour," he says. "I did what I was supposed to do to turn people [onto] the blues and let them know about Muddy Waters – that's all I really wanted. A lot of people expect me to keep the blues alive because of the family I'm from. It's not really expected that I go outside of the box. I have more tricks up my sleeves. I know what road I'm on; I know what I'm trying to do.
The most important thing is to develop your own style, that's how you stay in people's hearts and minds."
— Rosalind Cummings-Yeates
Category: Columns, Monthly, Sweet Home