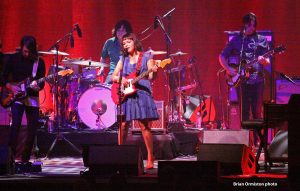 On the last week of the outdoor concert season, with autumnal winds blowing into town, Norah Jones and her mellow sounds breezed into the Chicago Theatre last Tuesday night.
Playing to a sold-out house, Jones – in a practical blue dress, red pumps, and her smoky voice – weaved through a nearly 90-minute set packed with chunks of her past and splashes of her new album.
She started off hiding behind her piano while leading with "Cold Cold Heart" and "What Am I To You?" before introducing three songs off her new *Little Broken Hearts album.
With Jones, there's no need for splashy dance moves, fireworks, or multiple costume changes. An occasionally funky, but subtle light show colored a minimalist stage set. If you were looking for that YouTube moment, you weren't going to get it.  What you did see is a nine-time Grammy Award-winning artist in sync with her well-oiled band.
She ventured down the Grateful Dead path midway through the set and went into an acoustic version of "It Must Have Been The Roses" that got the band, along with the crowd, as jumpy as they were going to get for the night.  As her mates went offstage for a break, she pulled an audible and jumped the set list on an audience request for "Man Of The Hour."  Alone with her piano, singing about her dog, it drew the loudest response of the night.  She followed that with her signature break-out hit "Don't Know Why," showing her full vocal range.
Ravi Shankar's little girl, all of 33, has a stage demeanor more of "I still can't believe I'm here but thanks." While she can impress in a big arena rock setting such as 2010's Farm Aid stop in Milwaukee, her fusion of easy-listening pop, with a touch of soul and jazz, plays right into the pristine acoustics of the Chicago Theatre. The show was a seductive, soothing journey through an extensive library, tailor-made for a cool, windy and rainy fall evening.
Norah Jones Set List
"Cold Cold Heart"
"What Am I To You?"
"Little Broken Hearts"
"She's 22"
"Say Goodbye"
"It's Gonna Be"
"Chasing Pirates"
"All A Dream"
"Black"
"It Must Have Been The Roses"
"Don't Know Why"
"Waiting"
"Sinkin' Soon"
"Miriam"
"Happy Pills"
"Stuck"
"Hickory Wind"
Encore: "Sunrise" and "Come Away With Me"
— Brian Ormiston
Category: Featured, Live Reviews, Weekly