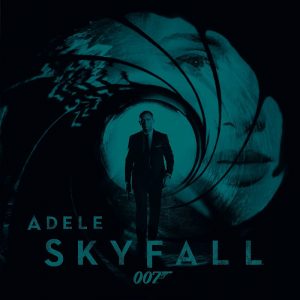 The James Bond franchise needs a pick-me-up and Adele's just the gal to sweep Daniel Craig's dour secret agent off his feet.
"Skyfall" places the multiple Grammy winner alongside Shirley Bassey (the chanteuse behind "Goldfinger" and "Diamonds Are Forever") for a lush, haunting ballad that will stir even those with a Netflix queue full of rom-coms. An underlying hint of menace (courtesy of the deep grumblings of a 77-piece orchestra) buoys Adele's powerhouse vocals, turning the pin-up girl for the brokenhearted into a true pistol-concealing-garter-wearing Bond vixen.
Skyfall hits theaters on Nov. 9. Where do you think the theme ranks in the Bond catalogue?