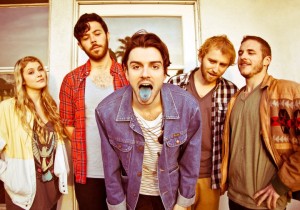 Maybe Judd Apatow can shed light on the phenomenon Milo Greene encounters each time the Los Angeles-based quintet loads in at smaller clubs across the country: cartoonish genitalia. Graham Fink acknowledges that scoring a cushy opening slot for The Civil Wars before he and his harmonizing compatriots even released their self-titled debut spoiled the band, but the plethora of one-eyed monsters gracing the walls of the tony venues they're headlining now rivals the closing credits of Superbad.
Even Schubas fails to get a reprieve from the hand-drawn pornography. Inhaling a plate of hummus and veggies in the esteemed establishment's garden-level greenroom before a sanctioned Lollapalooza aftershow with The War On Drugs in early August, the members of Milo Greene put on their shocked faces and act aghast. It's a wonder one of them doesn't comically bellow "My eyes. MY EYES."
Marlana Sheetz: "Sweet graffiti. Oh, there's another penis drawing."
Robbie Arnett: "There are so many penises on the ceiling."
Andrew Heringer: "That is a really common theme in venues."
Arnett: "People love drawing penises. I mean, the first thing I do when I go into a greenroom is think, 'Where can I draw a penis?'"
Curtis Marrero: "Oh, look! There's two right there."
Heringer: "They're everywhere!"
Arnett: "I'm really good at drawing penises. I want to express myself."
Sheetz: "So gross!"
And so goes the ensuing half hour kicking back with the bewilderingly gifted twentysomethings as they finish each other's sentences, joke about their supposed diva tendencies ("Are you kidding me right now? There's no Gatorade in our dressing room. Did you not get our rider?" Fink reenacts, resembling Paul Kinsey from AMC's "Mad Men" if the character went hipster instead of Hare Krishna.), and reveal Milo Greene's true identity.
"In 2003, we went into this old trading card spot that I used to go to for like collectibles and the guy behind the counter was Milo Greene. So, I asked him what I should buy . . . and he said buy a baseball card," Arnett reminisces. "When Andrew and I started writing music together, that baseball card was on the top of the computer that we would continue to share ideas with and I didn't want to name the band Gary Gaetti because that's the name of the baseball player. So, we opted for the guy who sold me the Gary Gaetti card."
Psych! "I was just trying to get a different story out there," Arnett admits.
Appearing: 11/2 at Lincoln Hall (2424 N. Lincoln) Chicago with Bahamas.
The real story: UC Irvine college buddies Arnett and Heringer dreamed up a crisp, aggressively business savvy British booking agent to help them and their friends score gigs and dubbed him Milo Greene. They created fake Gmail and MySpace accounts to dupe talent buyers into thinking they were dealing with an official entity. When Sheetz and eventually Fink were brought into the fold, cementing the undeniable vocal voodoo, it seemed natural to christen the new endeavor after their imaginary friend.
Separately put through the ringer from toiling away at bands that stalled, fell apart or just lacked the goods to make a dent, Milo Greene allotted two-and-a-half painstaking years to perfecting the ghostly chamber pop of its 13-song debut. Sheetz calls that isolated time spent in picturesque locales – a cabin in Shaver Lake belonging to Heringer's grandpa, a friend's getaway in the mountains of Placerville, and Bear Creek Studio near Seattle – a "do-over;" a chance to redeem the mistakes of the past. (And they dressed the part. "I think we definitely wore a lot of plaid when we were recording," she admits. "A lot of beanies. A lot of beards," Heringer chimes in with a Cheshire grin partially obstructed by his sandy bristles.)
The music took on the properties of those elemental destinations. The four singers coalesce on "Don't You Give Up On Me" like mist crawling across a body of water at dawn while the album's breakout hit (thanks to a plum placement in ABC's "Suburgatory" – it helps to call music supervisor extraordinaire and Chop Shop Records label head Alexandra Patsavas your boss) "1957" glistens like a rainbow peaking through hanging foliage.
"I'll never forget after . . . we wrote 'Autumn Tree' and we recorded that and I played it for my mom. And this was when I knew things were gonna get serious because she listened to it and she turns to me and she goes, 'Marlana, this is what's going to do it for you.' After years of doing my own thing and then singing with Andrew, she looks at me and she goes, 'I feel it in my gut, this is it. There's something here. This is it.' And it just kind of didn't stop," she remembers.
"I played that song for one of my best friends and he had the exact same emotion," Heringer adds. "I think that's why we've all come together . . . because there is an emotion behind the music we make that we've never felt with our other projects."
— Janine Schaults
For the full feature, click on the issue cover or grab a copy of Illinois Entertainer, available free throughout Chicagoland.