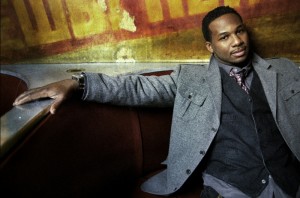 WHAT ARE YOU DOING NEW YEAR'S EVE?
Any day now the elves at The Lite (WLIT-FM, 93.9) will flip that red and green garland-wrapped lever they keep in a back room next to the reserve stash of Coffee-mate creamers and beat us into submission with a non-stop playlist of cheery Christmas carols. Worried you're developing tinnitus? Before you make a doctor's appointment, turn down the radio and see if the lack of perpetually chiming sleigh bells does the trick. As much as we adore Karen Carpenter's seasonal alto, we've always been partial to Ella Fitzgerald's invitation on the classic "What Are You Doing New Year's Eve?" Lady Ella has the right idea about nabbing a tonsil hockey partner waaaay in advance. It's never too early to make NYE plans: Rockabilly queen Wanda Jackson plays at Double Door; Robert Randolph & Karl Denson funkify the Riviera; Metro welcomes the Airborne Toxic Event; Charles Bradley croons at Lincoln Hall while JC Brooks And The Uptown Sound heats up Mayne Stage; and Big Gigantic lights up Aragon Ballroom. We once lassoed that elusive midnight kiss at the feet of Mr. Randolph – not that we're picking favorites or anything.
In the 'burbs, 7th Heaven is taking its show to the Hyatt Regency O'Hare, while Soul Asylum also hangs out near the airport at the O'Hare InterContinental. Iron Maiden tribute Maiden Chicago is "metalling up the taps" at Bobby McGee's in Chicago Ridge. Suburban talent buyers are playing their NYE cards close to the vest this year, so check next month's IE for a more robust list of parties.
BLACK FRIDAY BLOWOUT
We used to laugh at the dweebs who ditched the Thanksgiving dinner table before the pumpkin pie even left the maroon Bakers Square box to bundle up for a night spent waiting outside for those precious day-after sales. (How many flat-screen TVs does one family need?) Then, the folks behind April's Record Store Day had to join the Black Friday madness. It's hard to point fingers when your hands are wrapped around gold foil-stamped vinyl containing a rare 1966 recording of Velvet Underground & Nico – Scepter Studios Acetate. That's just one of the goodies available at brick and mortar music shops on Nov. 23 as part of the second "Back To Black Friday." We're eyeing the Nirvana 20th Anniversary Edition of Incesticide, cut at 45 RPM vinyl; My Morning Jacket's It Makes No Difference 10-inch featuring Alabama Shakes' Brittany Howard, recorded at this summer's Newport Folk Festival and benefitting Levon Helm's estate; and three singles from the White Stripes pressed on red vinyl, including "Hotel Yorba (Live At Hotel Yorba)" b/w "Rated X." Get the complete list of releases at Recordstoreday.com.
SON OF A PREACHER MAN
A recent get-together to view the return of AMC's "The Walking Dead" (because you can never cram too many people in the same room to witness a guy crudely lop off a leg with a pocket hatchet during the zombie apocalypse) elicited the question, "Does anyone not own the soundtrack to Pulp Fiction? No one uttered a peep – only the sound of a spear slicing through decaying flesh broke the silence. Was Marsellus Wallace's soul stolen out of the back of his neck? Of course everyone owns the companion music to Quentin Tarantino's 1994 masterpiece. Pulp Fiction comes back to theaters for one-night only on Dec. 6 as part of an extravaganza dubbed "Tarantino XX" to mark the director's 20-year career. Reservoir Dogs gets the same treatment on Dec. 4. A special Tarantino career retrospective will accompany both screenings. Participating theaters include: River East 21, Orland Park Cinemas 14, Yorktown 17 with IMAX, Streets Of Woodfield 20 with IMAX. Go to Fathomevents.com for all locations.
— Janine Schaults