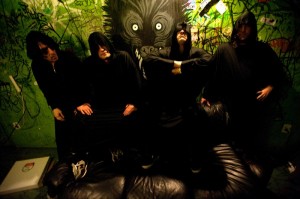 It never fails. Friends grow up, record stores shutter, liner notes shrink, columnists retire, and servers get hacked. But one tried-and-true way of discovering underground music will always remain: the cover song. This writer had never heard of Death In June – possibly the darkest folk group – before Nachtmystium covered "Rose Clouds Of Holocaust" on the Worldfall EP. And had Midnight not recorded the Slay The Spits EP – covering The Spits the whole way through – this writer might never have come across a punk band with a nuclear bomb for a heart.
The Spits formed in Seattle in 1992 with a brass-knuckle style. Brothers Sean and Erin Wood dole out right hooks on guitar and bass, respectively, sharing vocals that steer overflowing Ramones riffs into the gutter. Their greatest hits are sugared with a splash of blood (sung in German by King Khan on the new Mude Und Einsam 12-inch record on Red Lounge). With their recent self-titled full-length out on In The Red (every album is self-titled), contorted punk shapes emerge from ominous, glowing hues. Music now does the intimidating, deformed enough to sketch us out.
On the road in Kalamazoo, Mich., Sean wants to talk . . . in just a second. "Let me pull over, man. I was driving, trying to do this, and then I think a bug flew in my ear." The Spits open for Off! on Oct. 27 at Bottom Lounge.
Mosh: Why are you in Michigan?
Sean Wood: Because my brother moved back here, and I'm back here just visiting family. It's where I grew up. We're trying to write a new record, and I think the rock is definitely here versus in Seattle right now.
M: What does Michigan offer that Seattle doesn't?
SW: Guts, glory, and soul.
M: When I describe Seattle to friends, I'm quick to reference its punk. Not the '90s Nirvana grunge take on punk, but the kind of Seattle punk apparently born with The Fartz in 1981: four chords when you can make them, seven-inch EPs, band patches, and a store that sells nothing else.
SW: It still does have some root there. [Seattle] has changed quite a bit, ever since the Up Records thing with Built To Spill. It's kind of their town now. It's not really a grunge and rock and punk/metal town anymore. It's more of an indie town. A lot of hipsters and cocaine, that's about it.
M: Your new album clocks in at a little under 19 minutes. Twelve songs, and not one is too short. Each tells a complete, warped tale in a 4/4 flurry. Chicago legends Los Crudos used to proudly compact live sets down to 20 minutes. The Ramones worked toward something similar. Is there power in brevity?
SW: There is, there is. By the time that we get our point across, it's done. The story is done.
M: The Spits are disgruntled with "washing dishes and pushing mops" on "Fed Up." What was your worst day job?
SW: I worked in an aerosol plant. Anything that had aerosol in it, we ran it, and I had to press gas for it. They gave you four "air breaks" a day, when you went outside to get air. There were so many fumes . . . and you started getting dizzy, and it was hot as hell in there. Then when I would get out of that, we'd go to band practice and start jamming, and I'd have to be back there at fucking seven in the morning.
M: "Fallout Beach" does an amazing job staying rooted in punk while playing games with the patterns, bearing psychedelic/post-apocalyptic contours and weirdly depressed vocals. I'm somehow reminded of deceased rapper DJ Screw, whose half-speed productions brought out texture in a genre that could be taken for granted. Does the punk mold need breaking?
SW: The last three years have seen a real big influx of poppy music. Poppy punk, they call it. Or just pop music. We call it bubblegum shit. You know, like, [childlike singing] "Bap, bap, bap!" And we just got sick of it. With us old guys, we're getting passed up left and right. I'm like: "Fuck this, let's fucking get mean. Let's show them where we come from." So that meant getting dark.
M: I hesitate to mention the band's pop sensibilities. The Spits are like an entire band built off the Ramones' "I Don't Wanna Go Down To The Basement." You're moving beyond the pop?
SW: We're not moving beyond the pop, man. Like you're saying, Ramones are poppy, and fuckin', it's great. I love poppy shit, especially if you made it sound good. Everything was so fucking yummy yummy bubble-gummy. And we were like, "Fuck!" Every band that was like cutting a new record or getting signed to a record deal was like that. We were just like: "Dude, fuck this. Where's the punk? Where's the rock at anymore?" It makes you go fucking hard. We love it man, and this next record will have some more of our style – those poppier songs – back.
M: You're also doing a split with Cleveland black-metal band Midnight?
SW: We're gonna do a seven-inch with them. It's gonna be on Thriftstore Records – that's my brother's label. The songs haven't even been started for it yet, but you can put the word out that by God there will be a Spits/Midnight split-single.
THE OREGON TRAIL: Oregon isn't typically the best place to go shopping for metal if one's favorite bands hail from Illinois (dismissed as a "flyover state" by some coastal hipsters). But a poster stuck to a box of LPs in the back of 2nd Avenue Records in downtown Portland proves otherwise. "NO WIMPS!!!!" – reads an advertisement from fledgling Portland label Headsplit, the words appearing beneath the label's logo of a horned skull impaled by a cassette tape. "NO COMPROMISES!!!!" – it continues.
Headsplit's initial catalog includes the previously unreleased 1993 full-length Ass Attack by then Des Plaines/Chicago perverted grindcore act Eye Gouger, fittingly packaged on a cherry-red cassette. Expect a dual-color/single-tape compilation of the first two demos by extinct Central Illinois death/grind mutants Impetigo before year's end.
Ass Attack, recorded at Solid Sound in Hoffman Estates, is a rare, area snapshot of heavy music making a silly face in a crowd of overly serious early '90s metal and punk. The 14 rampaging carnal jokes arrive archaically informed by the underrated crusty metal-punk of Chicago's defunct Impulse Manslaughter (whose one-time lead guitarist, John Tolczyk, goes by the name Blood Spunker while drumming for Eye Gouger) and the sheer oddity of grind pioneers Napalm Death. Ass Attack would have been comic relief in the scene – recall the straight-edge, emo, and alt-rock trends – had it been there to offend. "Whether it would be two riffs in the whole song or what, we were just seeking brutality and porn," explains founding Eye Gouger guitarist Nipple Cruncher (real name: Vance Campbell) by phone from his current home in Cincinnati.
He says the full-length almost came out on Nuclear Blast in 1994. "Then [vocalist] Testicle Pounder got all drunk and called [label owner] Markus [Staiger] up and told him he owed us a million dollars from the seven-inch that they released . . . I don't know exactly what happened, but we ended up losing that deal." Two years prior, Nuclear Blast put out the band's seven-song Ass Rotor seven-inch on its Mind Control imprint alongside Impulse Manslaughter's largely Phil Bonnet-engineered Sometimes EP (on which Tolczyk also played). Ass Rotor finds a new home as the B-side to Ass Attack. The guitarist would have preferred a 1990 demo, recorded when Dave Ingram played bass while visiting Chicago from Birmingham, England, as the bonus instead.
"He was supposed to come back to America and live in my house and join the band, but he ended up joining Benediction when he got back there," Nipple Cruncher says. "Barney [Greenway] from Benediction joined Napalm Death, so Benediction needed a singer, and they ended up recruiting our bass player." A song Ingram wrote on the Eye Gouger demo, "Child Of Sin," was reworked on Benediction's first post-Greenway album, 1991's The Grand Leveller. The original version captures unhinged rhythm and an unintelligible mouth full of soap. Benediction's take stays brutal over Slayer-style polish but flirts, to its detriment, with groove metal – another '90s fad that weakened a good amount of discographies.
Despite setbacks such as a 15-year hiatus and the loss of the top of Nipple Cruncher's middle finger in a work accident, Eye Gouger lives. Nipple Cruncher is moving back to Illinois, and Testicle Pounder says in an email the act will record at least one more full-length: Analgeddon.
MOSH-WORTHY . . . LIVE: Septicflesh, Krisiun (Reggies, 10/18); Yakuza (Empty Bottle, 10/19); Reign Inferno, Altered Existence (Bada Brew, 10/20); Swans (Metro, 10/24); Napalm Death (Reggies, 11/3).
MOSH-WORTHY: My Dying Bride A Map Of All Our Failures (Peaceville); Yakuza Beyul (Profound Lore); Winterfylleth The Threnody Of Triumph (Candlelight); Dio The Very Beast Of Vol. 2 (Niji Entertainment); Black September Into The Darkness Into The Void (Prosthetic).
— Mike Meyer
Category: Caught In A Mosh, Columns, Monthly