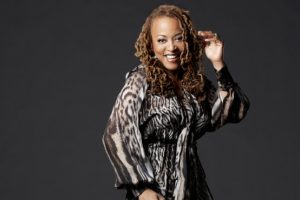 Cassandra Wilson has always been the sort of artist that glides across genres and labels as easily as her voice caresses notes. Although typically positioned as a jazz artist, Wilson sings blues, folk, and pop as well. Her two-decade and two-Grammy Award-winning career has produced many highlights, but she's never tackled actual geographical boundaries the way she does on her new album, Another Country (eOne). Recorded in Florence, Italy with Italian guitarist Fabrizio Sotti, her 19th release represents a new direction and a new label. So there was a lot of anticipation in the air when Wilson took the stage at Old Town School of Folk Music on a balmy Oct 11.
Backed by a glorious five-piece band (including Sotti on guitar), Wilson floated on stage covered in sapphire and amethyst jewel tones, her trademark blonde locks framing her face. Dipping into her ethereal cover of "Children Of The Night," from her 1993 breakout album, Blue Light 'Til Dawn (Blue Note), her burnished alto filled the intimate space with warm, smoky melodies. Lest we forget her Mississippi Delta heritage, the singer slipped in a verse from Muddy Waters' "Hoochie Coochie Man," creating her signature blend of blues/jazz/pop sounds. She followed it with "No More Blues," from her current album, which also reflected her familiar bluesy jazz treatment. It wasn't until she dived into the title track – dancing with Latin rhythms – that her new direction was effectively revealed. "This song is about many things, on many levels," she explained. Gliding along flamenco and samba tones, her voice soared with emotion.
Probing even further into the Latin landscape, Wilson clapped and danced through a straight samba song, "Angola," singing in Portuguese and inciting the sold-out crowd to clap along to the driving percussion. Picking up her guitar, "a little instrument" she bought "while walking in the hood in Evanston," Wilson played along to her silky vocals on "Red Guitar." Although she displayed her jazz chops on classics including 'Skylark" and "St. James Infirmary," Wilson has expanded her musical boundaries beyond American genres to forge a new journey just as pleasing to the ear.
— Rosalind Cummings-Yeates
Category: Featured, Live Reviews, Weekly