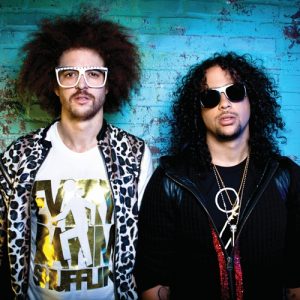 The party's over for LMFAO . . . for now. Redfoo and his nephew SkyBlu are putting the outlandishly coiffed group on an indefinite hiatus, The Associated Press reports.
"I feel like we've been doing this for so long, five or six years. And we're kind of like saying, well, let's just do what's natural and just kind of explore that, instead of like forcing it all the time," Redfoo explained in an interview where he dropped the bombshell.
The 37-year-old son of Motown founder Berry Gordy doesn't foresee the demise of the group that brought us the classic bachelorette party theme songs, "Sexy And I Know It" and "Party Rock Anthem" as affecting his personal relationship with SkyBlu.
"I think that we naturally just started hanging with two different sets of people, two different crowds, but we're always family," he said. "He'll always be my nephew, I'll always be his uncle."
Without the daily rigors of keeping a spastic, candy-coated hit-making machine afloat, Redfoo plans to spend his free time coaching junior tennis star, Ayaka Okuno of Las Vegas.
He hopes to follow in the footsteps of the original sporting Zen master.
"I kind of use the Phil Jackson approach which I teach her some vague things — I teach her how to think for herself on the court," he said. "She's really good at self-analyzing."
Thanks for the memories: