The fuzz patrolling the border stop in Sierra Blanca, Texas have a nose for weeding out rock stars in possession of controlled substances. They've already busted Willie Nelson and Snoop Dog. The latest to fail a tour bus inspection? Fiona Apple.
TMZ reports the 35-year-old singer was arrested yesterday after a search turned up hashish and a "small amount of weed." She's currently being held at the Hudspeth County Jail.
Singing "Criminal" on her current tour of North America in support of The Idler Wheel will have a whole new meaning.
The website also nabbed Apple's mugshot: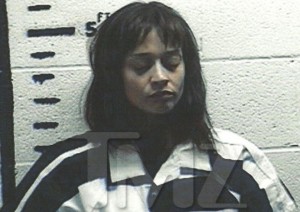 UPDATE: The Hudspeth County Sheriff's Office released a statement saying Apple Cops say Apple "freely admitted" the drugs belonged to her. She was released on Sept. 20 after posting $10,000 bond.