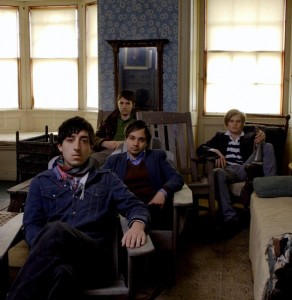 MY FAIR FESTIVAL
There's more than corn in . . . oh wait, that's the slogan for Indiana Beach. You'll find plenty of maize in Champaign-Urbana, but these cities – overrun with scholars donning the ol' orange and blue – close out the outdoor music festival season with Pygmalion. Now in its eighth year, the fest boasts a headlin- ing set by indie darlings Grizzly Bear on the heels of its long-awaited follow-up to 2009's Veckatimest. The three-day, 61-band outing (taking place Sept. 27 to 29) is the brainchild of CU native Seth Fein, who's ecstatic about the Brooklynites' stopover.
"Grizzly Bear for me is somebody [sic]," that I love and respect as musicians and I'm excited to present them. And then to be able to have Dinosaur Jr. . . . on that same stage co-headlining a show . . . I mean, it's the biggest show I've ever thrown, so in that regard, I'm pretty excited," he says.
But, more than basking in the satisfaction of a killer booking, Fein embraces the chance to show off his hometown to visitors. "I always encourage people to have a little vision about the community that surrounds the University [of Illinois]. It's not all 20- year-olds drinking Keystone Light on Friday nights," he promises. Pygmalion also offers fans a chance to experience their favorites on smaller scale. "I enjoy Lollapalooza . . . but I personally like the idea that people will be able to come here and actually see and hear the shows in a way that makes them comfortable. I like the idea that you can have some- thing intimate and it kind of reflects the community."
Sleigh Bells, Dirty Projectors, and Best Coast round out the lineup. Go to pygmalionmusicfestival.com for the full schedule.
18 TO LIFE
Don't fret about what to get Bloodshot Records for its 18th birthday. The homegrown label doesn't want presents; it just wants your presence. (Lucky thing, because our brilliant idea of pairing Stevie Wonder with Jon Rauhouse for a duet worthy of finally reaching the legal voting age proved too cost prohibitive.) Lydia Loveless, Jon Langford & Skull Orchard, Dex Romweber Duo, Deadstring Brothers, and Shake'em On Down headline the shindig at The Mayne Stage on Sept. 22. It's a fitting lineup to celebrate the rag- gle-taggle bunch responsible for Bloodshot's inaugural compilation back in the summer of '94. While some moved on as their stars burned brighter (Ryan Adams, Neko Case) and others pledged lifelong devotion (Langford), the label's true love remains Chicago.
HE AIN'T HEAVY, HE'S MY COFFEE TABLE BOOK
Leave it to Kiss to market an item even more extreme than the Kiss Kasket. Why spend thousands on a coffin emblazoned with the mugs of Gene Simmons and Paul Stanley that will just sit in the ground for the rest of eternity when visitors, family, friends, and even the random passerby can peruse a 45-pound coffee table book? Monster, the three-foot tall photography tome will extract $4,250 from the wallets of Kiss Army members and come signed by the band's current lineup. With only 1,000 copies printed, the giant coaster will reach collectible status faster than Simmons can put his face on. The book features 10 different covers, each depicting the flag of a Kiss-crazed country (Norway, Japan, and Sweden are in luck!) and, according to L.A. Weekly, the band commissioned the Vatican's book binder to do the honors. Do the ticket scanners at First Midwest Bank Amphitheater a favor and leave the paperweight at home when the band rolls into Tinley Park on Sept. 7.
DUSTY GROOVES
Wicker Park's Big Star often reaches the pinnacle of perfection (except when seating becomes scarce at least six nights a week) with its smooth whiskey and mouth-watering tacos. That alluring aroma wafts down to the Double Door where it tempts the venue's headliners to mosey on over after sound check. Now, instead of just stuffing musicians' bellies, the hip taqueria puts both feet in the music biz with The Dust-Up. The inaugural festival (held in partnership with Metro and Tecate) takes up residence in Big Star's parking lot at 1531 N. Damen Ave. on Sept. 8 with Disappears (bring ear plugs!), Andre Williams And The Goldstars, Old Baby, Quarter Mile Thunder, and The Jeff Walroth Band.
SCALING EVEREST
Let the adrenaline junkies risk life and limb to climb Mount Everest. Trade in the airfare, the mental distress, the altitude sickness, and all that bulky gear for a bar stool, a cold brew, and five scruffy guys who know how to manipulate their guitars so every pint in the room vibrates California's Everest must want to see the leaves change colors this time around as they embark on a month-long Chicago residency. The band first got its first taste of the Windy City during an extended stay in July '11 when WXRT couldn't get enough of "Let Go" from its sophomore effort, On Approach. Nothing on Everest's latest release, Ownerless, matches the thrill of that single's syncopated opening invitation, but four shows in as many weeks should reveal a new favorite. The residency in full: Double Door, 9/6; Reggies, 9/13; Abbey Pub, 9/20; Lincoln Hall, 9/21.
WE ARE THE WORLD
Despite Taste Of Chicago charging for seats to see the likes of Jennifer Hudson and Mavis Staples, the 2012 World Music Festival managed to escape the albatross of admission fees. In a switcheroo from previous years, the fest's performances won't cost a thing. Spanish stalwarts Canteca De Macao at Old Town School of Folk Music on Sept. 23? Free! Tuareg band Terakaft whose beats are as demanding as the climate from which it hails at the Mayne Stage on Sept. 23? Free! Cape Verdean chanteuse Maria De Barros at the Jay Pritzker Pavilion in Millennium Park on Sept. 22? Yep, free! The weeklong fest kicks off on Sept. 21 and runs until Sept. 27 at venues across the city. Go to worldmusicfestivalchicago.org for the full schedule.
TALKING MUSIC
David Byrne makes a point of not doing anything half-assed. The concept of starting a project and leaving it hanging doesn't apply to the former Talking Heads frontman. His natural curiosity about the world combined with his mythical talent turn every endeavor into a rich, educational experience for those loony enough to follow his zigzagging interests. Byrne's latest projects dovetail nicely for those of us able to commute easily to the Chicago and Music Box Theatres. He sits down at the Music Box with Chicago Tribune rock critic Greg Kot and Thrill Jockey Records founder Bettina Richards to dish on his new music industry-dissecting book, How Music Works on Sept. 17 at 7 p.m. (followed by a 10 p.m. screening of Jonathan Demme's seminal concert flick Talking Heads: Stop Making Sense). The following night (Sept. 18) he joins St. Vincent at the Chicago Theatre for a performance of their brassy and sassy Love This Giant collaboration.
SURVEY SAYS
Pitchfork has evolved in leaps and bounds from the cliquey boys club the online music Mecca started out as 16 years ago. Say what you will about the cattiness oozing from the pores of all-female institutions forcing dudes to back away slowly as if confronted by Glenn Close wielding a knife, but visiting Pitchfork in the early days felt like stumbling upon a bromance cemented by obscure record collection. While the site made inroads, its audience remained static if using "The People's List" as any indication. Last year, the site asked readers to list their favorite albums released between 1996 and 2011 and just shared the results with the masses. Radiohead nabbed the top two spots with OK Computer and Kid A, respectively, while Arcade Fire, Neutral Milk Hotel and The Strokes rounded out the top five. Chicago's Wilco placed a respectable seventh with Yankee Hotel Foxtrot. Out of 27,981 voters, 88 percent were male. Female artists, not to mention acts consisting of anything but white guys with guitars, are grossly underrepresented. You have to scroll down past No. 50 to find a solo record made by a woman (Bjork, Homogenic) and apparently Kanye West single-handedly embodies hip-hop (My Beautiful Dark Twisted Fantasy at No. 9).
RAIN DELAY
Alabama Shakes return to Chicago after a menacing storm thwarted (and eventually cancelled) the band's Lollapalooza debut for a free show courtesy of American Family Insurance at Subterranean on Sept. 11. We're so hung up on Brittany Howard's wail we even liked the company's Facebook page to RSVP for the gig. If you feel the same way about her kindred spirit status with Janis Joplin, we suggest clicking the button. Sure, our newsfeed is now spotted with tips on how to pack healthy school lunches and questions about renters insurance (according to the video, it's totally worth it), but scoring a spot at the show trumps the white noise. Now, we just wait for that confirmation email containing the golden ticket to hit our inbox. The Pollies and Doc Dailey open.
For the full story, visit the issue through our partners at ShadeTree, or grab a copy available free throughout Chicagoland.