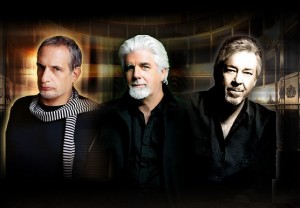 August's slow march towards completion brings with it: the Hollywood elite, pre-destined lovers, a 70s supergroup, the man behind Nora Jones, and a couple of Southside rockers.
Hugh Laurie's expertly crafted accent fooled American audiences into thinking his curmudgeonly Dr. House hailed from these shores. Fans of the now-defunct Fox drama also might care to know that the actor doesn't really walk with a limp either. But, more surprising than finding out the character's affectations didn't carry over into Laurie's real life (or vice-versa) is the image of him sitting at the piano plucking out lines of raggle-taggle New Orleans blues. The self-taught pianist eschews dainty British ballads and his pinkies-up heritage in favor of the gritty South. Laurie's Let Them Talk lacks the voodoo spice of Dr. John, but how many opportunities do you get to spend an evening with a TV star? (Tuesday@Park West.)
Some musical partnerships seem ordained by a higher power. Lisa Gerrard and Brendan Perry of Dead Can Dance can claim that spiritual connection. How else to explain why the ex-couple decided to reunite professionally after a decade apart? Something cosmic pulls these two voices together and fortunately for listeners they're willing participants. The gothic leanings of the duo's sonic landscapes aren't usually reserved for a picnic in the park soundtrack, but Pritzker Pavilion has a date with destiny. (Tuesday@Millennium Park.)
The Dukes Of September Rhythm Revue band name might not jump off the page, but the famous faces packed within are instantly recognizable. The supergroup is comprised of Steely Dan frontman Donald Fagen, that band's background singer turned Doobie Brother/solo star Michael McDonald, and their longtime bud in blue-eyed soul Boz Scaggs.
Though the night promises plenty of hits from each of those respective acts (we're betting on McDonald's "I Keep Forgettin'" and Scaggs' "Lowdown," though Fagen's usually less predictable), the evening also promises plenty of R&B and vintage rock covers. A 2010 outing at the Chicago Theatre included long lost treasures by Chuck Berry, Aretha Franklin, The Band and even The Grateful Dead, with online spoilers of this summer's set lists suggesting equal diversity.
"We're working with material that is challenging, and it's going to be really fun to perform background vocals or to take a guitar part of it, take a synth part," Scaggs told yours truly when the tour first started. "And I'm talking about the material of the other two guys as well as the cover material we're going to do. This is fun, challenging, and the stuff the music's all about." (Wednesday@Ravinia.)
— Andy Argyrakis
Jesse Harris possesses that odd gift of excelling when taking a backseat and letting the spotlight shine on the chanteuse lucky enough to have him in her corner. Benefactors of this coaching from the sidelines include Nora Jones and Madeleine Peyroux. Strangely, when Harris takes lead, the compositions lack the beguiling quality so effortlessly put forth on his collaborations. Still, his latest, Sub Rosa – inspired by a trek to Brazil – makes for a pleasant journey. The gig serves as a great excuse to check out the swanky new digs on Randolph Street belonging to City Winery Chicago. Jenny Gillespie, the wife of Groupon CEO Andrew Mason opens. (Wednesday@City Winery Chicago.)
We spotted Lovehammers frontman Marty Casey hanging out in Dixon, Illinois waiting for Mumford And Sons to make an appearance on the band's Gentlemen of the Road stopover tour. This wasn't the first Casey sighting of the summer. We also stood behind his platinum locks during Cory Chisel's set at Do Division. Needless to say, we wouldn't mind swapping iPods with the native Southsider. The Lovehammers relish getting up-close-and-personal with its fan base and this two-night stand at Beat Kitchen all but guarantees you'll leave with a bottle of Casey's sweat (if you're so inclined to bring the proper collection tools). The group will take a break from performing to put the finishing touches on its upcoming album, Set Fire. (Thursday & Friday@Beat Kitchen with Frosting and Viceroy.)
— Janine Schaults
Category: Featured, Stage Buzz, Weekly