The Chicago Blues Fest has been restored. For the last five or six years, the fest didn't do the greatest job of spreading the blues spirit. Weak lineups, uninspired themes, and budget cutbacks all conspired to make the world's largest free blues festival not so exciting. But 2012 wiped all of that away. The theme of "Celebrating Blues Past & Present" supplied a lively lineup including Floyd Taylor, Texas Johnny Brown, and Mavis Staples, and attracted the biggest crowds in years. The 29th-annual tallied some 500,000 visitors, which is 50,000 more than 2011. All photos by Karl A. Reese for Sonhay Photography.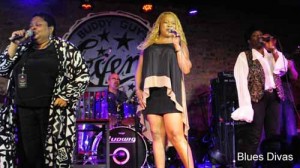 The pre-fest events provided an indication of good things to come. The week kicked off with Deitra Farr, Melvia "Chick" Rodgers, and Koko Taylor's Blues Machine performing a hot set at Daley Plaza on Monday the 4th. They sang a rousing duet of Taylor's signature "Wang Dang Doodle" that stirred up anticipation for the tribute to the Queen on Sunday.
By Wednesday's annual Grammy Blues Fest Kickoff Jam at Legends, the exhilarated tone for the fest had been firmly set. The standing-room-only concert was packed with blues fans and musicians from all over the world. Lurrie Bell opened with selections from The Devil Ain't Got No Music. The gospel-tinged tunes – inspired by Staples' response to questions about the devil's music – were more like a revival than a blues concert, but Bell's emotional guitar riffs on "Trouble In My Way," accompanied by Matthew Skoller on harmonica, underscored the gospel roots of the blues and how music can be sacred as well as profane.
Lil Ed & The Blues Imperials were next, pumping out the rock-focused blues for which the band are noted. A stellar lineup of blues divas cranked up the show's temperature even more. Peaches Staten offered her energetic performance style with red boots and sassy dance moves. She hammered into Albert King's classic "I'll Play The Blues For You," giving it a stylish spin. Farr explained her original song, "Bad Company," as "This song is for people I don't like," and levelled the room with her soaring delivery. Nellie "Tiger" Travis sang her "Oil And Water" with Farr and Staten harmonizing in the audience. She shimmied in a leg-baring skirt and pranced around the stage for maximum effect. All three divas combined for a roof-shaking version of "Wang Dang Doodle" that would have made Taylor proud.
The Brooks family whipped the crowd into a dancing, juke-joint frenzy with the dynasty's triple-threat talents. Wayne Baker Brooks played first with the dynamic "You Make It Easy Baby," and Ronnie Baker Brooks followed with "Make These Blues Survive." Iconic patriarch Lonnie Brooks stepped on stage with his two boys and dusted up guitar glory with "Don't Mistake Kindness For Weakness" and "Sweet Home Chicago."
Billy Branch brought the classic blues with smoking harp attacks on "Going Down Slow" and "Route 66." At about midnight, Shemekia Copeland took it home with her stunning vocals on "Dirty Water" and "Never Going Back To Memphis." It was a rowdy night that showed exactly what to expect from the Blues Fest and the performers did not disappoint.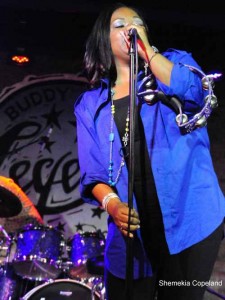 Rocketing temperatures did not keep the crowds away and seemed to supply just the right steamy, Delta atmosphere for the 29th annual Blues Fest. Friday showcased Texas Johnny Brown and his crisp Houston blues. The septuagenarian effectively represented the Blues Past section of the festival theme with eloquent '40s and '50s-era sounds. Saturday hosted the contemporary soul blues of Floyd Taylor, who looks and sounds a lot like his legendary father Johnnie Taylor, and transformed the Petrillo Music Shell into a disco as fans danced in the aisles and their seats.
Sunday played host to more blues women in one day than the fest has in recent memory, and it was a thrilling experience. Demetria Taylor and Mary Lane lit up the Crossroads stage while Pat Brown and Patrice Moncel played dance-oriented soul blues at the Mississippi Juke Joint stage. They all served as spirited opening acts for the Koko Taylor tribute and headliner Mavis Staples.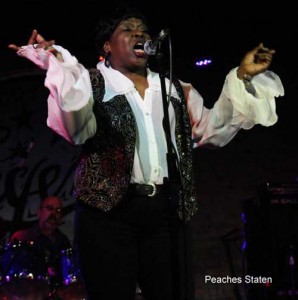 The Petrillo seats filled up early with fans eager to hear her and the women in blues. Koko Taylor's Blues Machine laid the foundation with hot horn-inflected blues instrumentals. Chick Rodgers opened the tribute with a gospel tune to pay homage to Koko's gospel roots; her voice was smooth and vibrant enough to clearly demonstrate the relationship between the two genres. Jackie Scott, a Virginia-born, Chicago-groomed blues singer, belted out Koko tunes followed by Farr, whose soul-shaking rendition of "That's Why I'm Crying" literally brought her former band to tears. In a towering afro and form-fitting jumpsuit, Nora Jean Brusco commanded attention with a booming voice and naughty antics. It was all a very solid, satisfying Koko tribute until the requisite finale: you can't do a proper tribute without a rendition of her signature song, but it didn't happen. Rodgers inexplicably added an extra song to her set, leaving no time for a group performance of "Wang Dang Doodle." Her version of Koko's "I'm A Woman" did not make up for it – her voice and persona weren't strong enough to make the lyrics' bombastic points convincing.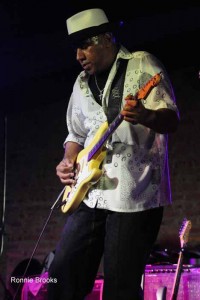 After being introduced by Mayor Emanuel, who was roundly booed by the crowd, Staples tried to right the slight by singing a few lines of "Wang Dang Doodle" until she stumbled over them, clearly unfamiliar with the lyrics. There was no stumbling over her own material, however. She sang her patented mix of gospel, folk, and bluesy tunes with such fervor that the crowd alternated between church clapping and blues shaking. Her take on Jeff Tweedy's "You Are Not Alone," was the highlight, adorning it with unexpected soul.
— Rosalind Cummings-Yeates
Category: Columns, Monthly, Sweet Home