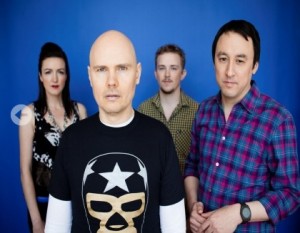 With the current music model, records either leak online or unceremoniously hit iTunes at the stroke of midnight on a Monday night. Either way, it's not much of an occasion, especially when compared to the days of album signings and midnight performances at your local Tower Records. So it made it that much more of an event that Smashing Pumpkins chose to celebrate their new Oceania full length with no less than a cruise ship listening party and performance Tuesday night on Lake Michigan.
Held aboard the Odyssey II cruise ship off Navy Pier, the event featured an intimate and private listening party for a crowd of around 100 attendees. Those onboard were granted an early listen to Oceania as twilight fell, with the Chicago skyline ever-present in the background. Given the Pumpkins' hometown connections, the venue and execution of the party were warmly received onboard.
Sonically, Oceania is the band's most emotionally alive effort in years. Gone is the metallic sheen and detachment of 2007's Zeitgeist. In its place is the passionate "The Celestials" and downright poppy "One Diamond, One Heart." Elsewhere, opener "Quasar" carries on the tradition of the band's classic guitar rock showings, while the unassuming "Pale Horse" proves hypnotic and subtly infectious. Perhaps most notable in Oceania is not just the absence of despair present in so many of the act's earlier angst anthems, but just how hopeful and upbeat the album is.
Following the evening's listening party, Pumpkins frontman Billy Corgan took to a modest stage on the top deck of the ship. Performing mostly solo for a handful of Pumpkins tracks, Corgan dug into lesser heard works from the band's back catalog. Among the deep cuts mini-set was the crowd-pleasing Siamese Dream closer "Luna" and never-before-performed-live track "The Rite Of Spring." The standout, however, had to be the Chicago anthem "Tonight, Tonight," complete with "Tonight Reprise" introduction, off the group's 1996 rarities collection, The Aeroplane Flies High. With the city and the lake as the backdrop, the performance truly connected on a hyper-local level.
During the evening's live set, Corgan pointed out that the Pumpkins are approaching their 25th anniversary. Yet, listening to Oceania, they sound more like a band being reborn than one winding down. Hard earned and not a moment too soon.
– Jaime de'Medici
Category: Live Reviews, Weekly