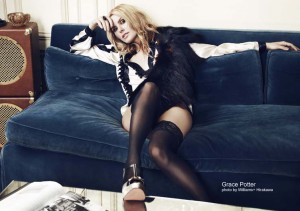 Avicii, Taking Back Sunday, Grace Potter & The Nocturnals, The Afghan Whigs, Cloud Nothings, and A Lull give us a peak into Lollapalooza, Warped, Brothers Of The Sun, and Pitchfork.
If we weren't so inclined to let The Beach Boys enjoy their anniversary tour, we would have called this issue "Endless Summer." Despite the improbability, Chicagoland added two more major outdoor events to its already crowded festival slate (last month's Spring Awakening at Soldier Field; in September, Riot Fest moves into Humboldt Park).
But July and August are when the meat and potatoes hit the table, and we welcome Warped Tour (First Midwest Bank Amphitheatre, July 7th), Pitchfork Music Festival (Union Park, July 13th-15th), Lollapalooza (August 3rd-5th), and – since the country artists like to visit in smaller packs – for fun we check in with Grace Potter & The Nocturnals, who're along with Kenny Chesney and Tim McGraw on the Brothers Of The Sun jam hitting Soldier Field on July 7th.
Surf's, um, up!
GRACE POTTER & THE NOCTURNALS
Grace Potter, female from Vermont, has third billing on the Brothers Of The Sun tour – the blockbuster country ticket of the summer. Discuss.
"I don't know," Potter laughs. "You've gotta ask Kenny Chesney about that. I have no idea what he was thinking."
Being on such a high-profile bill clearly has its advantages, but so far she and The Nocturnals have been a nightmare for the marketing department at Hollywood Records.
"I think that's the great thing: you can't brand us," she says. "We somehow elude the statement of this-or-that kind of band. I think the only statement we can really say for sure is that we're a rock 'n' roll band. And rock 'n' roll and country are closer than you think."
This summer's The Lion The Beast The Beat backs up that claim, as perhaps the brawniest offering in a prolific eight-year career. It almost became their most questionable until she changed its course.
"A lot of the songs we [first] recorded sounded like an Adele song, like a Florence + The Machine song, it sounded like ripoff shit that probably would sell records but was not what I wanted to do," Potter admits. "There was never any intention to sound like someone else, but it just felt like we were pandering a little bit, and it wasn't anyone's fault by my own for delving into a pile of songs that I didn't have any true connection to. They sounded great, and if I were a songwriter living in L.A. I could have sold them to someone else or cowritten them and turned them into songs with someone else and it would have been fine. But on our own, with my name next it, it didn't feel right."
Someone with Potter's transcendent stage presence can't be caught faking.
"At the core of it, I'm not that different from when I was 17 and being centerstage and just owning it. That's a part of me, that's probably not going away."
Appearing: 7/7 at Soldier Field (1410 S. Museum Campus Dr.) in Chicago, with Kenny Chesney, Tim McGraw, and Jake Owen.
AVICII
"Le7els" is the sort of song that's so popular, even if you haven't heard it you've heard it – maybe in a commercial, in a lead-in to a commercial, blasting from another car at a stoplight, or possibly through osmosis. And its creator, Swedish DJ Avicii (Tim Bergman), is happy to let well-enough alone.
"All the music I make," he insists, "I make for myself. It has to be something I think is really good, otherwise I wouldn't be comfortable doing it just to sell records. I don't think I would ever want to do something like 'Le7els' again because, personally, I've heard that song so many times . . ."
Only 22, despite his nationality Avicii has become an important figure as electronic music seizes the tastes of American youths.
"I'm lucky enough to come in as it is [rising] in America," he says, "so my name is also taking off [at the same time]. I got into this because I started listening to house music like Swedish House Mafia and Eric Prydz, and what they were doing. I just fell in love with the sound. I've noticed that the crowds and the shows here in America have been amazing just because it's something new. It's something cool, you know? In Europe, it's been around for awhile. People, yes, are more educated there, but it's not the same sensation of, Oh my God, what's this?"
To create new music, Avicii cruises around in headphones to shut out incidental noise and – ostensibly – "Le7els." He then sits down with a keyboard and taps out the simplest melodies – the biggest sounds in the world are born out of near silence.
Appearing: 8/4 at Lollapalooza (Grant Park) in Chicago.
TAKING BACK SUNDAY
Consider this: Taking Back Sunday's Shaun Cooper hit the first Warped Tour as a fan, yet his band has still been around longer than most punk outfits since even the '70s.
Yes, at the ripe old age of 31, Cooper has seen it all: "I saw Quicksand and No Use For A Name," he says, noting the stylistic differences between yesterday and today's roster.
The bassist, newly back in the fold for last year's self-titled outing, has at least a mild perspective about the traveling festival's changes, for good and bad.
"It's hard to say, because kids grow up and stuff," Cooper says, "but it's fans of music still, and that's what it's always been. Maybe bands are more pop- or dance-oriented – maybe there's more escapism. Maybe kids want more of that with the wars and real-estate bubble and all that. It's hard to say. It's definitely less 'punk rock' than it was in the '90s, but maybe it's evolved. But The Truth anti-smoking campaign is here and PETA is here, so people are still aware of [issues] even if they're trying to escape through music."
So, logically, for TBS . . . "Nothing's really changed," he laughs. "We're so happy and so blessed that we've been able to do this for a job for as long as we have. With all the lineup changes and stuff, we know we need to rely on each other to move forward and succeed musically and personally, too. We still feel young even though we've been around for the better part of 10 years."
Conscious of their longevity, Cooper doesn't feel like the band need to lord their experience over the undercard. Warped Tour should reflect its constituents, not ideology.
"I think it's our ego or lack thereof: we don't feel like we're coaching anyone. If we see someone doing something wrong or stupid, we'll be like, 'Hey – relax.' Other than that, we go up there and put on the best show we can. Kids have paid a lot of money for a ticket, and they're sitting in the hot sun. If someone asks for advice we'll give it, but we still feel young
even though we've been around for the better part of 10 years."
Appearing: 7/7 at Warped Tour (First Midwest Bank Amphitheatre) in Tinley Park.
CLOUD NOTHINGS
A few skeptics will blame Dylan Baldi's views on having spent time in Steve Albini's presence, while others will deem them wishful thinking. Either way the Cloud Nothings frontman has a refreshing take on the increasingly cuddly and inoffensive world of independent rock.
"I don't want to feel I'm limited in any way," he says, "just because a lot people liked a record I made. I just hope that means they'll follow along with whatever I decide to do, no matter if it sounds like [this year's] Attack On Memory (Carpark) or not." Then he chuckles, "We'll see how my theory works."
Baldi also looks at dogma as a waste, and disregards any theories on what masters his band's improvisational concerts should serve.
"We're serving the fact that we get bored really easily," he jokes. As far as seeing where a song might want to go, or cutting new paths, "Maybe we're not serving the best of anything – just trying to keep on our toes. Instead of playing the same thing over and over, we want to add something new. There was a festival in Germany, when we were doing a really noisy thing, and the entire back row gave us the finger for like 15 or 20 minutes. It was fun to watch – some kind of German hippie festival."
But Baldi's not solely a press-quote generator or closet iconoclast. He is, you know, trying.
"There's always stuff I want to try to do and make new music – that's kind of the only thing I do." He adds, "Hopefully it doesn't end today, because I don't think I'd be satisfied at this point."
Appearing: 7/14 at Pitchfork Music Festival (Union Park) in Chicago.
THE AFGHAN WHIGS
The reunion bug that has exhausted the ranks of Alternative Nation took on an inevitability long ago, but for The Afghan Whigs that imminence had a different source: frontman Greg Dulli.
Dulli never stopped working. His Twilight Singers released music in the new millennium at a clip comparable to that of the Whigs in the '90s – and his former bandmates were occasionally involved. Then Dulli began expanding his circle, taking on projects like his Mark Lanegan collaboration The Gutter Twins, involving himself with Italian psychedelics Afterhours, and Spanish musician Jorge Fiera. His most striking partnership came when the debonair, accused-misogyinst began singing with granola wymynist Ani DiFranco.
A Whigs reunion? All in due course.
"We're still scattered all about, in vintage fashion," he laughs about rejoining forces with John Curley and Rick McCollum. "We'll all be in Cincinnati for the next few weeks: that's where we'll be rehearsing."
It's not a Robbie Robertson/Levon Helm deathbed thing?
"It's definitely not that," Dulli groans. "I'm having a great time playing music with a variety of people. That I get to play with John and Rick again for a little while is very exciting to me. I've played with them longer than anyone that I know, and I've known them longer than anyone that I know. That's what I'm going to do now. I play all the time. I'm playing with these cats down here [in New Orleans], and we play slow songs and goof around."
He brushes off questions about playing in daylight ("If Lollapalooza were in the winter, then we'd get to use our light show"), and following an effusive recommendation for Afterhours' new Padania ("I'm telling one person at a time, and now I'm telling you"), he mulls the possibility of new Whigs music.
"I'm writing at all times," he says. "Was working on a song last night, and woke up today fucking psyched. I don't know who I'll play it with: maybe I'll play it with Afghan Whigs. I'll certainly play it for them, and if it's something we all decide to play together, that would be pretty exciting."
Appearing: 8/3 at Lollapalooza (Grant Park) and 8/4 at Metro (3730 N. Clark) in Chicago.
A LULL
A Lull doesn't have quite the burden of Chicago bands past, having three other locals accompany it at this year's Pitchfork Music Festival. Instead of representing the city, they can look forward to repping themselves.
"Guys like Willis Earl Beal and Atlas Moth have a lot larger national recognition," says Nigel Evan Dennis. "[Lakeview club] Schubas is like our place: a lot of the same people show up every time. So I'm kind of hoping for Pitchfork, that we get an entirely new audience."
The quintet – originally a trio – are a mystery of the blogosphere: routinely, critically praised, but still somewhat obscure. Part of that is a steadily accumulating and progressive catalog that prizes development and cohesion over earcandy.
"Between [last year's] Confetti and [new EP] Meat Mountain, there's a definite progression," he says. "We're trying new things to achieve more with less. We're constantly influenced, and rather than being a band who sticks to a style or sticks to a method or dynamic, we tend to get bored and gravitate toward different things. Our first EP sounds nothing like us now, but you can see how we started. I don't want to get comfortable in a sound, because I don't think we're that kind of band."
Today, Dennis cares more about translating Meat Mountain to the stage, where A Lull's play-what-you-come-up-with studio approach needs a more logistical approach. Luckily, the material was born for it.
"The songs on Confetti changed so much just because we discovered new techniques and dynamics [within] each other while playing live, and they worked out better. Three of [the new songs] we've been playing live, and learned things about the songs [before recording]. I think this EP is a good show of our live performance: both energy-wise and basic songwriting. The songs were easier to write because they had been played so much."
Appearing: 7/15 at Pitchfork Music Festival (Union Park) in Chicago.
— Steve Forstneger