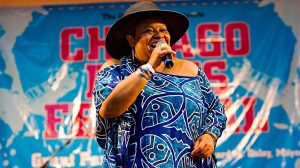 When exploring the formidable list of Chicago's blues divas, Deitra Farr's name is always front and center. Versatile and energetic, her smooth and controlled voice tackles a range of genres from soul to gospel but it always remains grounded in the blues. Growing up on the South Side, it was clear that Farr was headed for a life on stage. Her youth was filled with exceptional situations that kept thrusting her into the spotlight.
"When I was 7, I went to see my uncle perform. There was a female lead singer and I told them, 'When you get tired of her, give me a call,'" Farr recalls of her early start. "Everybody thought I was cute, but when I was 17, the girl quit the band. I was ready. I had my songs, I knew the top-40 hits." She auditioned for her uncle's R&B band, Central Power Station, and beat out 11 others for the job. They performed pop hits at local parties, but it was just the first step in her quick ascent up the music business ladder.
By the time she graduated high school, Farr was already set to record her first single. She was studying music at Loop College (now Harold Washington College) with noted music producer James Mack and one of her classmates was looking for a lead singer for his group, Mill Street Depo. Farr snagged the job and recorded a single, "You Won't Support Me," with the band on Platinum Records, which was Sylvia Robinson's (of Sugar Hill Records fame) label. The recording become a Cashbox Top 100 R&B hit in 1976, supplying 18-year-old Farr with a smash record and two professional groups with which she regularly performed. It was all heady stuff for anyone – especially a teen – but she viewed it as simply part of her path. "Because of the way my life has been, I expect the unusual and I do the unusual," she says. Unusual indeed. When she was growing up in Englewood, her biggest dream was playing the Grand Ballroom on 63rd. She never imagined that she would eventually play in 40 countries. Her next step was obtaining blues-club gigs.
At 22, she was working as a desk clerk at the U Of I and one of her friends dared her to get up and sing with Phil Guy, who was performing at the school. "They didn't know I could; I got up and sang 'Steel Away' and Phil said, 'You can really sing, you need to play with us.'" Farr played with Guy at the Checkerboard and Theresa's, meeting Junior Wells and Buddy Guy. "I thought, maybe I can be a blues singer. I liked it. My dad had a big blues collection so it wasn't foreign to me." She quickly became absorbed in the scene and was amazed at the wealth of legendary blues people who formed the local scene in the '80s. She played Kingston Mines, Blue Chicago, and Wise Fools Pub. "I was in awe that I could meet people on blues records," she says. "These people were my heroes. I met Louis Myers, who was Little Walter's sideman. People coming on the blues scene now, I feel sorry for them because it's gone. They can only learn it on records."
Farr grabbed the opportunity to learn from legendary blues icons and it served her well. She went down to play in Birmingham, Alabama with Howlin' Wolf drummer Sam Lay in the early '80s. The band was white except for Farr and Lay, but they played a black club. With Lay in the back on drums and Farr backstage, all the club's patrons saw were white faces and they walked out. When Farr came out to sing, the club was empty except a lone figure at the bar.
"I went out and decided to do my show and I sang my heart out," she remembers, "pretending it was a full house. I got off stage and saw somebody sitting at the bar and it's Eddie Kendricks of The Temptations. This was one of my idols and he was the only one in the audience. The lesson is to do your show because you don't know who is watching."
The world is watching Farr now. In the '90s, she performed as the lead singer of Mississippi Heat, touring and recording two CDs. "They were the brothers I never had," she says. She left the group to focus on her solo career and produced her first solo outing, The Search Is Over (JSP), in 1997. That album showcased her rich vocals and the smooth blues that has become her trademark. She followed with Let It Go! in 2005, which reflected her soul and gospel influences.
"I'm not strictly blues, I also do soul," Farr says. "I sing what I feel. I feel blues. I feel soul. That's the best way I can express myself. I'm not shy about singing jazz. I sing gospel. I'm a music lover. The way I best express me is blues, soul, gospel." As a songwriter, she stands out as one of the most evocative in contemporary blues. All of her work displays a strong narrative and well-defined emotions.
"I'm inspired by what I hear, what I'm going through, and what I read," she says of her process. "Sometimes the music gets to me first. I'll hear chords in my head. I write all of my music in my head. I go through periods where I don't write anything because I just wasn't inspired. You can't force creativity. It's either there or not there."
Always multi-faceted in terms of creativity, Farr is currently working on her memoirs, two movies, as well as her monthly "Artist To Artist" column in Living Blues. She kicks off a South American tour this summer, so catch her while you can.
Apparing: 2/2 at Buddy Guy's Legends (700 S. Wabash) in Chicago.
Harp master Sugar Blue will make beautiful music at his blues wedding on February 16th at Rosa's, 3420 W. Armitage. The event will start at 9 p.m. with the band playing, including groom Sugar Blue and bride Ilaria.
— Rosalind Cummings-Yeates
Category: Columns, Featured, Monthly, Sweet Home