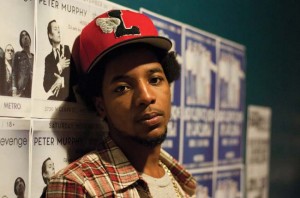 Chicago hip-hop artists who make and perform music full-time are too few and far between – that is, artists who actually still reside in the area. But while it becomes even tougher for local rappers to ditch their day jobs, 20-year-old Chicagoan Rockie Fresh is among a select few who are already on their way to stardom before ever having to step inside a cubicle.
"It's definitely become my life," says Fresh of his music. "I've been able to make an earning off of it and take care of things that I need to take care of – get the things that I need and I want. I wanna do this forever, so it keeps me on track and focused."
If Fresh were a label-manufactured act, his ascension wouldn't be so surprising. To his credit, though, this MC with the slow flow has been able to garner a decent amount of downloads and book a whole lot of shows independently. Yes, some of this was done with the aid of a management and public-relations team, but before he had any publicist, he was still able to fill Reggies Rock Club in 2009 for the release party of his debut mixtape, Rockie's Modern Life. This was also his first live show ever.
"I was kind spoiled because that was the crowd that was all of my fans and they knew the words and were super happy to see me," he reflects about his debut.
And so 2010 was the true test of Fresh's abilities when he hit the road rocking shows along with fests like South By Southwest and CMJ in front of largely unfamiliar audiences. He accepted the challenge and embraced the positive response from new fans. In fact, he says it was certain Chicagoans at that time who began to have a problem with his growing popularity – something he addresses openly throughout his second mixtape, 2010's The Otherside.
On the synthy, smoked-out "They Don't Understand Why" he raps, "Anytime you gettin' money then you bound to get respect/but you gonna find a problem when you find success/the ones that used to hate you feel like they know you the best."
Without calling out anyone specifically, Fresh explains that "people on the Internet and people outside of Chicago, they were definitely showing a lot of love for the music, but I kind of expected more from people at home. And in turn, I realized that the way Chicago people treated me as an artist really made me a lot tougher and it gave me a lot of strength that a lot of artists don't get in other cities. So it was cool in the long run."
It makes sense why Fresh has been compared to Drake – a pair of meditative MCs who can show their self-consciousness about their haters but ultimately aren't afraid fire back or boast about their achievements – whether they be within hip-hop or with women.
One can pluck just about any line from his tracks for proof, but especially as he raps on "Otherside," "All my life I've been picked on, slept on, stared at/however, I refuse to be stepped on."
He's less than three years into his career, but Fresh, the Prairie State College dropout, is already easing into his own style. What sets him apart from Drake or other acts to whom he's been compared is his alt-rock edge. Yes, he can do straight-up braggadocio rap as heard on "Sofa King Cole" or his collaboration with West Coast act Casey Veggies ("Duckin N Dodgin"), but his rock tendencies are just as prevalent. They're the creations of his production team The Cartoonz and others, who are often adding guitar riffs into his beats or to a greater extent by doing collaborations with his rock influences like Good Charlotte.
While he now lives in the city, as a teen attending Homewood-Flossmoor High School, it wasn't beats and rhymes all day.
"Growing up in the suburbs and being introduced to alternative rock and different types of music outside of rap, like punk, it made me really get into that type of stuff," he explains. "Fall Out Boy was a band that I really appreciated and same with Good Charlotte. John Mayer is one of my favorite artists of all time. So for me, there were certain things that I wanted to do to make myself different from everybody else. I never really saw anybody add that dark element of rap to music and be consistent with it and so that was something that I wanted to be my thing and I just ran with it."
That dark element is something Fresh is no doubt still building upon within his reflective raps. The first single off his new mixtape, Driving 88, is called "No Fear" and rife with moody backup vocals, downtempo drums, and lyrical meditations. It's not exactly happy-go-lucky material when he kicks off by rhyming, "Reporting live from Chicago/where they tell me I'm the future/but I'm not promised tomorrow."
Fresh is a live-in-the-moment type of person, whether gloomy or grandiose at the moment. When he performed a homecoming show of sorts at the Metro last November with Fall Out Boy's Patrick Stump, it was hard to tell how the crowd full of the headliner's fans would react to the young rapper, even if Fresh had already toured coast-to-coast with Stump. But he didn't appear worried when he hit the stage. Ripping through "Sofa King Cole," calling himself "so fucking cold," the crowd was visually lifted.
"This is the most love I've gotten, I swear to God," he told the Metro between songs.
As Fresh continues to develop his sonics, his fanbase expands as well. During our interview he talks with equal enthusiasm about his work with NYC rhymer Action Bronson and SoCal rockers Good Charlotte.
"I do realize that my fans range from all different types," he says. "Some of 'em appreciate rap music, some of 'em like urban rap, some of 'em like when I sing so it's just really trying to get people all of those things and all of the different types of music that I appreciate."
It's all a balancing act that this full-time rhymer thus far has proven possible – hard times or not.
Rockie Fresh released the Driving 88 mixtape at the end of January. Download for free at rockiefresh.com.
— Max Herman