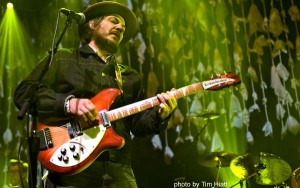 For the first half hour, Jeff Tweedy hardly spoke to the audience. For a homecoming gig, that's an interesting choice, one that didn't hinder Wilco's kick-off of their five-night Chicago residency a bit.
Check our photo site for a full gallery from Tuesday's show at the Riviera (it was a better photo pit!).
During the initial sequence, the band were nothing short of rampant. Instead of rolling out the welcome mat, they opened with their new album's 12-minute, elliptical, acoustic closer, "One Sunday Morning" and continued to pile on tension. Wilco immediately followed it with the rumbling "Poor Places," which now infamously erupts into the "Yankee . . . hotel . . . foxtrot" electrical storm, with guitarist Nels Cline replacing the opener's curlicued licks with a frenzied assault. From it emerged The Whole Love opener "Art Of Almost," which fought through a stuttering beat and Krautrock iciness only to race off on a suicidal course. The pattern became relentless: gentle Being There staple "Misunderstood" thrashed and flailed through its defiant chorus; "I Am Trying To Break Your Heart" built and dissolved in Sisyphusian fashion.
But the intent wasn't to disperse the dad-rock fog that had enveloped Wilco's previous few records. True, there was no "The Late Greats" or "Wilco (The Song)," but there was no plunge into the darkness of "She's A Jar" or "Via Chicago" either. "What A Light," "Outtasite (Outta Mind)," and "Heavy Metal Drummer" hit all the sweet pop notes, leavened by "Jesus Etc" and "Born Alone." The band wanted to showcase the full breadth of their powers, and it's arguable that they've become more fluid and undeniable than the esteemed Kicking Television tour.
Cline, in particular, was imperious. A jazz guitarist who reportedly scoffed at the idea of joining a rock band, his soloing was a mercurial mix of legato virtuosity and riotous recklessness in nearly every phrase he uttered, whether "One Sunday Morning," "Dawned On Me," or a transfixing "Impossible Germany." His performance was equaled only by the stunning visuals: a thousand strung-up cloths (like the ghosts hung from trees on Halloween) that alternately lit like fireflies or staged an unusually compelling light show. (And strangely arranged in the shape of the continental U.S.)
Once Tweedy opened his mouth and separated the songs with witty — if sometimes flat — rejoinders, the ensuing looseness was palpable. This made the dramatic effects of "Pot Kettle Black" and "A Shot In The Arm" feel all the more urgent, which may have served the band's desire to maintain a mood, or at least maintain composure until it came time to kick back. Opener Nick Lowe joined the second encore to blast his biggest hit, "Cruel To Be Kind," and rejoined the group with Mavis Staples (duetting with Tweedy on "You're Not Alone") for an arm-in-arm stab at The Band's "The Weight."
For the night, they could have gotten away with "More Than Words."
— Steve Forstneger
Category: Featured, Live Reviews, Weekly