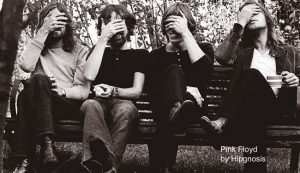 Don't go the top-40 route or an Amazon recommendation on a passe indie-rock band. Give the music lover who has nothing or everything an item to really chew on this season. It might cost ya, but the following boxsets will occupy them for years.
The Beach Boys
The Smile Sessions
The Smile saga died down prematurely in 2004, when Brian Wilson completed his decades-shelved followup to The Beach Boys' Pet Sounds with a backing band he'd cultivated. Seven years – exponentially less agonizing than the 37 that had preceded them – later, and audiophiles/completists/rock snobs get what they were initially asking for: the Smile archives.
Part of the ongoing fascination has been Wilson's reportedly fragile mental state, which The Smile Sessions (Capitol) amply demonstrates over five CDs, two LPs, two 7-inch singles, and a 60-page book. Between waiting for the acid to kick in at one point, and sounding exhausted between two other takes, the Wilson drama lives up to the myth the sessions acquired. Beyond that, the documentation this $140 set provides far outstrips reissues of completed records, and reaches as far into the mind of a 24-year-old savant as could be reasonably expected.
Pink Floyd
Discovery Box Set
Pink Floyd's tardy iTunes Store debut was deftly spun as a dispute over artistic control and royalty rates, though many saw it as a profound commercial miscalculation. Not completely sold on the new paradigm, they've combined their official digital launch with a heap of physical product: visually expanded "Immersion" looks at Dark Side Of The Moon (see "Digital Divide"), Wish You Were Here, and The Wall; their first greatest hits (A Foot In The Door); as well as this Discovery box that bundles all 14 studio albums.
Floyd fans are a committed lot, and most can have been counted on to ensnare the assorted remasterings through the years. If they haven't, this repackaging offers highest bitrate resamplings from the original master tapes. (Bonus material is negligible.) The band were nothing if not immensely visual, however, which is where Discovery disappoints. Inside the sleek, discreet box, individual albums have been stuffed into flimsy cardboard cases prone to scratching the discs. Artwork on a whole has been diminished, with the runoff siphoned into a textless booklet of photos of guys who weren't much to look at in the first place. Floyd might be late to the party, but understand you'll rip the music to your hard drive and box the box in a storage box.
Billy Joel
Piano Man
If Discovery shows Pink Floyd trying to stuff their double-Ds into an A-cup, Columbia/Legacy has taken a big-picture approach to deliver a tasteful, concise, two-disc anniversary packaging of Billy Joel's breakthrough.
After a pair of flops – one in the woeful Attila, then as a fledgling singer/songwriter – Joel became a lounge act in L.A. and changed his writing style from autobiographer to observer. Though Piano Man doesn't represent him as a finished product – the Southwestern overtones try too hard to match Elton John and James Taylor – the second disc of this anniversary set gives a fascinating glimpse at his metamorphosis. While rebuilding his regional reputation back east, he stopped in Philadelphia's WMMR a year-and-a-half before Piano Man's release, and the often-bootlegged performance sealed his new image with audiences.
Howlin' Wolf
Smokestack Lightning: The Complete Chess Masters
More than 20 years ago, the Chess Records masters were revived for nearly a dozen box sets, an emphatic stamp on a pivotal era in 20th-century music. Why the account has been reopened with Howlin' Wolf isn't entirely clear, but an extra disc and a halved timespan tell us things are about to get more in-depth. This quartet of discs takes a fine comb to Wolf in Chicago from '51 to '60, or when nearly all of his essential cuts – up until and including "Spoonful" – had been recorded. Wolf was by far the most idiosyncratic of the iconic Chicago bluesmen, but his role and influence were no lesser than Waters, Dixon, or Walter's.
The Who
Quadrophenia: The Director's Cut
The five demos in this vast reissue that didn't make the original version don't quite match movie-world "director's cut" standards – they're nowhere near finished – though Pete Townshend does deserve credit for contributing extensive commentary. Seen both as a new beginning and the beginning of the end of The Who, Quadrophenia nonetheless was a towering achievement in '70s rock, and a personal vindication for Townshend, who almost destroyed the band and himself in the failed Lifehouse project.
Director's Cut includes the obligatory remastering (last done in 2003), with a 25-track archival demo reel, and a 5.1 Surround-Sound mix. The treat, however, is a 100-page hardcover book including a 13,000-word essay by the guitarist himself.
Paul Simon
One-Trick Pony/Hearts And Bones/
Graceland/The Rhythm Of The Saints
Lucky for Paul Simon he's a skilled songwriter, because this phase of his recording career ('77 to '90) shows him experimenting with production values that show their age. Hearts And Bones has some devastatingly precise lyrics, but trips over opener "Allergies," and its frenzy of competing sonic interests. Even the vaunted Graceland could use a sonic-scrubnow that the wider world knows South African pop doesn't require guitar processing. Rhythm Of The Saints feels fresh in comparison, and fares better than Hearts even as though its painted lyrics suggest an empty post-Graceland tank. One-Trick Pony, the most derided of the quartet (at least upon its release), actually rises in stature because its litely jazzy transition from Still Crazy After All These Years feels seamless, even if most of the material – intended, sort of, for a soundtrack – is slight. Suprisingly, at its silver-anniversary Graceland doesn't get the expanded treatment; it, like the other three, includes a smattering of demos that have been officially available for years.
The Supremes
The Temptations
50th Anniversary: The Singles
While the James Brown singles collections lurch into an 11th volume, upon their half-centennials Motown's most recognizable groups get all their As and Bs locked into three-CD sets. For The Supremes, this encapsulates their whole career and for the Tempts, to the point in '71 when Eddie Kendricks and Paul Williams looked across the river to Windsor and then back at Detroit to say, "Take off, eh?"
While there's no shortage of compilations for either outfit, collectors will dine on the German and Italian versions of some of the hits ("Baby, Baby, Wo Ist Unsere Liebe?") and new comers get a chronology not just of Motown, but black America as the '60s collapsed into the '70s ("Love Child" and "Ball Of Confusion"), and these bands with them.
The Rolling Stones
Some Girls
Up until Exile On Main St. last year, The Stones – for all the money-grubbing accusations they field – have been rather lax in the expanded/reissued goldrush. Yes, the full catalog underwent a massive remastering campaign, but despite their mild reputation as a singles act the archives are reportedly lush. Some Girls is an interesting place to continue because not only is it of recent vintage and unique, but also the last great Stones album. One thing the empire is banking on is a "new" single, "No Spare Parts," which Don Was rediscovered on session tapes. The 100-page book is a nice touch. But the real reason to come back is the songs – perhaps the last time the Stones were confused, a little angry, and thought they had nothing to lose. (Eagle Rock has also released Some Girls Live In Texas '78 on DVD.)
– Steve Forstneger