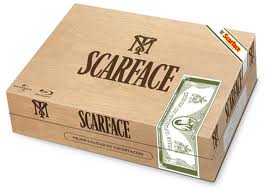 As far as the crack staff here at "The Digital Divide" is concerned, there quite simply is no better time to be alive than this time of year. Not because of all the peace-on-Earth/goodwill-toward-men crap, but because of all the special-edition boxsets. Not gonna lie to ya – the thought of all the new mega-packages with their metric tons of extras and occasionally ludicrously overblown packaging makes us as giddy and light-headed as a 13-year-old at a Twilight convention. So let's throw them all in the pool and dive in.
Screw the save-the-best-for-last bit, let's put the winner right up front: Pink Floyd's The Dark Side Of The Moon Immersion Box Set is everything and more that a Floyd fan could want. To start with, you get six discs of material to sift through. Disc One is the original album remastered, while Disc Two contains the album performed live in 1974. Three is an audio-only DVD of several multi-channel mixes, and Four tackles both audio and video material including a 2003 documentary.
Disc Five is admittedly a bit of a cop out, as it includes most of the features on Disc Four, but on Blu-ray. It does feature some extra mixes, so it's not a complete rehash, but still . . .
Disc Six rounds out the set with demos and live tracks.
On top of all this are the tchochkis included in the box. There is a 40-page book designed by Dark Side cover artist Storm Thorgerson, a Thorgerson art print, five collectors' cards, replicas of the DSOTM tour ticket and backstage pass, a scarf, some marbles, and more.
The Floyd camp also has released an immersion set of Wish You Were Here (with one for The Wall slated for release in 2012), but seriously, once we put on the DSOTM set and The Wizard Of Oz, we were too relaxed to notice.
As far as movie box sets, lets start with the one with the totally overblown and completely unnecessary packaging that we completely intend to take out a second mortgage to possess, the Scarface: Limited Edition Humidor (Universal). Yeah, you read it right. You not only get a Blu-ray version of the 1983 Al Pacino cult classic as well as a DVD version of the 1932 original, but both discs come in a humidor that, according to the press release, is "Made with untreated Spanish cedar, and it will properly condition and age approximately 100 cigars at optimal humidity levels." The mortgage is necessary because the list price sets you back $1,000.
If your interests are a little more down to earth, literally, there's the Discovery Channel's Planet Earth: Limited Edition. This set comes in a way-cool globe, and contains some art cards as well as new special features and commentary. For those concerned with all things green, get ready to recycle 100 bucks of it.
Staying on the tube, there's the BBC/Warner Bros. release of Doctor Who: The Complete David Tennant Years. Generally regarded as the Doctor in the illustrious history of the series, The Tennant Years includes all three seasons, and the specials released in 2009 that served as a substitute for his fourth season. The handsome boxset prices out at $199.
If you're more of a God person, or if you just want to stand still and behold the power of Charlton Heston, there are two sets you might want to find under the tree. The Ten Commandments: Limited Edition (Paramount) is six-discs of Biblical fun, including two Blu-ray discs of Cecil B. DeMille's 1956 version, as well as one Blu-ray of his 1923 silent take. The pair come housed in their own tablets, and thou shalt spend $90 to make it your own.
Then of course there's the three-disc Ben-Hur: Ultimate Collector's Edition (Warner Bros.), which includes a 64-page booklet and a reproduction of Heston's on-set journal. Look to shed $65 bucks for this one.
Finally ('cause it's all we have space for), there's the Looney Tunes: Platinum Collection, Vol. 1, Ultimate Collector's Edition (Warner Bros.) for the kids. With all of the characters on hand (Bugs, Daffy, Porky, et al), the set is a treasure for anyone who grew up with them, but there's almost an entire disc dedicated to legendary director Chuck Jones that in and of itself would make the whole thing worthwhile. The 50 theatrical shorts that come with it aren't that bad either.
– Timothy Hiatt
Category: Columns, Digital Divide, Monthly