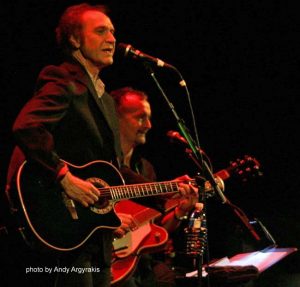 He may not tour very often, but thankfully Ray Davies' music never goes out of style. Between an endless stream of classics he wrote and sang for The Kinks to the occasional solo chestnut, there's plenty of material in his arsenal, which translated to no less than two-dozen tunes in front of a healthy crowd Friday the 11th at Chicago Theatre (where he last played in 2008).
Though he's not touring behind new material per se, Davies does have a recently released CD that serves the dual purpose of a collaborations collection and a tribute record. See My Friends (Decca) finds the British Invasion luminary producing and sometimes singing with the likes of Bruce Springsteen, Billy Corgan, Metallica, Jon Bon Jovi, Jackson Browne, Black Francis, Mumford & Sons, Lucinda Williams, and Spoon for a modern-day romp across his repeatedly celebrated hits and album cuts.
Despite not having those ultra-famous faces on the road, the 67-year-old singer/songwriter certainly held his own through a setlist ripe with both the familiar and thankfully not forgotten archive material. Acoustic flashbacks to the '60s like "I Need You" and "Sunny Afternoon" helped transport fans back to the days of The Beatles, Animals, Zombies, and certainly Kinks crossing over into America for the first time, unleashing an onslaught of good old-fashioned, but amazingly never dated, British rock 'n' roll.
Other unplugged favorites included the jangly powerhouse "Dedicated Follower Of Fashion," the melodic simplicity of "Waterloo Sunset," and the goofy but strangely endearing "Apeman." Though the acoustic format gave such songs a newfound intimacy, that portion of the set was just a little too lengthy at eight cuts, especially considering his five backers that kicked in halfway through "20th Century Man" were nothing short of ferocious. Shortly thereafter, Davies showed off his incendiary six-string skills on the harmony-heavy "David Watts" and the stomping "Where Have All The Good Times Gone."
Although there were plenty of points of connection upfront, Davies saved his mightiest staples until the back half. "Till The End Of The Day" swung with Brit pop brilliance, "All Day And All Of The Night" growled with dusty distortion, while the comparably somber "Celluloid Heroes" told the particularly timely tale of everyone wishing they were a celebrity. Yet it was "You Really Got Me" that brought down the house as a sputtering sing-along that overflowed with punk-charged riffs.
Granted, an evening of Kinks' songs would've seemed more complete if brother/guitarist Dave were by his side, but considering their contentious relationship, this was the next closest opportunity. By the end of the near two-hour night, the leader didn't just wave the band's flag one more time, but also showcased a constantly contagious songwriting ability that's transcended generations.
— Andy Argyrakis
Category: Live Reviews, Weekly