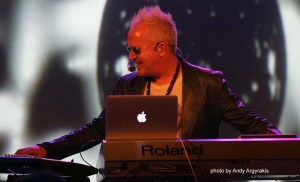 When Howard Jones was at the height of his 8-million album-selling career during the mid-1980s, the time period's limited technology forced him to skip performing several of his more complicated songs on stage. After having recently acquired his catalog masters from Warner Bros. for an extensive, self-curated remasters campaign, the singer/songwriter/keyboardist/programmer is dusting off his first two albums on the road — which include many tracks being performed live for the first time — landing on October 27th at Bottom Lounge.
The first point of business in the two dozen tune evening was a rediscovery of 1984's Human's Lib, which may have had a few glimpses of dated production, but also incredibly catchy songwriting that continued to strike a chord with the near capacity crowd. "Conditioning" and "Hunt The Self" showed off his sugary synths and electronic experimentation; the chilling "Hide and Seek" unveiled the more sophisticated side of his vast persona; while innovative deeper cuts like "Equality" and "Natural" embraced their live debuts.
Of course, the most roars came from hits like the funky strut of "Pearl And The Shell," the new-wave nugget "What Is Love?," and the contemplative ballad "Don't Always Look At The Rain." All the while, screens with abstract visuals tied loosely to the theme of each tune swirled overhead, offsetting the veteran's trio of various synths and electronic drums with hypnotic atmospheres.
By 1985's Dream Into Action, all eyes turned towards the jovial Jones as he donned a red leather jacket and sunglasses for the sparkly synths of "Automaton." Once again, the deeper cuts also translated with charm to the concert setting, with ethereal soundscapes enveloping "Why Look For The Key" and his piano solo skills shining throughout "Assault & Battery."
A little later, his biggest smash, "No One Is To Blame," shone majestically, with some of his most relatable and enduring lyrics. Though not technically on the original album, the CD bonus track "Like To Get To Know You Well" brought additional familiarity, which was bookended by the positive "Life In One Day" and the perky call and response favorite "Things Can Only Get Better."
In fact, that well-paced finale reminded fans just how many early career hits he had and that wasn't even counting later material like "You Know I Love You . . . Don't You?," "Everlasting Love," and "Lift Me Up" (which were unfortunately but understandably omitted given this show's scope). Perhaps the greatest lesson learned from Jones' latest tour was just how influential he's been in the world of electronic pop, which considering it's back in fashion, is giving the veteran an unexpected though much deserved review.
— Andy Argyrakis
Category: Featured, Live Reviews, Weekly