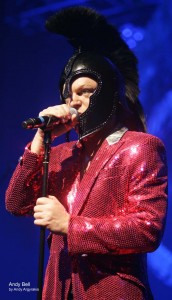 Touring before a CD drops is generally a challenge, and though Erasure swung through Chicago more than two weeks before Tomorrow's World (Mute) bows, the material previewed during the first of two shows was so infectious, it was impossible not to dance along. Rather than treading the nostalgic route, Andy Bell and Vince Clarke were focused on the here and now.
In fact, if anyone in attendance on September 16th at Congress Theatre closed their eyes, the electronic bleeps and blips could very well adorn the latest Lady Gaga album or fit right alongside La Roux, David Guetta, or Robyn in a DJ set. But once Bell's larger-than-life personality pranced onto the stage with the early pulsations of "When I Start To (Break It All Down)," it was obvious this was an Erasure show, and despite a lack of airplay these days, it hasn't had any trouble influencing younger artists.
Among the clearest protégés is Gaga labelmate/Tomorrow's World producer Frankmusik, who also opened this particular show and found his infectious fingerprints popping up across other new club cuts "Fill Us With Fire" and "You've Got To Save Me Right Now." While a third of the show was filled with such sugary pop pleasantries from the present, past cuts like "Blue Savannah" and "Victim Of Love" provided a chance to really let loose, turning the general-admission floor into a sweat pit.
Though there was no doubt dance music would be in the cards, the evening was also peppered with a few surprises, mainly an acoustic rendition of "Alien" that found the pair's meticulous lyrical craftsmanship earning proper attention, especially considering so much clever wordplay gets lost behind a wall of surging synths. Diehards were also treated to long-lost new-wave nugget "Hideaway," which, despite trendy production that hasn't aged well, found Bell belting for the heavens.
As bandmates, that flamboyant leader and the stoic, keyboard-playing Clarke couldn't be more opposite, but the musical chemistry they share has only grown stronger with time. The current "I Lose Myself" is among their most contagious collaborations to date, recalling the hitmaking heyday without sounding like a regurgitation.
And when it came to massive singles like "Chains Of Love" and "A Little Respect," they may as well have been written for the new record given their timeless translation to today. Even if Erasure's commercial apex is over, there's no denying members' ongoing contributions to the worlds of new wave, synth pop, and electronic rock with the Tomorrow's World tour suggesting there's still plenty of creative life left for these luminaries.
— Andy Argyrakis
Category: Live Reviews, Weekly