Reflection Eternal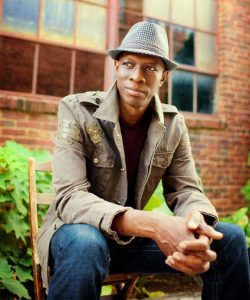 As one of the most consistent contemporary bluesmen performing today, it's a surprise to discover that Grammy-winning Keb Mo (a.k.a. Kevin Moore) doesn't actually consider himself a bluesman.
Appearing: October 6th at House Of Blues in Chicago.
Although his music has always reflected variations of folk, jazz, and soul, his guitar playing and delivery clearly reflect post-modern blues. A noted perfectionist, Mo sees it a little differently. "I'm not really a bluesman. I'm not a real bluesman like Howlin' Wolf. He was the real deal," he says. "I didn't live like Muddy Waters on a Mississippi plantation, picking cotton, and then move to Chicago to play music." Despite such protests, Mo acknowledges that "the blues is always running through my veins." His first new studio release in six years, The Reflection (Yollabelle), demonstrates the different ways that the blues influences his life and work.
In many ways, The Reflection represents a significant turning point in Mo's life and career. Growth and change surround much of what he's done in the last few years and his sound on the album mirrors that. He's started a new family, moved to Nashville, and established his own record label. "I'm expecting more of myself now," he says. "I'm getting older and that's inspired me. I'm turning 60 this year. When I hit 70, I want to be doing cool shit."
Judging from the 12 richly layered tracks on his new release, he's well on his way to accomplishing that goal. The opening track, "Whole Enchilada," brims with vintage soul and blues undertones. In his trademark emotionally honest and unadorned style, the tune addresses the reality of actually getting the woman of your dreams and the work that comes with maintaining a relationship: "Are you gonna be any better/than the man you had to be to get her/what ya gonna do when you got her/the whole enchilada." With insightful lyrics and a catchy melody, the song sets the tone for a collection of songs that define life with master storytelling, an important blues hallmark. Of course, there's also some exceptional slide guitar.
"I had to put a slide guitar solo in there," says Mo of the lap steel on the midtempo groove "Inside Outside." Although he calls the album's blend of his of blues, folk, soul, and jazz influences as Americana, the blues is still very present on most of the tracks. "The blues thing was a big hole in my soul," he says. "I got down into it and dissected it. What was it about this music that made it so real? That's an important piece of who I am and I always carry it with me."
The interesting thing about The Reflection is how Mo interprets the blues in unexpected ways. It's definitely not a pure blues album, but the overall vibe of the record still retains blues flavor. A highlight is "My Baby's Tellin' Lies Again," a duet with country star Vince Gill. The verses about a mean, twisted woman with "a body built for sin" is pure blues but the sound mixes the country rhythm of Gill's mandolin and Mo's blues/soul delivery make for a memorable side.
"Nashville is a great music town," he says. "We didn't want to raise our kid in L.A., so we moved and now I'm in a musical community with great musicians. I was embraced by the music community immediately. I've performed at the Grand Ole Opry and collaborated with country artists. It's been a great move for me."
Another genre-crossing surprise is his cover of the Eagles classic, "One Of These Nights." He completely changes the melody and gives it a somber, straight-forward approach. There's also an alto sax solo by Dave Koz that supplies jazz tones that the original clearly lacked. "I was doing MusiCares [a Grammy charity] with Don Henley and he asked me to play with him. He suggested 'One Of These Nights,' and I did the arrangements. His wife freaked out and said, 'My God, that's how this song should be played.' It's sort of my tribute to Barry White – I put a little bedroom in it. On my tour set, it's a breezier note to balance the other songs out. It keeps it interesting."
Mo achieves the same balancing act on the 12-track album, arranging mellower tunes with heavier ones. "Crush On You," a bubbly R&B duet with India.Arie is the most pop-sounding tune on the offering and it follows the earnest midtempo jazz and blues treatment of the title track. Seven minutes long with organ and slide guitar notes, "The Reflection" is a complex cut that's leavened by the lighthearted song that follows it.
"We Don't Need It" tells a modern-blues story of a father losing his job and his family coming together and denying themselves the material comforts that they once took for granted. Acoustic and lap-steel guitars underline the melancholy of this ballad. The other contemporary standout is "My Shadow," a haunting tale of betrayal and loss with elements of jazz. The most personal tune on the album closes it out with a heavy gospel influence. Featuring voices from several generations of his family, "Something Within" ties together themes of self-reflection and relationships.
"I was inspired when my uncle Herman loaned me a tape of my grandfather playing music. He's singing an old gospel tune, 'Something Within' – he passed away in the late '80s. I played the tape for my son and asked him what he could do with the song. He laid out a groove and chord change and that's where the song started." With cousins and friends singing along to the recorded refrain, the result is an almost eerie illustration of the past connecting to the present.
– Rosalind Cummings-Yeates
Category: Columns, Featured, Monthly, Sweet Home