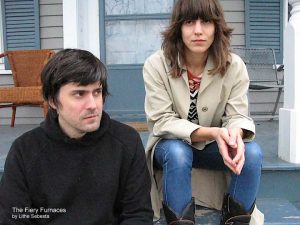 When sibling duo The Fiery Furnaces first popped up a decade ago, local writers would automatically mention that though they were based in Brooklyn, they were originally from Oak Park. Not Chicago, or Chicagoland.
Despite Oak Park's size, it's an amusing distinction because it borders the city. It's also become a home for hordes of liberals too skittish to send their kids to Chicago public schools, but unwilling to put too much distance between them and downtown or really consider themselves suburbanites. Oak Park also wields a very quiet power in Illinois, the reason why its Eisenhower Expressway exits are to the left, and not the right where 24-7 traffic would nuisance residents. (Allegedly, a roof over the entire section was sought, but ultimately denied.)
If the Friedbergers lobbied to be recognized as Oak Parkers early on, it's hard to say what impact it's had. Oak Park and Chicago certainly wouldn't be called brother and sister, the dynamic that more clearly defines Fiery Furnaces. Their most recent contribution, 2009's Take Me Round Again (Thrill Jockey) could be taken as a double EP, with Matthew and Eleanor each re-recording their own versions of the same year's I'm Going Away.
Conversely, for this weekend's shows, Eleanor will sing over Matt's keyboard accompaniment, and the duo will cover as many Fiery Furnaces songs as time allows. (Tuesday and Wednesday@Schubas in Chicago.)
Perhaps we shouldn't be so sarcastic, since we know people with roots in Lombard from the south side of Roosevelt Road, as well as people who proudly declare themselves on the Cook County portion of Buffalo Grove. When musicians move to make themselves more anonymous, that's when we have a problem. John Davis, feeling self-satisfied about such an idiosyncratic birth name, needed something equally bold. Finding his former band's moniker, Q And Not U, too controversial, he went with the far-less-searchable Title Tracks.
The music on In Blank (Ernest Jennings) doesn't hide itself the same way, though it takes definite steps away from being Dischord's Les Savy Fav. Instead, Title Tracks embrace a pub rock/Replacements-bred indie-guitars mix. "I Can't Hide" bursts with more garagey Byrdsisms than should be legal, "Clench Your Fist" hits The Figgs, and "Forget The Ghost" touches on Elvis Costello and Phil Spector. (Monday@Empty Bottle with Malaikat dan Singa and The Field Auxiliary.)
— Steve Forstneger
Category: Featured, Stage Buzz, Weekly