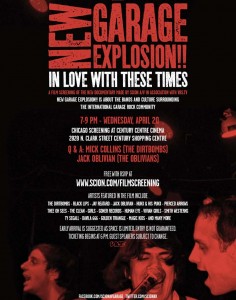 A new, Scion A/V-backed film won't boast the legal fireworks caused by Fix at the CIMM festival, but this Tuesday's local premiere of New Garage Explosion!!: In Love With The Times is all about the warm fuzzies.
Century Cinema (2808 N. Clark) will host a free screening on Wednesday, April 20th and feature a Q&A with The Oblivians' Jack Oblivian and The Dirtbombs' Mick Collins afterwards. The piece itself focuses on the organic rise of garage-rock scenes throughout the country, with indie-rock stars like Smith Westerns, Black Lips, Vivian Girls, and the late Jay Reatard in the fold. See more about it here.
Eight days later, Scion A/V hosts a night of garage rock on April 28th at the Empty Bottle. Reigning Sound headline with Last Year's Men in support. Admittance is free with an RSVP.