A Model Ford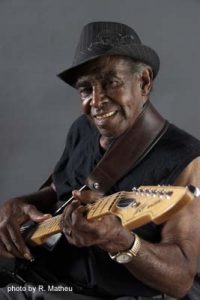 T-Model Ford (James Lewis Carter Ford) enjoys life. Although I've never met the Delta bluesman, his joy for living seeps through every chord of Taledragger (Alive). That's a particularly fortunate attribute, not only for his music but for fans of traditional Delta blues. As the number of that era's bluesmen diminishes each year, savoring 90-year-old Ford's robust tunes is especially sweet. The sparse but evocative set on Taledragger includes only eight tracks but each is rich enough to make up for the small selection.
Opening with a chuggin', uptempo shuffle, "Same Old Train," the haunting tune emits a scratchy, raw tone that covers the rest of the album. It also establishes the avowed, reoccurring ladies-man focus on a "big-legged mama," which he punctuates with an excited yelp at the song's end. The seven-minute song swerves between Ford's home of Greenville, Mississippi and Chicago with such skill that it perfectly melds Delta grit with Chi-town blues grooves. "Coming Back Home" unleashes a jaunty rhythm and a mounting tension that vibrates through a mournful sax as well as Ford's guitar riffs.
Much has been made of Ford's requisite blues bio. Reportedly, he's an illiterate, five-times married ex-con who's unsure of his real age and who only started playing in his late 50s. These details are propped up like the proper pedigree for a rough-hewn bluesman, but they really don't affect what comes through this CD. The truth of Ford's life flows through his gravelly voice, evoking cotton fields and struggle with a clarity that can't be denied.
The standout tune is the foreboding "I Worn My Body For So Long," with Ford's voice echoing weariness and resignation and wah-wah guitars illustrating his long journey. While "Big Legged Woman" qualifies as an authentic juke-joint jam, "How Many More Years" is the CD's only misfire, with too much reverb and disorganized melodies.
A cursory listen to Taledragger might conjure up the sound of classic pre-war blues, but closer analysis reveals an expertly crafted contemporary blues album with strict attention to Delta roots.
Earning a productive, 15-year career is an impressive feat in the fickle music industry, but it's an especially significant milestone for a young blues woman. In a genre that only supports a small number of female voices, Shemekia Copeland has managed to build a vibrant collection of albums, of which the first four are chronicled on Deluxe Edition (Alligator). Best-of collections often inspire yawns from knowledgeable fans because they just skim over already released material. But with an exceptional artist like Copeland, who produced her debut at 19 and, at only 31, is still considerably young by blues standards, this format serves as a revealing exploration of an artist's growth.
Kicking off with the title track from her 1998 debut, Turn The Heat Up, tinges of youth mingle with the authority that booms from her strong vocals. The soul song showcases the surprising power of the relatively new singer that she was at the time. Copeland's selling point has long been the worldliness that belies her age and this was our first introduction. "Livin' On Love," from 2002's Talking To Strangers, displays an easier, freewheeling attitude with a soul-filled shuffle. It's not until the third track, her signature cover of father Johnny Clyde Copeland's "Ghetto Child," that the full effect of her jaw-dropping talent pushes through. As the first hardcore blues ballad on the disc, Copeland masterfully wrings every drop of melancholy from the sad tale of a barefoot street kid. The single was also from her debut and it was the exact point where young Copeland at just 17, claimed her blues legacy.
All 16 tracks supply a dose of Copeland's forceful vocals, covering R&B, rock, and soul, but it's mostly the blues tracks that own the limelight. "Don't Whisper," a blues ballad that overflows with nuances as sharp as spears, and "Salt In My Wounds" call up the commanding blues belting for which Copeland became known. A surprising anomaly is the jazzy "Stay A Little Longer, Santa" from Genuine Houserockin' Christmas, where her pared-down vocals entice with lighthearted sauciness.
There's nothing quite as buoyant and catchy as jump blues and, for the last 40 years, no contemporary band has kept the legacy alive like Roomful Of Blues. Although the band have endured a lot of personnel changes since their start in 1967, tight musicianship has always remained a hallmark and the current lineup are no exception. On Hook, Line & Sinker (Alligator) the band do what they do best, paying homage to the juke-joint dance hits of the '40s and '50s with expert musicianship and a gritty contemporary take.
The album's 17-tracks are all high-energy covers, but it's an especially well-curated collection of raucous classics. The opener, "That's A Pretty Good Love," made famous by Big Maybelle, sets a joyful tone with a swinging groove that lingers way past the song's end. Other standouts are "Kill Me," highlighting lead singer Phil Pemberton's soulful crooning, and the title track, which jumps with joy and contagious lyrics: Sha la la la/sha la la/She calls me big poppa." Switching effortlessly from big-band anthems to raunchy urban blues, Hook, Line & Sinker delivers.
— Rosalind Cummings-Yeates
Category: Columns, Monthly, Sweet Home