McAninch Arts Center, Glen Ellyn
Saturday, January 15, 2011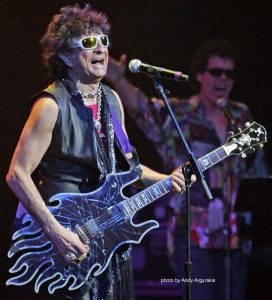 From founding Ides Of March through even more success in Survivor, his newest melodic rock project Pride Of Lions, several solo sidesteps and co-writes for Brian Wilson, Sammy Hagar, Cheap Trick, .38 Special, and Lynyrd Skynyrd (to name a handful), Jim Peterik is more than just a local legend, but one of classic rock's most prolific performers. Though he's most visible these days fronting the reunited Ides, an annual scheduling staple is his World Stage multi-artist collective, basically his version of Ringo Starr's All-Starr Band with guests who have some sort of musical history with the Berwyn native.  
Though this year's lineup was significantly shuffled from recurring favorites (with previous years hosting members of Survivor, Triumph, .38 Special, Night Ranger, The Storm, and even Alan Parsons), there were plenty of reasons to pay attention spanning rock, blues, and jazz. But before unveiling the evening's collaborators, the guitar-wielding Peterik and the World Stage band kicked into the mood setting "Night Of The World Stage" and Survivor's durable "Burning Heart."  
Outside of the headliner, the most familiar face was former "American Idol" contestant Bo Bice, who set the TV show on fire with his version of the Ides' "Vehicle" and reprised his jaw-dropping rendition with the actual band. Unlike most of the dime-a-dozen reality-show contestants, the full-throttled Southern rocker would rather channel Skynyrd or The Allman Brothers Band instead of today's disposable pop tarts, and he fit right snugly with Peterik's dusty licks come originals like "The Real Thing" and "You Take Yourself With You."  
Part-time Chicagoan and Californian Cathy Richardson also turned in a muscular homecoming, sharing tunes from her role in the latest incarnation of Jefferson Starship ("White Rabbit," "Somebody To Love"), plus the new super duo Macrodots with Scandal's Zack Smith ("If I Could"). In either context, she evoked the ghost of Janis Joplin (whom she played in the musical "Love, Janis") or fellow muse Grace Slick, laced with a little extra soul and pitch-perfect accuracy.   
One of the standout performances came from Chicago's Lisa McClowry, a singer who lands right in the middle of the soul/pop/jazz axis recalling Mariah Carey's younger years crossed with a classy Anita Baker. She split time between the new alluring solo CD,
Time Signatures,
a cover of the Ides' tear-jerking ballad "Come Dancing," and work from Peterik's recent jazz disc
Lifeforce,
including a genre-specific take on "The Search Is Over," which traded the initial power-ballad aura for a more mature and contemporary arrangement.  
Jazz also took center stage with sax goddess Mindy Abair, whose self-penned instrumentals "Lucy's" and "Bloom" were far from sleepy, while a stab at The Rolling Stones' "Miss You" was surprisingly funky and animated. From the blues world, Toronto native Anthony Gomes delivered plenty of fierce fingerpicking that could easily run circles around Kenny Wayne Shepherd, though his indie recording status has kept him somewhat under the radar. Nonetheless, his monster strums alongside an especially amped up Peterik (most notably on "Blues In Technicolor" and "Love's Got The Power") were loaded with attitude and authenticity.  
On a flashback note, Scottish singer Alex Ligertwood (who fronted Santana from 1979 through the mid-1990s) came out of the woodwork to throw in a handful of blue-eyed soul romps sounding just as strong as ever across "Winning" and "Hold On." In addition to providing its slick brass sound on several tracks, the Ides also turned in a true-to-form take on the enduring "L.A. Goodbye," while the Peterik's son Colin cameoed to deliver the Maroon 5-inspired funk of his original "Detroit Club."    
Of course, no evening could be complete without "Eye Of The Tiger," which at nearly 10 minutes was a bit much, but nonetheless served as the ultimate sports anthem and unavoidable sing-along. By the end of 210-minute event (which was certainly generous, albeit an intermission and a few songs too long), it was apparent there's still plenty of life left in Peterik, who isn't just resting on laurels, but continues to write, produce, and perform in vastly versatile formats at such a steady outpouring that he may be busier than he was back in the day.  
— Andy Argyrakis
Category: Featured, Live Reviews, Weekly