India 'N America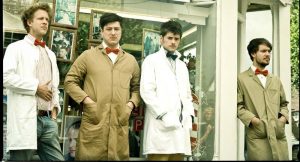 Sure, there are shiny new electric toys that can make a rock band sound like a million bucks. But for the rustic-minded Marcus Mumford – and his folksy four-piece Mumford & Sons – the older and dustier the musical instrument, the better. "I just bought a hundred-year-old harmonium," the 23-year-old enthuses. "And I've got a vintage drum kit that I really love. I actually bought two Martin guitars that are brand new, just for touring purposes. But for recording purposes, we use old amps, an old Gibson, and an amazing grand piano that's so old I can't even remember the name of it. We work with whatever we can, whatever isn't broken at the time."
Appearing: Saturday, October 30th at Riviera Theatre in Chicago.
If the British music industry is ailing, Mumford has hung out his shingle to prescribe the exact medicine he thinks it needs: an acoustic-based neo-folk revival, spearheaded by himself and his equally retro girlfriend Laura Marling. Their styles are so similar, in fact, that until this year, Mumford & Sons were officially Marling's backup band. But now their separate tour schedules have gotten so hectic, the couple rarely see each other, thanks to the sudden chart-topping success of their twangy Sigh No More debut, which was just nominated (alongside Marling's sophomore outing, I Speak Because I Can) for the U.K.'s prestigious Mercury Prize. Marling celebrated her birthday this February in a Los Angeles hotel room, conducting a dayful of interviews; Mumford, meanwhile, was far away, introducing his whimsical old/new sound to Australia.
How did a new generation tunnel into the Sandy Denny vaults to organize its own Fairport Convention? Mumford's story is a strange, peripatetic one. He was born to English parents in Anaheim, California. He lived all over the States before the family finally moved back to Britain permanently, "which has made immigration much easier for me than it is for the other guys in the group," snickers the vocalist/guitarist/percussionist. As a teen, dobro/banjo-plucking buddy Winston Marshall was already blazing a trail in an alt-country combo, while he and keyboardist Ben Lovett were playing Rayban-cool jazz. When they met bassist Ted Dwane, however, something clicked, Mumford recalls. "In the autumn of 2007, we just decided to start playing together. And then we started writing together and arranging songs together, and then we suddenly realized we were a band."
Initially, it was Mumford's antique vision that the quartet followed, so the members unanimously agreed on the olde-curiosity-shoppe-ish moniker. "I think we liked the idea of setting it up as a family business," the bandleader says, "although now it's much more collaborative in the way the songs were written. Some people find it confusing that it's my last name in the title of the band, but we just felt comfortable with the name sort of representing a business, something earned and shared between the four of us rather than just one guy with a name on the door."
And the man openly admits it initially – playing delicate six-string ditties like "Little Lion Man" in post-Britpop England – was simply cruising for a bruising. So the musicians all stuck together like a gang whenever they went clubbing in London. But once they witnessed an Ochsian concert by Old Crow Medicine Show, they became even more determined. Country/folk, Mumford declares, "is just an infectious type of music. I mean, anyone who's listened to Old Crow can't help but love it. And at first, you've just got to admire the skill level – it's amazing. But with the type of music it is, you can't help but move to it. And there's a darkness to classic folk and country that's O.K. to explore. It's O.K. to explore the more melancholic and deliberately dark side of it. But I think it's much more interesting exploring the darker side lyrically when the music is much lighter, like that traditional Johnny Cash song, 'Long Black Veil.' I really love that song, because it's really dark, but it sounds really sweet."
The gloom resonated with overseas audiences. Kids pounced on the group's bonus-track-laden singles, like "The Cave," "Winter Winds," and "Roll Away Your Stone." Mumford & Sons made such a righteous ruckus that they eventually caught the ear of the British Arts Council, who gave a rather unusual assignment: An all-expense-paid trip to India in a musical cultural-exchange experiment dubbed the Soundpad Project. Mumford jumped at the opportunity, and soon found himself outside of Delhi in Rajisthan, playing and recording with local musicians whose proficiency stunned him.
— Tom Lanham
For the full story, grab the October issue of Illinois Entertainer, available free throughout Chicagoland.