There's Still A Riot Goin' On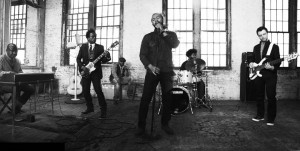 In politics, as in music, timing is everything. In 2000, reborn George W. Bush rode the religious right's disgust with the Clintons into the White House, just as Barack Obama's galvanizing '04 DNC address rekindled idealism when America had grown tired of sucking down fear. In contrast, the roads are strewn with figures before (John McCain '00) and behind (John McCain '08) their times.
The Roots appear December 4th at House Of Blues in Chicago for Dare 2 Dream benefit concert; John Legend performs at The Venue at Horseshoe Casino in Hammond, IN on December 17th.
In the late '90s, weariness from gangsta rap and nu-metal browbeating gave The Roots an opening to remind the pop world of the musicianship and message hip-hop can bestow. Years later, the hypersexual exploits of R. Kelly and his ilk made us pine for a classier, classic-er R&B crooner a la John Legend. It's a subtle difference between rising to the occasion and swimming upstream.
But even if you hold a winning lottery ticket, time doesn't become your butler. In 2008, as Obamarama reached fever pitch, Legend and The Roots began recording Wake Up! (Columbia) together, music inspired by the Civil Rights-era flavor of his campaign and a little something to maybe drive voter registration or just plain be a part of the moment. While fellow supporters like Ludacris seemed well-intentioned but inept, few artists embodied their nominee's message of hope and change like Legend and The Roots. They sat down with their schedules; ultimately the schedules won. The entertainment portion of the program would be postponed.
"The idea came in 2008," Legend says, "and we started recording songs back then." The thought of soundtracking such a perceptibly momentous campaign proved irresistible, and they tried to limit scope for an immediate release. "But I was busy marketing Evolver, which came out in the fall of '08. I was on tour for a full year, and it's hard for me to get any recording done while I'm on tour. So, yeah: I didn't get a chance to get back to this project until the end of '09/beginning of 2010. When we got into it at the beginning, it was an idea for an EP – three or four songs [and] we'd do a digital release for an interesting little side-project. But the more we got into it, it felt like it was bigger than a side-project and wanted to spend more time on it to make it great. And so that's what we did."
Politically, Obama's situation changed as well. A restive public grew increasingly frustrated with demoralizing recession, helping give rise to a clandestine, conservative insurgency called The Tea Party, which has terrorized the GOP establishment into opposing the popular Obama at all costs and driven everyone's approval ratings down in the process. Positive spin out of the Oval Office has shown to be little more than creative accounting – so now's not exactly the best time to remind everyone how groovy '08 was.
Legend sympathizes, but defends his commander-in-chief. "I knew he couldn't just come in, wave a magic wand, and make everything better," he says. "Just because someone's elected president doesn't mean everything on their agenda's going to get accomplished; everything's a negotiation. These are not sexy things to talk about, but they're the realities of governing. I was always aware of that. I was also aware of the depth of the crisis that we're in – it's worse than anything we've seen since the Great Depression. A lot of people think he's scapegoating and making excuses, understandably people are frustrated, because they're still unemployed. If people don't feel it at home or at their job, they blame whoever's in charge."
So Wake Up! arrives just as the nation rolls up its sleeves for a bloody round of midterm elections, where not only is the GOP expected to get pantsed by its own supporters (think Green Party vs. Dems in 2000, only a lot more of them and much angrier), but the Democrats are about to get swirlied because of the economy. We shall overcome someday, right?
If this makes you think these musicians should have just scrapped it, consider the alternative: paralysis. That's what happens to people petrified of negative outcomes, the type who reason "nothing ventured, nothing ventured." Legend and The Roots, gain or loss, like to venture so much that in a parallel universe they get to shop there.
Even though he couldn't break from Evolver's torrid promotional offensive, Legend insists The Roots project stuck in the back of his mind: "It was just a matter of time." Far from a waste, the two-year gap allowed for some more seasoning. Despite how quickly his time flew, ages 29 and 31 stood out for how deceptively different they were. "You think you're a man when you're 18," he tuts. "Then you're 21, 25. But you really get a sense of what kind of adult you want to be when you start getting close to 30. In your early 30s, you start to get a sense of purpose and you just grow up a little bit more. I don't think I'll stop growing up, but I think this period is one where I've grown up more than in others."
The country grew up a lot as well. "I was really inspired by the whole campaign – being involved in it and getting young people out to vote," he remembers, continuing, "seeing how many young people were motivated by the process, what the hope of change did for people, and how it made them become more active than in the past. The fact that it was the first black president was certainly impactful for black people of all ages, but particularly for young black people. It was exciting, something we didn't know would happen so soon in our lives."
So Wake Up!'s tracklist is what, you sneer, "This Little Light Of Mine," "People Get Ready," "Blowin' In The Wind," and, as a dig at Stanley Crouch and Debra Dickerson, Billy Paul's "Am I Black Enough For Ya"? Not quite. Legend – who describes himself as politically aware and a dutiful voter – has more savvy than that. Plus, encyclopedic Roots drummer Amir "Questlove" Thompson handpicked most of the selections, and wanted material that wouldn't turn the band into fodder for Jimmy Fallon monologues – a realistic fate given they're the former "SNL" comedian's late-night backing band. The set, mostly covers, comes from familiar names (Marvin Gaye, Nina Simone, Donny Hathaway) though not the most familiar songs ("Wholly Holy," "I Wish I Knew How It Would Feel To Be Free," "Little Ghetto Boy") and the title comes from part of the included "Wake Up Everybody," a cut from hometown Philly soulman Harold Melvin and his Blue Notes. Guests include Chicago-based rapper Common (who rolled with The Roots years ago in a loose-knit collective called the Soulquarians), golden-age MC CL Smooth, and ascendant R&B singer Melanie Fiona.
The sonic stew reveals accents from hard-funk J.B.'s, Family Stone swagger, Curtis Mayfield's cool eyes-on-the-prize resolve, collie-weed reggae, and the sprawling "I Can't Write Left-Handed," which, in 12 soul-scorching minutes, begins to rival Bill Withers' scathing, anti-war original. The wayward nature of the tracklisting purposefully reflects the violent, unpredictable musical innovations happening between R&B, rock, jazz, and gospel from their chosen era. It's the Wattstax concert balled up into a single set.
"Our focus was late '60s/early '70s," Legend explains. "When we first started selecting songs, we weren't really set on a particular period. The more we got into it, we realized we had things we were excited about covering, things that were socially relevant and spoke about what was going on in the world, and things that would be in the sweet spot of The Roots as a band and me as a vocalist. So eventually we settled on that period. It just made sense given all of our strengths and what kind of album we were trying to make."
The parallel is fraught, however, not because of historical incongruencies between the Civil Rights push and Obama, Vietnam vs. Iraq/Afghanistan, segregation and health care, and other near matches, but you don't want to intimate that the pall that blanketed the '70s (presidential disgrace, urban de-industrialization, resurgent poverty, economic stagflation, drugs) will resurface. The years Legend and The Roots reference didn't end very well.
"Nothing's ended if you really want to think about it that way," he responds. "The struggle and these conversations are still going on. Clearly there were assassinations, there were riots, there was some serious upheaval. But I think a lot of them had to happen in order for us to make progress, and we're still trying to make more progress. It's a story that's ongoing."
And he underscores what elevates Wake Up! above a mere cheerleading exercise: "On purpose, we tried to talk about the frustrations people were feeling with the war, racism, injustice. We talk about that, and we also talk about love and how we should all come together and commit to making the world better individually and as a collective. So, I think we tried to cover both the angry and protesting side of things, but the hopeful and inspiring side, as well."
It's a testament to politics that a project as innocent as this can stir up so many questions: Do they think young, urban black kids will respond to this? Even if the originals show up as samples in today's music, is Legend singing in a dead language? What will the cumulative effect be on their careers?
The singer doesn't seem the least bit concerned with any of it. The laugh that sneaks through his composure infers it's not the first time these interviews have turned academic and self-serious.
"We think of it as a labor of love," he relaxes. (Legend has a way of answering that's a lot like a poker player showing his last card while a rival, believing the hand won, reaches for the chips.) "We don't expect it to get radio play. We looked at this as the kind of project for people who love soul music and people who might want to hear this kind of music updated for 2010."
It's here that he begins speaking words people are accustomed to hearing from The Roots, not someone who's sold some 7 million copies of three albums. For all his artistic merits, Legend remains a highly marketable pop star and you figure the days Columbia lets him publicly trumpet the process over the product are few.
Nevertheless, "We were never under any illusion these would be smash hits on mainstream radio; we did want to make a beautiful, powerful, inspiring album and hopefully we were able to. My feeling is, when you make an album like that it will sell. That doesn't mean it will sell the traditional way – more word of mouth and critical support, not as much radio play."
— Steve Forstneger
For the full story, grab the October issue of Illinois Entertainer, available free throughout Chicagoland.